Increased regional cooperation
Promising prospects in troubling times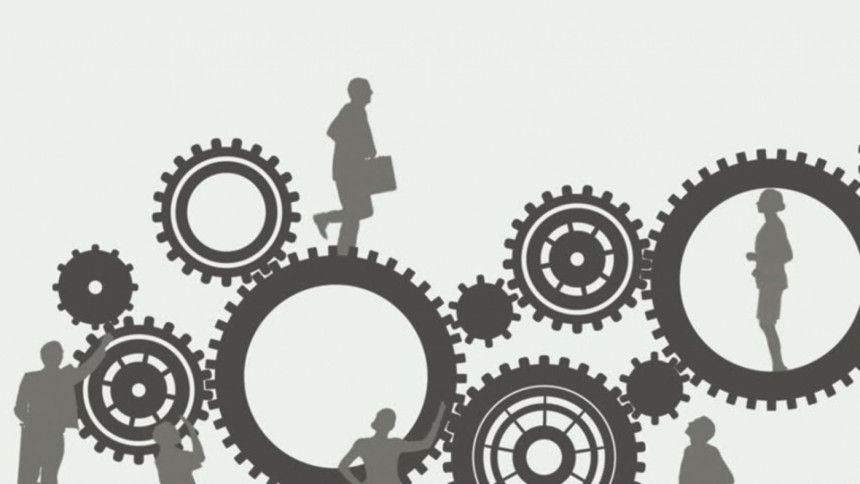 The World Bank (WB), at the end of April this year, had some very encouraging things to say about the Bangladesh economy. In its Bangladesh Development Update report, the bank highlighted that the "economy continues to do well" despite external and internal hurdles, but that "weak private investment rates continue to be a concern with its contribution to gross domestic product (GDP) growth declining from 1.5 percentage point to 1.3 percentage point". Since then, the economy has had to endure quite a few punches including the Gulshan attack that has shrouded businesses with fear and uncertainty.
On August 1, Bloomberg, in agreement with the WB's forecast, reported that "Bangladesh's economy has held up well" against the sluggish global demand and that the future looks bright "with economists in a Bloomberg survey last month raising growth forecasts to 6.75 percent, one of the highest among emerging markets". Yet, the report did express concerns following the attack as it has suddenly made "Bangladesh a scary place to do business", and the consequent mass exodus of expats that "threatens to cause long-term economic damage" to the country. What is worse is that some risk consultancy agencies are actually "advising clients to avoid travel to Bangladesh if possible," the report says. And this can only harm Bangladesh even more, adding salt to injury. As The Daily Star reported on August 9, "Foreign investment dropped 32 percent year-on-year in the first quarter of the year due to uncertain business climate", showing the already significant effect such reservations are having.
But this is not the time for Bangladesh's foreign friends to abandon her. In such a time of crisis what the country needs, particularly for its economy, is for its friends to stand beside her. And India, fortunately, seems to be willing to do just that. On August 20, The Daily Star reported, "As part of efforts to boost trade and improve rail communication, five rail routes will be launched between Bangladesh and India in phases by 2018. . . The governments of both the countries are sincere in boosting trade through Benapole and Petrapole land ports," the Indian High Commissioner in Dhaka said. He also said that "promoting economic integration and fostering linkages and connectivity between our two countries through cross-border trade, transport, telecom, cyber, and energy links is a policy priority for us [India]." This is a very positive statement, especially during such times. 
Bangladesh's exports to India have already been increasing over the last two years. In fiscal 2014-15, it increased by 15.4 percent and in fiscal 2015-16, by 30.8 percent ("India calls for simpler capital repatriation", The Daily Star, August 9). In terms of investment, foreign direct investment from India increased 45 percent to USD 82.79 million in fiscal 2014-15 from a year earlier with Indian companies investing over USD 3 billion in Bangladesh and the figure likely to increase. Despite the substantial increase in bilateral trade over the years, the Indian side did, however, express its concerns over "the poor physical infrastructure at the land border points" that may impede trade by raising costs, if not addressed quickly.
In this hour of need, China too is looking to extend her helping hand to Bangladesh. 
The China Railway Group, one of the world's largest construction companies, has only recently won a USD 3.1 billion project to build a rail network in Bangladesh, as Chinese companies continue to snap up infrastructure projects across Asia under the "One Belt, One Road" initiative meant to "promote trade links between Bangladesh, China, India and Myanmar". As The Indian Express reported on August 11, "The project will be built under the Trans-Asian Railway (TAR) project aimed at creating an integrated freight railway network across Europe and Asia", which is another bonus for Bangladesh and the region as a whole.
And that is very important as this is not only a time of crisis for the Bangladesh economy alone, but the Chinese economy also. And given that the Chinese economy is the second largest in the world, the entire region too, to a certain extent, depends on it doing well. In that respect, the Chinese economy, as reported in a local daily, "struggled in July with a worse-than-expected trade performance as imports plunged 12.5 per cent year-on-year…. As the world's biggest trader in goods, China is crucial to the global economy".
Furthermore, as Ajay Kanwal, Regional Chief Executive Officer of Asean and South Asia at Standard Chartered wrote, "Indicators show that regional trade is more important than world trade to Asean members, as compared to other regions. According to the Asian Development Bank, Asean's intra-regional trade intensity index was 3.54 in 2014, higher than the European Union's 2.04 and East Asia's 1.54." Bangladesh, being a member of the ASEAN regional forum, should, thus, look to increase economic cooperation with the other member and non-member states in its time of crisis which also happen to be a time of global unrest, particularly in economic terms. And to maximise the benefits of increased cooperation with its two willing partners — India and China — the government immediately needs to facilitate greater trade, connectivity and scope for dialogue. To that end, it needs to improve its infrastructure and trade carrying capacity. India and China too should continue their aid to Bangladesh at her hour of need. Surely that is the best way forward for the region and its people in general.
And although the emphasis of cooperation should now be more on the economic side, by building trust and greater synergy through increased economic cooperation, other forms of collaboration, battling militancy and ensuring regional security, for example, can also be eventually increased. It could help conduct Bangladesh and the region to not only overcome its current troubles, but also orchestrate and stride towards a brighter future.
The writer is a member of the Editorial team.