PM addressing Suhrawardy rally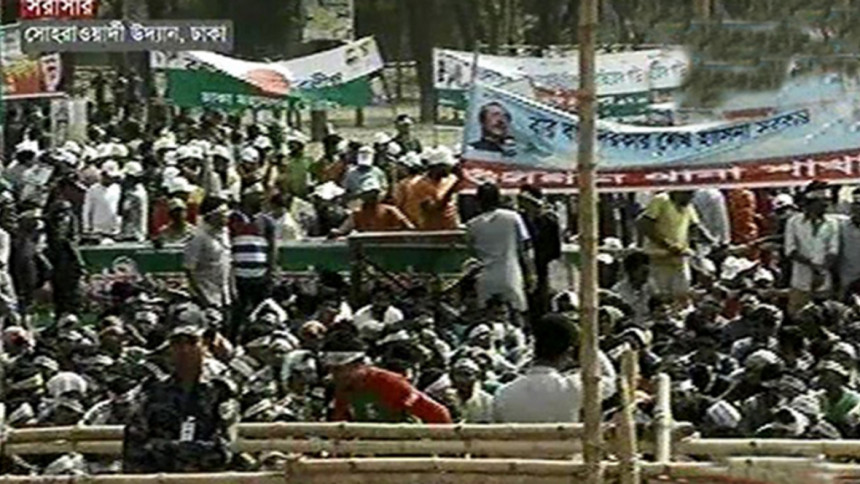 Prime Minister Sheikh Hasina is addressing a rally at Suhrawardy Udyan in Dhaka on the occasion of the historic March 7.
The premier, who reached the venue around 3:15pm and began her speech as chief guest around 5:10pm, reports our correspondent from the spot.
The local AL leaders started delivering their speeches as the rally began at 3:00pm.
Leaders and activists of Awami League and its associate bodies were seen carrying festoons and banners and rushing to the rally venue chanting party slogans since morning.
On this day in 1971, Father of the Nation Bangabandhu Sheikh Mujibur Rahman in his fiery speech called on the freedom-loving Bangalees to wage a decisive struggle against the Pakistan junta.
The speech had set the tone for the Liberation War that would officially begin on March 26.
"Ebarer sangram amader muktir sangram, ebarer sangram swadhinatar sangram (This struggle is for our emancipation, this struggle is for independence)," Bangabandhu declared in a thunderous voice at a mammoth rally at the Racecourse Maidan (now Suhrawardy Udyan) that day.
The vigorous speech inspired people of all walks of life to prepare for the war that the Pakistani regime would launch on the unarmed Bangalees 18 days later, committing one of the worst genocides in history for the next nine months.
Shortly before his arrest on the black night of March 25, Bangabandhu declared the Liberation War.
Bangabandhu's March 7 speech has been selected as one of the most rousing and inspirational wartime speeches in the last 2,500 years. The dynamic speech had changed the course of the country's history.
To mark the day, different political parties, socio-cultural organisations and student and professional bodies have chalked out various programmes, including laying wreaths at the portrait of Bangabandhu and holding discussions and rallies.