Hope is hollow on its own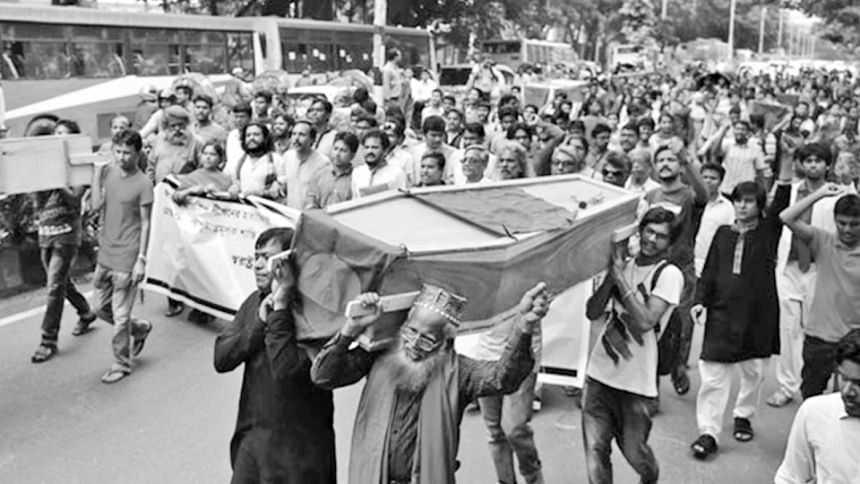 I have been silent for a while. Because I refuse to react to the brutality of the world around us, I prefer to respond. And I wanted to wait till things passed. And they did.  But only to be replaced by new atrocities, new acts of terror.
And suddenly I realised that I can no longer respond either. Because it no longer matters. Mine is just another voice, an addition to the chatter that follows every "outrageous" event that we are privy to on a regular basis. But then perusing the articles that quickly populate social media after such events, I couldn't help but have a few scattered thoughts surrounding certain narratives that emerged after the most recent killing of the publisher, Faisal Arefin Dipan.  In no particular order:
I

The New York Times published a report on Farzana Mithila, a TV personality, who lives in fear of being killed.  She is portrayed as a victim who has no choice but to seek help from her husband who drives her to work (and patriarchy wins, again). When my friend Kathy Ward sent me that article, I read it, waiting for the meat in the story, and found none. I told her that that article panders to Western stereotypes of the working woman in the Global South, forever in fear of something or the other – the current fear being the extermination of bloggers. And I have issues with fear too, because fear is like fire. Once instilled, it's hard to kill. Fear is the weapon of choice of so many – Bush Jr to Osama bin Laden – but we still seek refuge in it.  And I have a problem with that too, because it is a way to not do anything. We use it to self-censor, to silence ourselves. 
And then there's the politics of victimhood and the associated saviours. Once we become "victims," a saviour (or two) will emerge. And we may not like that. 
(Sidebar: There was a Facebook post going around guilting people to post a cancer awareness post that identified cancer survivors as "victims." To all those people who shared that: please think twice before you call someone a victim. My grandmother had cancer and she was a fighter, like all others who have or had cancer. None of them are victims, not for a second.)
II

What is a "free thinker"? I've seen many posts, national and international, saying "free thinkers are being killed in Bangladesh" – as if all the people who are being killed are the same. That's what some people want us to think – they want us to ascribe certain attributes to a "free thinker," creating false identities for all those who have been murdered in the name of "free thinking." 
But is Avijit Roy the same as Dipan? Did they have the same politics? The same ideology? No. Not that I can see. But what happens if we think they are the same? We think we are different and therefore protected from the machete wielding pawns of a higher power.



And worse, we think, they had it coming. Or maybe even worse, we think, they perhaps deserved it.
Everyone in Bangladesh knows this, but others don't – by free thinking individuals we mean atheists. But when this is reported internationally, that context is lost. And when they kill Dipan, that context is made murky because he was no atheist. But it's enough to confuse people. This confusion, I'm sure, is not an accident. 
III

The increase in the number of madrasas in an FT report was touted as the reason behind "increased militancy" – and I don't completely refute that – but having that conversation without talking about the reasons for which these madrasas exist in the first place is a disservice to the discourse on madrasas. Madrasas meet a certain need – a need for education in a country that has failed its poorest people by not making education accessible to them – a need that madrasas have emerged to fill.  Sure, money from the Middle East flew into create these madrasas, but had there been no need for education, this would not have happened.
IV

The word intolerance has been thrown around as the reason behind atrocities against minorities and individuals with differing opinions, the idea being that we need to breed tolerance. But tolerance, as a student pointed out in my class, has a negative connotation that suggests that there is no respect, you tolerate the other because you should. On the other hand, mere intolerance does not describe the brutal killings and systematic oppression that we see around us, suggests Arundhati Roy – we need to understand who and what is at the root of the violence that has become so pervasive – it is bigotry, parochialism, and any and all forms of hyphenated chauvinism. 
V

We should stop talking about hope. About being hopeful. Hope has to die. It's hope that makes us complacent. It makes us think that things will get better. Hope is irrational. Because things are not going to get better on its own. It just won't.
The writer is Assistant Professor, School of Social Work, University at Buffalo, SUNY.