HUMOROUSLY YOURS
Dumb and Dumber
Some may draw a similarity between Donald Duck and Donald Trump as the word 'quack' may apply to both. Quite the contrary. He did qualify somewhere down the line, I guess, through an unaired (and blooper filled) episode of The Apprentice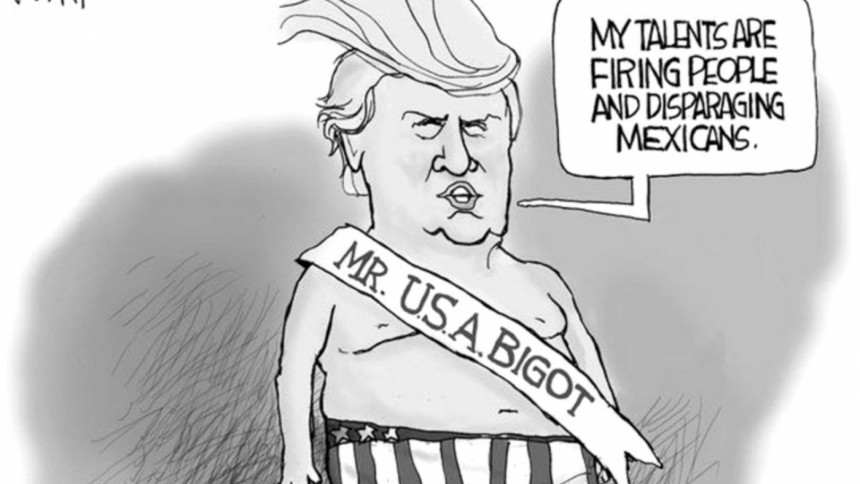 The Air India flight makes an emergency landing after a rat is spotted on-board. No, Donald Trump doesn't fly commercial airlines, let alone foreign owned ones. For he has vowed to take a strong stance on illegal immigration that started all the way back in 1492. All deportation documents will steal the line from his hit TV series The Apprentice, "You're fired!"
It's called disruptive marketing that is bound to make waves. Just as we see in every story where one is out of tune (to some) – the comic character Cacophonix in Asterix, the comic character Castafiore Bianca in Tintin and now, the comical character Donald Trump in  Grandpa Goes to Washington.
So, there he goes again. He does a no-show at the Republican debate in Iowa stating that the moderator Megyn Kelly of Fox News is biased against him. If this is a true assumption, then it says a lot about Donald Trump that even Fox News is biased against him.
So, is Trump over-trumped? 
Not quite. Aside from New Hampshire, Sarah Palin endorses Donald Trump. The latter's thumbs up galvanizes Disney into starting work on a sequel of its classic – The Lady and Trump. But Hollywood is contagious – there's rumour of Forest Trump. Oh, don't forget the franchise in the making – Dumb and Dumber to Dumb and Dumbest to Trump and Trumpery to Trump and Tempest.
This is what makes it fun. Sure, gone are the days of being entertained by The Wits of Winston Churchill. But no less amusing is The Fits of Donald Trump.
Some may draw a similarity between Donald Duck and Donald Trump as the word 'quack' may apply to both. Quite the contrary. He did qualify somewhere down the line, I guess, through an unaired (and blooper filled) episode of The Apprentice.
It is bound to be fun, at least for comedians who are having a field day. 
The US Presidential race, as complex as it is with delegates and electoral colleges and caucuses, is still the level-est playing field in a democratic system. Ok, minus the dimpled and hanging chads…
In a land far, far away, on another field, literally level, Rameez Raja tells Tamim Iqbal, "I can't speak your language. What we'll do… English?"
Rameez, I also don't understand your language. Oh wait, I do a little bit: "Bay Tameez Raja". And don't tell me you don't know a little Bangla, like the classic "Ami tomakey 'b'alobashi!"?
Rameez didn't really expect Tamim to start speaking in Bangla just like an Urdu-speaking person starts speaking in Urdu with me thinking that it's unthinkable that I don't understand his language? Or was Rameez luring Tamim to an IELTS duel, despite knowing that the latter is fluent in English and Rameez's statement was merely the endorsement from a fresh graduate of S@ifurs, Karachi? Perhaps Rameez Raja and Navjot Singh Sidhu can join hands in improving the Indo-Pak relationship. Fashioned after the US-Sino 'Ping Pong Diplomacy,' it'll be called the Indo-Pak 'Ding-Dong Diplomacy'.
But this is where I end on Rameez Raja, getting a good laugh and perhaps making a few others laugh, not at his cost, but at the cost of his gaffes for which he has become famous just as much as he has with his cricket. Of course, there is the benefit of the doubt where his intentions were nothing short of making Tamim comfortable. The humorist draws the line at a safe distance from the profanity and name calling that has gone viral on social media. This is what we should do as has been brilliantly and rightfully done in the case of Donald Trump with all the punches way above the belt.
So, Trump and Rameez, chug along. Laughter, after all, is the best medicine. 
Meanwhile, stay tuned for another sequel from Disney – The Raja and Trump.
The writer is an engineer at Ford & Qualcomm USA and CEO of IBM & Nokia Siemens Networks Bangladesh turned comedian (by choice), the host of ABC Radio's Good Morning Bangladesh and the founder of Naveed's Comedy Club. E-mail: naveed@naveedmahbub.com