Opinion: Is this rule of law?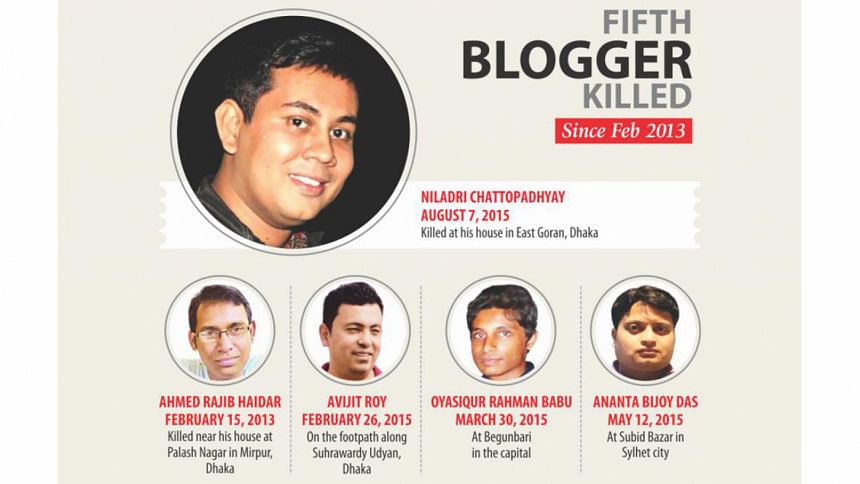 Human rights leaders are blaming the long pervasive culture of impunity as one of the major reasons for the gruesome killings of children and bloggers.
Failure to bring the perpetrators to book, in their views, gives them a free rein to continue committing crimes and this culture encourages others to break the law.
If we look at present Bangladesh, we find solid evidence of such trampling of the rule of law. Everyday fresh examples are being added to this long list of undermining the law.
Take the example of Gen HM Ershad, our past president. He has become a glaring example of how the culture of impunity works at the top level of the government.
Ironically, Ershad, the biggest beneficiary of the culture of impunity, has now spoken against it.
The deposed dictator, on Thursday after visiting the bullet-hit child and her mother at Dhaka Medical College Hospital, said: "Even a baby in her mother's womb is not safe now. Brutality against children goes on thanks to the culture of impunity."
Many of his misdeeds still remain fresh in our memories. He had grabbed the state power by overthrowing an elected president on March 24, 1982. Some criminal cases including the one for murdering Gen Manzur still remain pending against him for years.
So what! His Jatiya Party is now the main opposition in parliament with his wife Raushan Ershad the leader of the opposition. He is an special envoy of Prime Minister Sheikh Hasina. Mr and Mrs Ershad enjoy the status of ministers.
So when Gen Ershad speaks against the culture of impunity it proves that the prevailing situation is really so bad that it gives him the scope to raise his voice.
Children and bloggers are being murdered gruesomely one after another.
Thirteen-year-old Samiul Alam Rajon was beaten to death in Sylhet in July. Twelve-year-old Rakib was tortured to death in Khulna on August 3, as two men inserted a high-pressure air pump nozzle into his rectum. And 10-year-old Rabiul was beaten to death for "stealing fish" in Barguna last week.
The brutality shook the conscious of the nation, but still there is no effective step to stop the bestiality.
The brutal killing of blogger Rajib in 2013 had triggered outrageous protest. Prime Minister Sheikh Hasina herself had rushed to Rajib's residence to console his parents and assured them of justice. His family members have yet to get justice.
The year 2015 came as a curse for bloggers and free thinkers. Bloggers Avijit, Babu and Ananta were murdered in February, March and May respectively. The latest victim is Niladri. These incidents only tend to remind us the medieval dark era. 
Earlier this year, we have witnessed how political violence kept our children confined to homes, destroying their academic life. Children were burned in arson attacks.
Nobody knows whether the perpetrators who have carried out the arson attacks will finally be brought to book. The culture of impunity makes us all the more doubtful.  
Killing of children has been going on for years. But a very few criminals have been punished. This has probably encouraged such killings. A statistics of Bangladesh Shishu Adhikar Forum (BSAF) show child killing has increased by 61 percent in 2014 from the previous year.
Based on newspaper reports, the BSAF said at least 191 children were killed till July this year, 350 in 2014, 218 in 2013 and 209 in 2012.
And now, we are forced to witness the barbarism on innocent children who are forced to work for their livelihoods due to the failure of the state to take care of them. By killing them, we are murdering our future.
The barbarism has made us helpless and panicked. We are afraid of murderers roaming around us. Sometimes we see no light of hope as if we are walking through the darkest valley; as if we are living in the shadow of deaths.
The present situation can no way go with the spirit of our constitution that says: "The Republic shall be a democracy in which fundamental human rights and freedoms and respect for the dignity and worth of the human person shall be guaranteed…"
This situation cannot be allowed to go on any further. The government must come up with extensive plans and efforts to bring an end to the present situation and culture of impunity.