A defining moment for Europe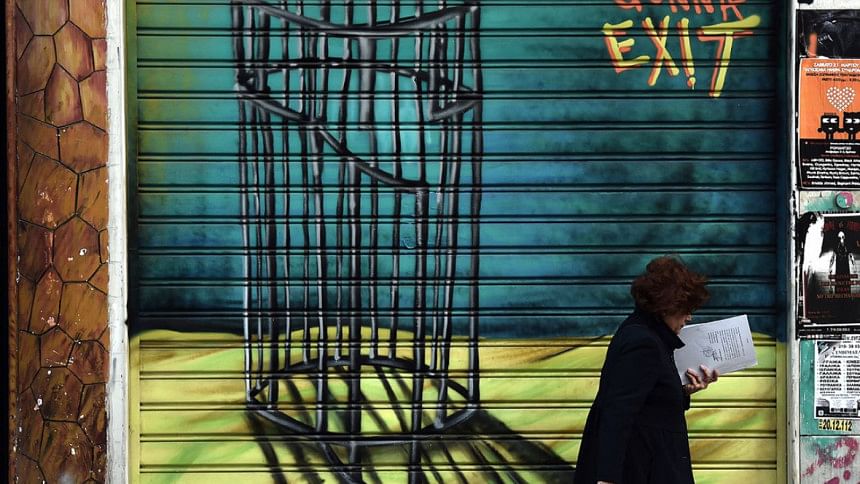 Over the past couple of months, a Greek tragedy has been in the making. Doomsayers had made all kinds of prophesies – regarding Greece, Europe, the financial world, and the Euro. The issues are so complex that many do not understand what's going on. As the saying goes, it is all Greek to them.
On June 30, 2015 Greece was supposed to repay IMF €1.6 billion, which it did not have. Greece thus defaulted on this payment. For months the IMF, European Central Bank (ECB) and European Commission – known as Troika – have been warning Athens that defaulting on this payment would have serious financial consequences for Greece and rest of the Eurozone. Many experts predicted that payment default could push Greece out of the Eurozone.  
Greece merrily borrowed since it joined the Eurozone in 2001 and used the money to create a bubble economy. It expanded its welfare spending, increased salaries, undertook non-productive development projects (e.g. Olympiad 2004) – without actually raising economic output, which brings in revenue. Massive tax dodging, pension and social security payments actually depleted its coffers.    
By 2009 when Greece was drifting towards default in paying the creditors, the Troika asked Athens to go for stringent austerity reforms. Though some reforms were done the overall situation did not improve to pay off the creditors.
In 2010, the ECB had to bail out Greece, for the second time and imposed a stiffer austerity regime. Five year later in 2015, the Greek economy is in ruins. Its GDP shrunk by 25 percent, which now stands at €185 billion, unemployment rose over 26 percent, and its banks have no cash. Greece's debt ballooned to €323 billion ($359 billion) – an unsustainable 177 percent of its GDP. 
The Greek default narrative is more about politics than economics. EC leaders are at loggerheads with Athens, playing parochial politics. When the radical left Syriza party formed the government in Athens under Alexis Tsipras for the first time in January 2015, Brussels bureaucracy and European leaders were unhappy. 
For the past several weeks Greece and the ECB were locked in acrimonious debates in Brussels, each accusing the other of bad faith. Greek government relations with its creditors have become nasty. When Greece asked for the third bailout fund, Troika demanded more reforms from Athens. Tsipras accused European leaders of being autocratic and anti-democratic. Leftist Tsipras is seen in Brussels as a trouble maker. It is not surprising that most Eurozone leaders want to see his back.
For Tsipras, unless he got a substantially restructured deal, Greece will never come out of the vicious debt cycle. Talks broke down on June 26 as Tsipras refused to capitulate to creditors' demands. He called for a referendum on whether to accept the EC austerity proposal for the release of funds or reject it. 
Tsipras asked his 10 million compatriots to vote 'No' to strengthen his hands to negotiate a better deal. Sixty-one percent Greeks voted 'No' on July 5.  Though many said that the referendum was a waste of money and time, Tsipras needed it to renew his mandate. The result hardened the position of creditors. And Tsipras painted himself in a corner. 
Tsipras's brinkmanship is unlikely to lessen Greek woes. Tsipras knows either way any deal will go against Greece. He desperately needs cash to reopen Greek banks, i.e. get the third bailout fund. If he doesn't get a viable deal, Greek banks will collapse -- meaning Greece has to quit the Eurozone, thus resulting in a Grexit. 
Greece then will have to go back to its old currency – the Drachma. If this happens, Greece will take a pretty long time to turn around its economy as the debts will continue to hang like Damocles sword.
Athens has submitted a "credible reforms" plan approved by the Greek parliament for the EU summit. The plan includes huge tax hikes and drastic spending cuts. Athens is asking for €53.5 billion with debts restructured and a three-year bailout. If the summit agrees and Troika loosens its strangle hold on Greek economy, it will be a pyrrhic victory for Tsipras, as the Greek plan is more demanding than the one ECB offered in June. Tsipras said he is "ready for an honest compromise".
There is ambivalence among European leaders on whether to pull Greece out of its cash crunch or let it fall off the Euro cliff. German Chancellor Angela Merkel, who is actually the main pillar of the Eurozone and Greece's biggest lender (€68.2 billion), has ruled out "agreement at any price". EC President Jean-Claude Juncker, however, said a deal can be made. 
Economic theory says that austerity and growth do not go together. Eurozone is a funny place where economic theories are practiced in an upside down manner. When a country is going through depression, Keynesian theory requires that government increases investments to stimulate the economy. Cutting back investments depresses the economy further. 
The most ludicrous system of the Eurozone is the way the euro is managed. The monetary policy of the Eurozone and the Greek Central Bank is controlled by the ECB. The fiscal policy is left to member governments. This dichotomy is a recipe for disaster. Normally the government and central bank of a country have to work in close partnership to regulate the monetary policy and fiscal policy to keep the currency stable and economy out of danger. 
The 'No' vote has shaken stock markets around the world. A flurry of meetings continues in Brussels while America is concerned that a Greek meltdown may lead to upheavals in global markets. Eurozone finance ministers are currently discussing the Greek plan before the EU summit meets. 
The surreal drama surrounding the crisis will no doubt redefine relations among members of the Eurozone. ECB cannot afford to push Greece out of Eurozone, as that may encourage other debt-ridden countries like Portugal, Spain, Italy and even France to restructure their debts. Grexit is too chilling a thought to contemplate. It will not only weaken the Euro, European security built around Nato will also be in jeopardy, particularly when tensions with Russia are on the rise.  
It is a defining moment for a badly battered Project Europe. 
The writer is former Ambassador and Secretary.