China and Bangladesh
On a transformational journey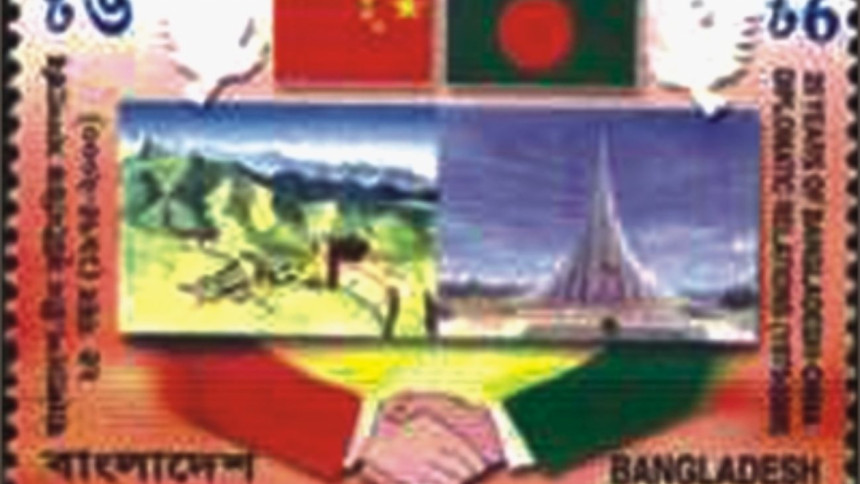 China has taken a strong place in the global economic landscape with its large GDP and rapid economic growth. Although in the last three decades, the growth of the Chinese economy has slowed down from a rate of 10 percent GDP growth to 6.9 percent in 2015, it was the largest economy in the world in terms of purchasing power parity last year. In 2015, China's contribution to global economic growth was 51.3 percent compared to 30.9 percent of the USA. 
The impressive economic growth of China, one of Bangladesh's large Southern neighbours, has important implications for our development. Bangladesh can advance further through connecting with China through trade, investment, foreign aid, and exchange of people and intellectual pursuits. China is now Bangladesh's largest trading partner. In 2015, Chinese export to Bangladesh was USD 13.9 billion. Foreign direct investment from China and Hong Kong together stood at USD 859 million in the same year. 
Economic ties between China and Bangladesh have been strengthened in the last four decades. However, there are much more opportunities for China to contribute towards the development of Bangladesh. China is a minor export destination for Bangladesh, making bilateral trade deficit between Bangladesh and China very high. In 2015, Bangladesh's export to China was USD 804 million, which was equivalent to only about 3 percent of Bangladesh's total exports to the global market. To address the growing trade imbalance, China offered duty-free access to 4,788 products from Bangladesh under the Asia-Pacific Trade Agreement. However, because of non-diversified export basket and supply side constraints, Bangladesh cannot take full advantage of this offer. Bangladesh also needs more favourable rules of origin (RoO) for increasing its exports to China. 
The size of China's investment across the globe is increasing steadily towards making it a leading economic power. In Africa, Latin America and Asia, China is investing tens of billions of dollars. This is not only on infrastructure, but also on several other sectors, including natural resource extraction, financial service, power generation, textiles, home appliances and real estate. In Bangladesh, Chinese investment has not been particularly noteworthy yet. Until 2010, Bangladesh did not get much priority from China for investment in Bangladesh. Of course, significant increase of Chinese FDI in Bangladesh was observed from 2010 onwards. China's contribution to Bangladesh's FDI profile has been growing faster than that of India over the last couple of years. Low investment indicates that Chinese investment in Bangladesh has not been linked to its trade with the country. 
Traditionally, Chinese investment projects involved infrastructure and service sectors. In recent times, the focus of Chinese investment in Bangladesh has shifted towards the manufacturing sector, specifically to the ready- made garments sector. It has also expressed interest in making investment in priority sectors such as commerce, agriculture, industry, energy and infrastructure. Higher investment from China can in fact help reduce bi-lateral trade deficit. Given the large and growing domestic market of China, Bangladesh has the potential to increase its exports to the country. With rising wages in the country, China may take advantage of competitive wage by shifting some of its sunset industries to Bangladesh. This will create employment here and the opportunity to increase exports. This requires massive improvement in infrastructure including power and energy, and also availability of land. The Bangladesh government is planning to have land bank to facilitate large investments. Large Chinese investments can be an opportunity for technology transfer which can contribute to productivity improvement through skills upgradation. 
Chinese contribution, as development assistance to Bangladesh, was negligible till the recent past. Chinese assistance has been mainly for infrastructure development. The Asian Infrastructure Investment Bank (AIIB), established with the initiative of China in 2015, has created opportunities for Bangladesh. Indeed, Bangladesh has already received loans from AIIB for its power sector development. At a time when there is huge finance gap to meet the need of countries, AIIB has the potential to bridge at least a part of this gap.  Asian countries can request AIIB for funds to build infrastructure such as roads, railways, power and telecommunications. This initiative is also a complementary to the New Silk Road initiative of China, which seeks to improve infrastructure and connectivity in Asia.
China's transformational journey during the last three decades with high economic growth has made it an economic powerhouse, not only in the region but across the globe. Through several rounds of reforms since 1978 and following its membership in the World Trade Organisation in 2001, China has gone through major structural change as well. As a result, China has achieved the power to influence the course of development of other countries. Even at a phase when Chinese growth has slowed down, it is trying to consolidate its progress through modernasiation and reforms. The inclusion of Chinese currency Renminbi in the Special Drawing Right (SDR) valuation basket of the International Monetary Fund indicates progress in reforms in China. It is also an attempt to deepen its integration with the global economy. The quality of growth has now caught the attention of Chinese policymakers. It is also investing heavily on green economy, as at the G20 meeting in Hangzhou in September 2016, China highlighted the issue of green financing. 
The future growth prospect and reorientation of growth pattern within China will shape the development path of its partners to a large extent. Despite challenges, there will be newer opportunities for developing countries which are directly linked with Chinese prosperity. As a long term economic partner, Bangladesh will have to prepare itself to benefit from this opportunity.   
The writer is Research Director at the Centre for Policy Dialogue.