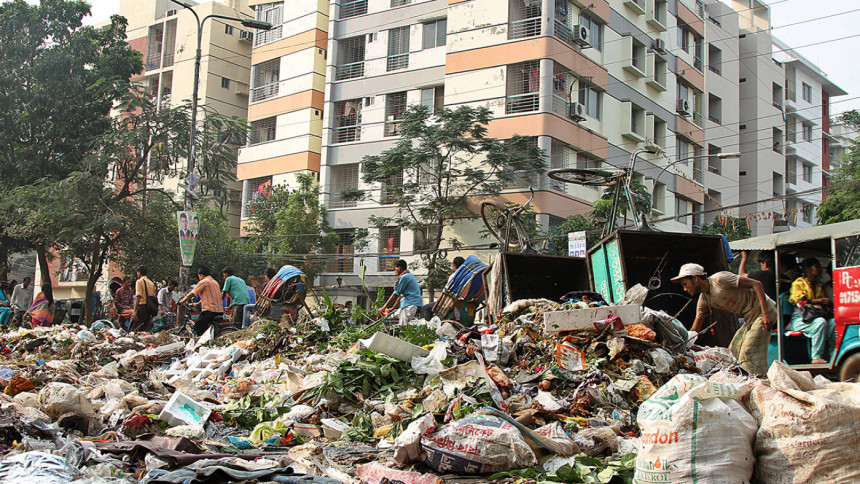 Dhaka has been ranked as the second least liveable city among the world's 140 cities in this year's Global Liveability Index released by the Economist Intelligence Unit. Only Damascus in war-torn Syria lags behind Dhaka, which was placed in second position last year too and at the bottom the year before.
It means Dhaka is competing with a war torn city to snatch the "honour" of being the worst liveable city.
Also READ: Dhaka 2nd least liveable city in the world
This is not the first time Dhaka earned this ranking—it did so last year and Dhaka has been hanging around in the EIU's 10 worst liveable city ranking for several years now.
But it does not need EIU's ranking for anybody to know that Dhaka has been rotting, stinking and becoming more terrible to live in every year.
Is it because we have too much population? Is it because we have a lot of resource constraints? Or is it because we Bengalees do not know how to keep our living space nice?

If we look at Kolkata, the capital of West Bengal and perhaps the best case for comparison, we can clearly see it is neither population, nor resource constraint or cultural habits that contributed to the diminishing liveability of Dhaka.
Ask any old timers of Dhaka—they would sigh and say that Dhaka used to be a beautiful green city even back in the seventies. Back then -- Kolkata used to be a city of garbage dumped anywhere on the streets; there used to be frequent load shedding and traffic condition was horrendous. The air of Kolkata used to reek of garbage.
But look how the table has turned. According to a report based on a survey by a Non-government organisation published in the Times of India in June last year, Kolkata ranks the best among 21 selected Indian cities.
Again you don't even need a survey to compare Kolkata to Dhaka in terms of liveability.
Kolkata has a population of nearly 14 million people (metro population is 4.5 million) while Dhaka has 14 million (with metro population of 7 million). However the spread of urban Dhaka is way smaller than that of Kolkata at present.
Kolkata has one basic advantage over Dhaka—it has many more times the number and length of streets which we do not have. The bustling city also has a metro rail service (ours will be coming a few years later) which carries a bulk number of passengers.
If you have been to Kolkata, you will not find garbage on any of the streets—which tend to sparkle with adequate lighting after the evening. Many of the streets do have potholes in Kolkata—but its nothing compared to Dhaka's broken streets which are also often smeared with filth, stench and are often dark at night.
Kolkata has 48 government hospitals; whereas Dhaka has around 23 (17 of which are specialised). Many Bangladeshis go to Kolkata for better treatment.
The Kolkata government also runs 14 universities—compared to just four (including Shere Bangla Krishi Biswabidalay and Bangabandhu Medical University) in Dhaka.
The number of taxicabs in Kolkata is no less than 50,000 according to Indian press—whereas this number would be less than 1000 in Dhaka.
Kolkata is no longer a city of jams— Dhaka is. Kolkata now has dozens of flyovers to tackle this situation. On top of it, Kolkata has a complex "One Way" street rule enforcement—many streets remain One Way in the morning in one direction, and in the evening in opposite direction. The concept of One Way street is unheard of in Dhaka.
The biggest visible thing in Kolkata is the empowered policemen on the streets. Nobody fights with the traffic police and commuters rarely disobey traffic rules. The result is visible—you will seldom see a public bus driving like a maniac in all directions in Kolkata. No bus will stop in the middle of the road while crossing a signal. No bus will try to crush other vehicles.
It's also noteworthy to mention that Kolkata is comparatively safe for women. You can see women passengers returning home on buses even after midnight.
And then they kept their famous Gorer Math neat, clean and green. Compared to that, how did we keep our Suhrawardi Udyan?
Recreation, street food, night life, large shopping malls, apartment lifestyle; on any account, Kolkata is ahead of Dhaka. And yet Kolkata has the same number of Bengalees we have and we share many common cultural traits.
So why do we have a city that appears to be dying? The answer is simple: if you compare the sculptures in the public places in Kolkata with those in Dhaka—you will see that we did not deploy real artists to build our sculptures. We just awarded the job to some people so that they can make some money. This goes with every aspect of the city. People who do not love our city, plan and run our city. The policymakers are not concerned about the city because they must have disconnected themselves from the services this city provides. For health care they fly to Singapore. For their children's education, they rely on western countries. And when they buy homes, they buy it in Canada or Australia. Otherwise how can they leave this beautiful city rotting?