ICC Cricket World Cup 2015
The Trans-Tasman final!
The final match of the ICC Cricket World Cup 2015 will be played at the renowned Melbourne Cricket Ground (MCG) on Sunday, March 29.
The stage has been set. The contestants have been decided.
It is going to be a Trans-Tasman final -- New Zealand versus Australia.
Let's see the analysis of both these teams before the much-anticipated clash to become the Champions of One-Day-International cricket for the next four years.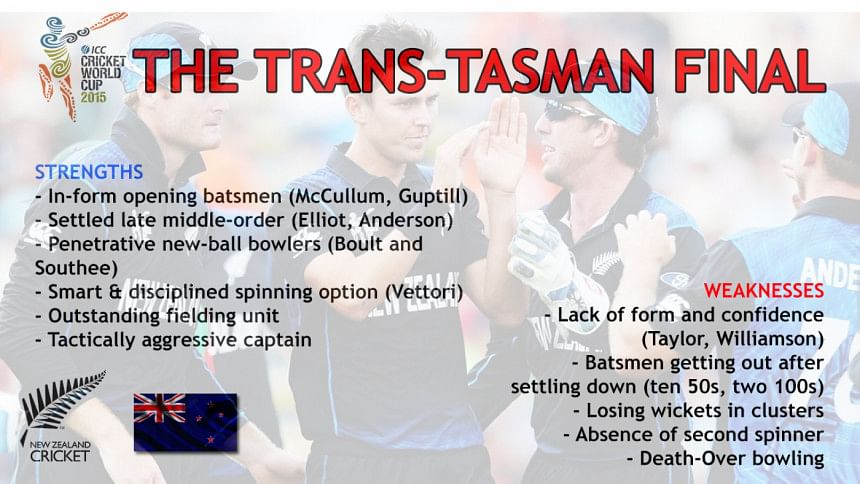 Opportunities for the Blackcaps will be the unstable form of the Aussie openers: Warner & Finch. The second and third change Australian bowlers usually leak runs. Australia do not have any genuine slow bowlers. Aussie batsmen are susceptible to sharp and short-pitch bowling. The Australian fast bowlers can lose their cool very easily.
However, they have a few threats too. Ground conditions and the intimidating factors at MCG may hamper their performance as they will be playing outside home conditions for the first time in CWC15. Starc and Johnson are giving their team crucial breakthroughs. Aussie middle-order: Smith, Maxwell & Watson have peaked at the right time. The pressure of playing in their maiden WC final would be nervebreaking too!
The Aussies' opportunities will be firstly the familiar ground conditions at MCG. Needless to say, the home crowd will be cheering them on. Finals is not uncharted territory for them. Their terrific record in 2015 ODIs (12 wins, 1 loss in 15 matches) will blow some breeze in their sail.
The main threat for Aussies is the pressure of performing in front of home crowd. Guptill and McCullum are in full form. Also Kiwi bowlers Boult and Southee have taken wickets with the new ball during the tournament. The Kiwis have some hardcore pinch-hitters: Elliott, Anderson & Ronchi. Finally, New Zealand's captain Brendon McCullum is seemingly tactically aggressive.
We only can hope for a fantastic final at MCG tomorrow! Fingers crossed!