Sir Fazle Abed's family receives prestigious Yidan Prize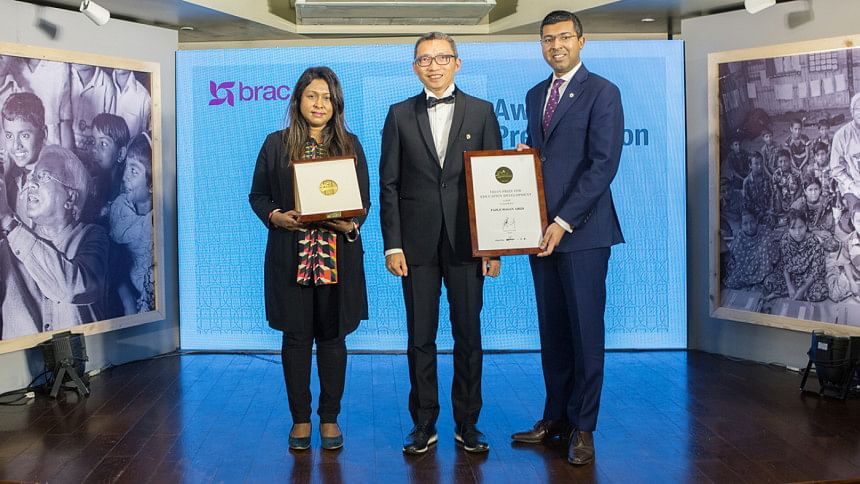 Dr Charles Chen Yidan, founder of Yidan Prize, has presented the prestigious award to Brac Founder Sir Fazle Hasan Abed's family in Dhaka.
Dr Yidan visited Bangladesh this week to present the award to Sir Abed's family at a ceremony organised on this occasion.
Tamara Abed and Shameran Abed, children of Sir Fazle, accepted the award at BRAC head office in Dhaka, according to a press release. 
Dr Yidan presented the gold medal of the award to Tamara Abed, also the managing director of BRAC Enterprises and chairperson of the board of trustees of BRAC University. 
The certificate of the award was presented to Shameran Abed, also the senior director of BRAC Microfinance and Ultra Poor Graduation Programme.
"Sir Fazle lived a life of service with true compassion, courage and conviction. He inspired everyone around him to choose optimism over despair and to believe in the potential of human spirit. I believe that Sir Fazle will continue to be a source of inspiration for the world," Dr Yidan said at the award ceremony.
"The hundreds of millions of lives he transformed, especially those from the most vulnerable and poorest communities, will remember him as the spark of hope. The Yidan Prize Foundation will continue to work closely with BRAC to further scale up impactful educational programmes in Asia, Africa and beyond."
"Together, we can continue to help young, marginalised children find joy in their learning and those deprived of resources live happy and productive lives," Dr Yidan added.
Sir Fazle, an iconic figure in international development, was awarded the Yidan Prize for Education Development for his groundbreaking work on education in September 2019.
During a visit to Sir Fazle in October 2019, the Yidan Prize Foundation learned directly from him about his visionary approach and pivotal role in changing the course of education in Bangladesh.
After Sir Fazle's passing on December 20, 2019, Dr Charles Chen Yidan decided to visit Dhaka to pay his respect and present the award in person to his family.
He also visited a BRAC school in the Korail slum in Dhaka's Banani and an early childhood development (ECD) centre - Play Lab in the capital's Banasree during his two-day visit to the city.  
Shameran Abed read out the acceptance speech Sir Fazle drafted last year after the announcement of the prize. 
"I would like to express my gratitude for the recognition bestowed upon both BRAC and me. The very generous Yidan Prize funding will allow us to expand our education activities further. I believe that education is the greatest equaliser. I envision a world where even the poorest among us have the opportunity to lead lives of purpose and dignity. I humbly request everyone to play their part in making this vision a reality," Shameran Abed said quoting Sir Fazle. 
"We are most honoured to receive the Yidan Prize on behalf of our father," said Tamara Abed, adding "We are committed to carry his legacy forward."
Sir Fazle always viewed education as a crucial catalyst for change. He firmly believed that education is about more than just schools and books.
Play-based joyful learning is a cornerstone of BRAC's approach.
BRAC has set up more than 1,400 play-based early childhood development centres across Bangladesh, Tanzania and Uganda, where close to 40,000 pre-school children aged 1 to 5 years are presently enrolled with access to age-appropriate play materials, a play-based curriculum and play spaces that ensure their holistic development. 
As a Yidan Prize Laureate, Sir Fazle received a gold medal, a certificate and HK$30 million (around US$3.9 million), half of which is a cash prize and the other half a project fund. 
"Addressing the needs of children in the most disadvantaged communities has always been a core priority for BRAC. The Yidan Prize will support us in scaling up our play-based early childhood development solutions in Uganda and Tanzania and develop a new model of play-based childcare in Bangladesh" said Asif Saleh, executive director of BRAC.  
The Yidan Prize project funding (approximately US$2 million) will be invested by BRAC in research, innovation and scaling up high-impact solutions related to early childhood development in the next three years.
BRAC will also use part of the project fund to pilot a social enterprise of play-based childcare model in Bangladesh. 
ABOUT THE YIDAN PRIZE
Founded in 2016 by Dr Charles Chen Yidan, a core founder of Tencent, the Yidan Prize has a mission of creating a better world through education.
It consists of two awards, the Yidan Prize for Education Research and the Yidan Prize for Education Development.
Yidan Prize Laureates each receives a gold medal and certificate, and a total sum of HK$30 million (around US$3.9 million), half of which is a cash prize while the other half is a project fund.
To ensure transparency and sustainability, the prize is managed by the Yidan Prize Foundation and governed by an independent trust with an endowment of HK$2.5 billion (around US$323 million).
Through a series of initiatives, the prize aims to establish a platform for the global community to engage in conversations around education and to play a role in education philanthropy.