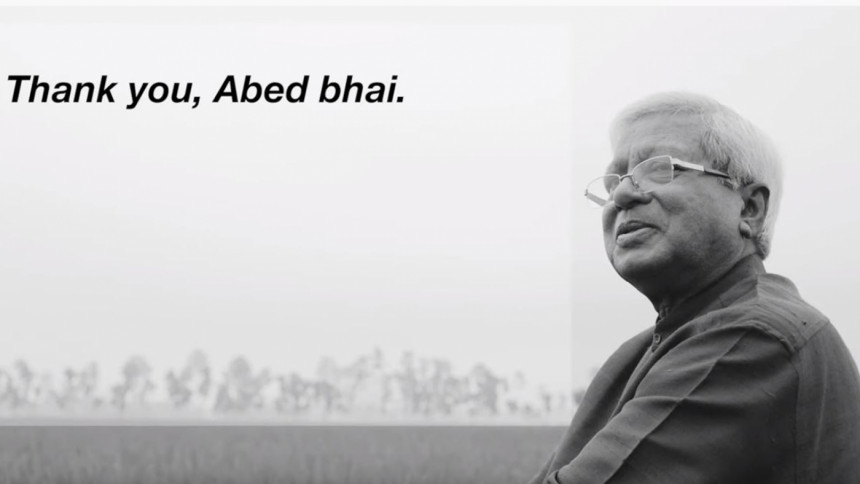 He had a privileged life with a promising career in the UK.
But he changed his course of life. The determined young man began a mission to help people.
He left his lucrative job and returned to Bangladesh after the devastating cyclone in 1970 and the Liberation War. He started his mission with £16,000 after selling his flat in London in January 1972.
When the country was celebrating 48th Victory Day, the great soul, Sir Fazle Hasan Abed, left the universe conquering the heart of millions of people across the world.
The world largest NGO Brac, founded by Sir Abed, published a video "Thank you, Abed bhai" commemorating the great soul.
The founder of the world's largest NGO breathed his last aged 83 yesterday evening at the Apollo Hospitals in Dhaka. He was undergoing treatment for a malignant brain tumour. 
Following his death, people from all over the world commemorated the legend highlighting his success.
"…That's who Sir Fazle was as a humanitarian, and that's what he helped us learn about development work: How to build a big, efficient organisation, while never forgetting who you were doing it for," said Melinda Gates.
In her condolence message, Melinda also said, "We were saddened to hear of his passing and will forever draw inspiration from his work, as will the rest of the world, which he left so much better than he found."
The death of Sir Fazle has taken away a true hero, one who was a model for me personally and for us all of humility, caring and service to humanity, former US Ambassador to Bangladesh Dan Mozena said in a message.
"Sir Fazle believed and practiced that development starts with the individual, that development is about helping people help themselves by providing them access to better education, health and skills training. Although the world no longer has Sir Fazle to show the way, we have his living and growing legacy in BRAC and the millions of people who benefited and continue to benefit from his vision and work," he writes offering his deepest condolences to Sir Fazle's family.
Former Bangladesh Bank governor Atiur Rahman said Abed had been an icon of pro-poor non-state development initiatives in Bangladesh and as well as in many parts of the world.