In remembrance: Niloufer Manzur
Three former students of the principal and founder of Sunbeams School remember the pioneering educationist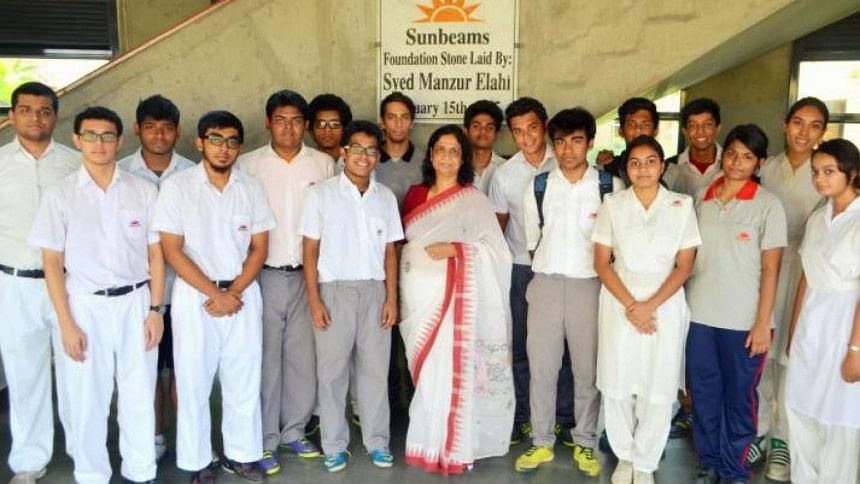 In the fall of 1998, Niloufer Manzur sent a letter to her students in Sunbeams. Dhaka, along with the rest of the country, was completely flooded. Millions were homeless. Schools were closed. In her letter, Mrs. Manzur asked her students to be patient and give back. She was optimistic we will emerge out of the suffering with greater compassion and strength. Last month, 22 years later, she sent another letter to her students in tenth grade. She asked them to be patient once again, to help with chores and most importantly, to remember that they are extremely lucky to be surrounded by family and unconditional love. She entrusted her students to do their best, to make her proud. She was confident, even as the world was ravaged by a virus, that we will re-emerge -- together, stronger.
This morning, our "Mrs Manzur" lost to Covid-19.
As her student for 14 years, I have written many essays in life. Yet, today, I am at a loss for words. No one taught me to write an obituary. How can I ever measure up to write one now, especially about the person who helped shape my identity?
Mrs Manzur had the enviable quality of remembering each of our names and our stories. "Sabhanaz, I know you were feeling unwell and I am glad you have recovered. Your grades have not been as expected but I know you are a good student. I am confident you can do better if you work hard. Take care, my Sunbeams child."
To her, once a Beamer is forever a Beamer. She insisted on signing our report cards every year. She insisted that we have a separate assembly for girls who are entering puberty so we are not afraid. She insisted that we go to Abahani to play every week so we can have the childhood everyone deserves. At her core, she did not care if we were a straight A student or struggling with algebra. What mattered to her is if we were good humans.
To ensure that we all turned out to be good humans, she took it upon herself to not just be our school's principal. She became another parent, our advocate and our safe haven. Despite the years that passed between graduating from Sunbeams and running into her at events, including my own wedding, Mrs Manzur never stopped being our cheerleader. Even at my wedding, she asked about my hopes and ambitions. On days I was not proud of myself, she reminded me that she was, and that she loved us. 
After Sunbeams, I went through heartbreak. The real world had little in common with our cocooned perfect lives, and I felt betrayed that the culture I experienced at school was disconnected with what people experience every day. Ironically, I realised the reason I could even fathom inquiry into my consciousness is because Sunbeams gave me the foundation to take on the world with courage and compassion. If there was one quality we shared with Mrs Manzur, it was her infectious ability to ask more of ourselves. She expected we would not compromise with doing the right thing, and in turn, we expected everyone to do the right thing. This narrative bonded us into a community and to pick up conversations with another Beamer exactly where we left off.
Mrs Manzur taught her students to care. It may seem trivial to reduce her magnanimous presence to a simple word, yet the ability to care is the rare, vital quality we need in the world today. She taught us to care about injustice, about those who are at the fringes of society, about those who are different from us. She taught us to care about our families, our classmates, our roots. She taught us to be kind to ourselves. And so she lives on, through our relentless battles to be good humans. She lives on because she forgot to teach us to stop caring. 
Sabhanaz Rashid Diya (Batch '06)
This pandemic promises to behead institutions. It will disproportionately target an age group that has spent the last 49 years trying to build a country. After the targeted extermination of intellectuals in 1971, it took this nation half a century to build a similar class of citizens, who have been institutions unto themselves, and just by sheer biology, it is this generation that Covid-19 threatens the most.
Do we have replacements ready to fill the shoes they have left behind?
We had known for a few days that Niloufer Manzur -- or Mrs Manzur as we called her -- was infected with coronavirus, and learnt with deep despair early this morning that our ardent prayers for her salvation had gone unanswered.
My husband and I had just spent a desolate Eid day unable to meet parents and families, and we were taking out the frustration on each other when we heard the news of her passing. Immediately we were taken back to one of our earliest teachings from her. "Don't fight, children. Be kind to each other. Be generous -- I dare you to be as generous as you can," she had said, addressing our class, addressing me and my husband, when we were still in school uniforms.  
Both of us are former students of Mrs Manzur's, and here we are decades later, with her voice in our heads, asking us to behave.
Be kind, be kind, her voice resonates.
My husband could not have gone on to university in the States had she not believed in him. A student with stellar grades, he had gotten a large scholarship package from an engineering institution, but his family was on the fence about taking the financial burden of sending a teenager to live alone in another country.
Mrs Manzur came to the rescue, she believed in him with an intensity outshining that of his own family. She provided more than courage -- she handed a cheque that went into buying his plane ticket out of the country, and in the end, it was banking on her belief in him that his family agreed to invest in his higher education.
Meanwhile, my first meeting with Mrs Manzur was a surprise. I was 9 years old and I had no intention of shifting from my then-school to Sunbeams. I had intentionally left out one single math problem on the admission exam, hoping it will make me flunk. Confident that I had done everything in my power to fail the exam, I left to spend summer at my nanubari in Chittagong … and within a day of leaving, I received a call saying the school wants to interview me. A kicking and crying child was bribed with a terrible-tasting pastry from a highway inn, and dragged back to Dhaka.
As I sat across the table from her, I burst into tears of rage, told her I am being forced to change schools for no good reason, and rather dramatically, informed her that I already hate her school.
"You will make new friends," she assured me. 
I did. I made friends who would bunk school to go swimming in the Turag river with me, friends who would follow me into my workplaces in the future, and become the best of colleagues, I made lifelong siblings who would become inseparable pieces of my heart and one particular friend who I would end up marrying and choose to spend a life with.
In a recent school function, when she was asked to speak, she beamed at the children in front of her and said, "I am still floating on clouds -- please, give me time to come down."
This time, there is no coming down, though is there? Praying so that you build castles in the clouds, Mrs Manzur.
 Zyma Islam (Batch '07)
I have never been comfortable with authority.
I find myself suffocated, robbed of my ability to speak freely, my reactions numbed and movement constrained within the boundaries dictated by an authoritative presence.
Yet, in hindsight, I find that a tight mould is precisely the starting point of who I am today.
Niloufer Manzur was the quiet, knowledgeable authoritarian who was responsible for creating the mould that would go on to shape thousands of students for over 45 years at Sunbeams, including myself. Armed with the vision of a proud, capable Bangladesh, she outlined the seven qualities she ultimately wanted to see her students carry throughout their lives -- knowledge, leadership, patriotism, integrity, humility, confidence and commitment -- the seven rays of the blazing red sun that beat down on the malleable young minds crossing her threshold and baked into them the need to do better.
But, as I also found out, the mould was not universal -- it was merely the basis on which every member of the Sunbeams family would be equipped with the basic tools with which they could forge their own path through the chaos of the outside world.
Mrs Manzur, as her students called her, was the first person I met in a position of authority who did not shy away from the questions of why and why not -- she actively encouraged everyone in her tutelage, from teachers to students, to question things and learn, in the process, the values of dialogue, empathy and discipline.
She was a larger than life figure who found ways of inspiring the best in people to shine through, and that is what made her a visionary educationist and a principal who went above and beyond in shaping the lives of all of her extremely fortunate students.
I am glad I had Mrs Manzur as my principal and, despite the problematic stances the school has been criticised for over the years -- a lack of access being one of them -- the fact that I can recognise and understand that to be an issue that needs to be addressed in the bigger picture, is a result of the vision that she had for the school she established.
If every single school, every single student had access to someone of Mrs Manzur's stature, the world would be a very different place.
I hope she rests in peace, knowing that every single person she has guided over the years, loves and respects her immensely.
Shaer Reaz (Batch '09)