Attacks on Santals in Gaibandha: No Confidence petition submitted against CID charge sheet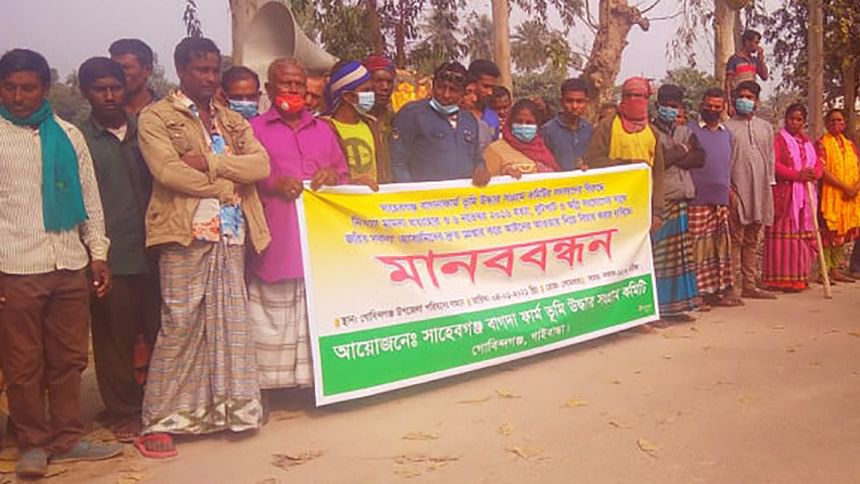 A naraji (no confidence) petition was submitted today against a Criminal Investigation Department (CID) charge sheet in the case over the attacks on Santals in Gaibandha.
Plaintiff Thomas Hembrom submitted the petition to senior judicial magistrate Partha Bhadra in Gobindaganj court today saying the CID could not investigate the case properly.
During the hearing, Supreme Court lawyer advocate Rafiq Ahmed Siraji, Gaibandha district judge court lawyer Murad Zaman Robbani and Gobindaganj court lawyer Foizul Alam Ronon were present on the behalf of the Santals.
Advocate Murad Zaman Robbani told our Bogura correspondent that the "CID could not investigate the case properly. They have submitted charge sheet against Mohammad Hossain Foku, 65, a former AL leader and former Gobindaganj upazila vice chairman, who died before CID could investigate further."
Advocate Rafiq Ahmed Siraji said, "As the CID could not do the investigation properly, we urge the court to carry a judicial inquiry and fix another date for further hearing of the naraji petition on February 15."
Rafiq Ahmed Siraji said the main accused in the case had been dropped despite there being adequate evidence of his involvement. "As a result, we have submitted najari petition mentioning 16 points."
Meanwhile, Santals under the Sahebganj-Bagda Bhumi Uddhar Sangram Committee organised a human chain in front of the Gobindaganj upazila parishad protesting against the CID charge sheet submitted to a court of Gobidaganj under Gaibandha on November 2 last year.
During the human chain, Philimon Baske, president of the Sahebganj-Bagda Farm Bhumi Uddhar Songram committee, said, "Gaibandha CID has submitted almost the same charge sheet that PIB had submitted to the court last year. They have also included a name of AL leader Mohammad Hossain Foku who died last year.
"PIB and CID both excluded the main 11 accused including former MP Abul Kalam Azad and former managing director of Rangpur Sugar Mill Abdul Awal," said Philimon.
The human chain started around 11:00 am and ended around 1:00pm today.
This correspondent tried to contact Tanvir Hasan, assistant superintendent of police, who signed the present charge sheet, over phone several times but he did not respond.
Earlier, Gaibandha PBI submitted their final charge sheet against 90 accused on July 23, 2019 and dropped the names of 11 main accused in the November 6, 2016 incident.
Later, the Santals submitted a naraji petition on September 4, 2019 and the court ordered the CID to conduct further investigation on December 23, 2019.
On November 26, 2016, Thomas Hembrom filed a case against 33 named and 500-600 unknown people who allegedly attacked the Santal Palli under Gaibandha's Gobindaganj upazila, set fire to their makeshift houses, looted their properties and killed three Santal men on November 6, 2016.
On that day, more than 2,000 Santal and Bangalee families were ousted from the "disputed" Sahebganj-Bagda farmland under Gaibandha's Gobindaganj upazila, where Rangpur Sugar Mill was established during the Pakistan period.
The eviction took place following a violent clash between the dweller families, mill employees and police. Three Santal men were killed and 20 others, including nine policemen, were left injured in the incident.