Arogga raises investment for pharma, healthcare app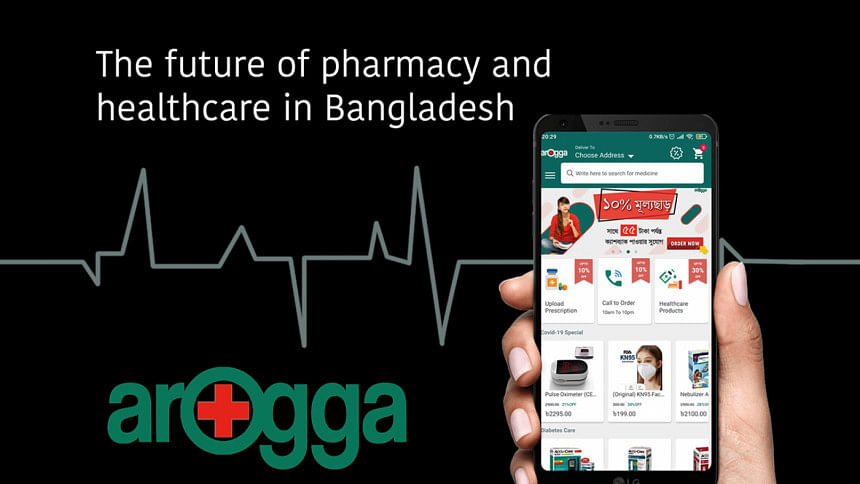 Arogga has secured an investment from Dubai-based investment company Falcon Network for their pharmacy and healthcare app.
Falcon Network is focused on mission-driven entrepreneurs and businesses in high-growth markets, and members include high-net-worth individuals from across Asia committed to investing in the potential of their constituent markets.
Since its inception in 2018, Falcon Network has invested over USD 2.5 million in technology-enabled ventures that are disrupting critical sectors in their domestic economies, such as, amongst others, education, healthcare, transportation, financial services, and agriculture, according to a press release issued to media.
Sayd Farook, Partner at Falcon Network said "The Covid-19 pandemic has revealed critical challenges in the provision of health services globally. Consequently, the health tech industry is growing at an exponential pace globally, and Arogga is well-placed to be a market leader in Bangladesh, a country projected to reach the top 25 economies by 2034. As a result, we are absolutely delighted to support the growth of Arogga with our investment and board representation – our fourth investment into Bangladesh, and our second health tech investment. The team demonstrate a solid mix of entrepreneurial and operational expertise that will enable us to build an ecosystem of mobile-first health services, from pharmaceutical deliveries to the provision of online health services."
Arogga, which means 'cure' in Bangla, has built a digital pharmacy and healthcare app of the future by using technology that allows patients to easily manage, order, and track the delivery of medication and healthcare products in an affordable way.
Key features include easy prescription upload, cash back incentives, and free delivery of medicine.
Launched earlier in 2020, Arogga received an overwhelming response to their app, fulfilling over 4,400 orders in just a few months. Now, following a relaunch in December 2020, with over 28,000 app installs already, Arogga is set to make waves in Bangladesh, with the local market being worth $5.11 billion by 2023.
The founding team behind Arogga is Fahad Hossain, Rosina Mazumder, Shamim Hasan, and Yawar Mehboob, who bring synergistic skillsets in business, strategy, operations, and technology, and are pleased to secure this seed funding from Falcon.
Former investment banker turned celebrated entrepreneur, Rosina Mazumder successfully used social media to launch and grow global business Cake Masters and now sits on the UK SME Facebook Council, as well as being an appointed Ambassador for Facebook since 2017. 2020 became the year for reassessment and exploration into ideas with impact investing in emerging markets, which led to becoming a Co-Founder in Arogga.
Rosina Mazumder, CEO and Co-Founder, said: "With Bangladesh highlighted as one of the next largest power economies, and with the population embracing the digital revolution with the use of smartphone technology, our goal is to make Arogga the number one pharmacy and healthcare platform in Bangladesh. Solving pain points around availability of genuine medicine, at an affordable price, while being delivered to your door. With phase one focused on pharmacy, we are excited to develop future verticals to enhance Arogga and become the ultimate healthcare platform for Bangladesh."
Shamim Hasan, CTO and Co-Founder, said that they planned to use the investment to build and improve the technology behind the app, as well as building on the infrastructure around the supply of medicine and healthcare products.
This deal marks Falcon Network's fourth investment in Bangladesh and will impact the way in which millions better manage their healthcare.