12 vultures being released from Singra National Forest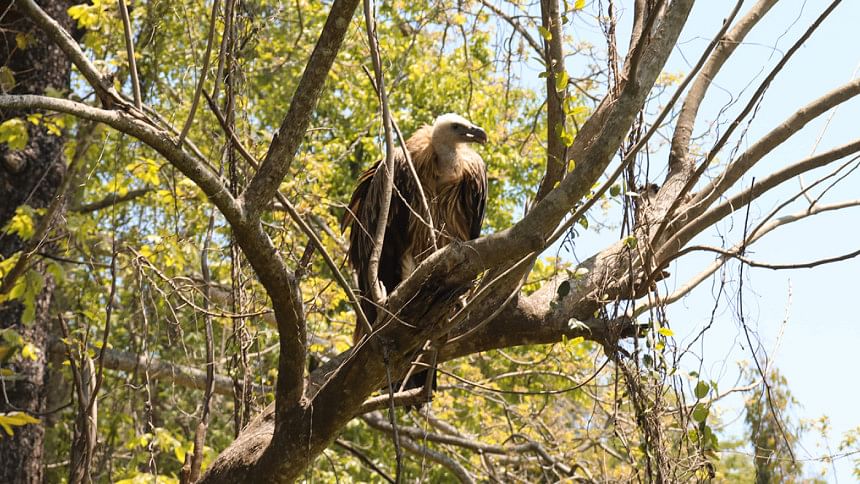 Authorities have begun releasing 12 migratory vultures -- including eleven Himalayan griffons and one Cinereous vulture -- from the Vulture Rescue Centre at Singra National Forest in Dinajpur today.
Bangladesh Forest Department and IUCN Bangladesh are jointly conducting the release programme, reports our Bogura correspondent quoting officials.
"We have begun the vulture releasing programme around 12:00pm today and will continue till tomorrow noon. These vultures were rescued since November last year, provided treatment, food, and now these are being released back into the wild," Abdur Rahman, divisional forest officer of Dinajpur, told The Daily Star.
"Last year, we released 19 vultures, of which 16 returned to their natural habitats, but 3 vultures still live in this forest," Rahman added.
"These migratory vultures visit our country in winter from their natural habitat -- the Himalayan territories. This year, we rescued a total of 23 vultures from different parts of the country. In this endeavour, IUCN, Bangladesh Forest Department and volunteer organisations of the country worked together. The whole operation was overseen by the Bangladesh National Vulture Recovery Committee under the Ministry of Environment, Forest, and Climate Change (MoEFCC)," said Sarowar Alam Dipu, a senior programme officer of IUCN Bangladesh.
"Every year, around 100 Himalayan griffons come to our country, in winter, and are spotted in the northern districts. Through our rescue and rehabilitation programme, around 90 percent of the vultures return to their natural habitats, while 10 percent vultures die for different reasons," the IUCN official told The Daily Star.
"Under this programme, we have rescued over 120 vultures and freed almost 100 of them after rehabilitation since 2014," said Dipu.
"In the last two years, we wing tagged the birds for getting further information on migration which are very handy to conduct vulture research. This year, we lost a special tagging opportunity due to the ongoing coronavirus pandemic," the IUCN official also said.
"The Royal Society for the Protection of Birds (RSPB), UK, provides technical assistance and financial support for this programme. We plan to further extend our research and conservation in the future into different avenues," Dipu added.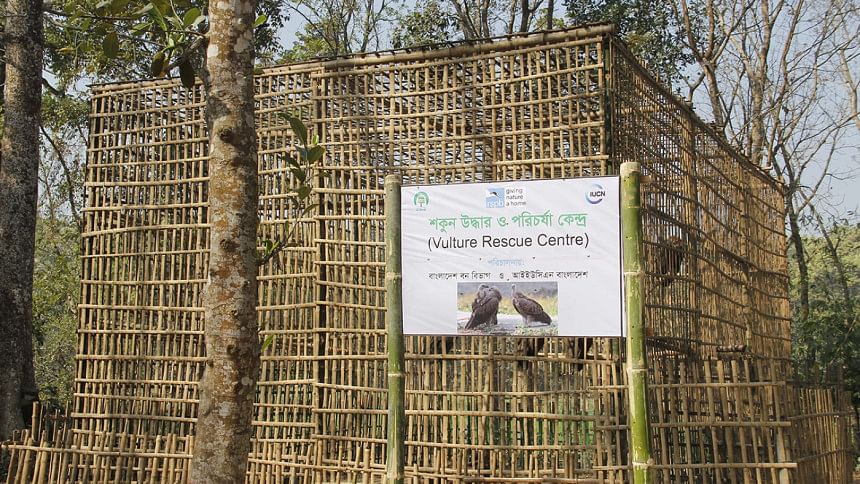 IUCN Bangladesh, with support of Bangladesh Forest Department, established the country's first-ever Vulture Rescue Centre at Singra National Forest in November 2016. The centre rescues and rehabilitates vultures, and after attaching specialised numbered rings and wing-tags, releases them into wild when they are fit to fly again.
"These vultures gain weight during recovery. If they gain more weight, then they cannot return to their habitats, therefore, we have to release them at the right time. This year we avoided mass gathering while releasing the birds due to coronavirus outbreak," said Dr Billal Hossain, additional secretary to the MoEFCC and chairman of the Bangladesh National Vulture Rescue Committee.