Farabi admits of threats to kill Avijit: Rab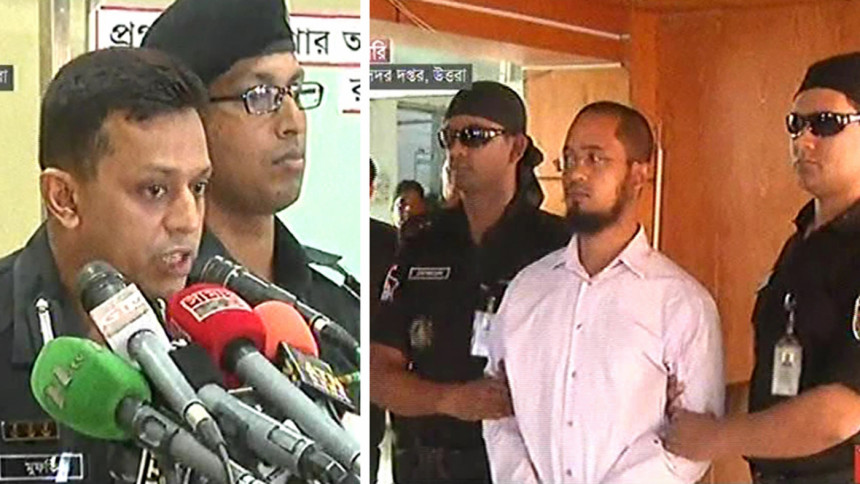 Farabi Shafiur Rahman, the prime suspect in the sensational murder case of writer-blogger Avijit Roy, has admitted making online postings threatening to kill Avijit, according to Rab.
"He (Farabi) confessed of his statements to kill Avijit, which he had made several times," said Commander Mufti Mahmud Khan, director at Legal and Media Wing of Rab.
The arrest was made four days after unidentified assailants killed Avijit, 42, and badly wounded his wife Rafida Ahmed Bonya at the Dhaka University campus after the couple came out of the Ekushey book fair.
Addressing a press briefing at Rab's Uttara headquarters in Dhaka, Khan said a team of Rab-10 arrested Farabi from Jatrabari bus stand area this morning.
"The real events can be known after interrogating Farabi," the Rab official said.
Meanwhile, Major Maksudul Alam, assistant director of Rab's legal and media wing, told The Daily Star that Farabi has been handed over to the Detective Branch of Police this afternoon.
A dropout of the Physics department at the Chittagong University, Farabi came to the limelight over making death threats to an imam who had led blogger Ahmed Rajib Haidar's first namaz-e-janaza.
He was arrested at that time for the death threats. He came out on bail later.
Rajib, an architect and activist of the Shahbagh movement, was brutally murdered near his house at Mirpur on February 15, 2013.
"Avijit's father mentioned Farabi's name as he had threatened to kill his son several times.
"A year ago Farabi threatened to kill Avijit Roy, one of the founder moderators of a popular blog Mukto-Mona," Commander Khan said in the press briefing.
"Farabi came in touch with Avijit five years back through the social media site, Facebook. They shared their views on the site. They argued over opinions, and Avijit blocked him," Khan said.
Avijit's father Ajay Roy, a retired professor of physics at Dhaka University, filed a murder case the day after the killing with Shahbagh Police Station accusing unknown assailants.
Talking to the media, he earlier said militants were responsible for his son's murder.
It was alleged that Avijit had been threatened multiple times by the self-proclaimed Islamist blogger Farabi.
On January 25 last year, Farabi's Facebook status read, "It's a holy duty of Bangalee Muslims to kill Avijit."
Then on February 9 last year, he commented on a Facebook post: "Avijit Roy cannot be killed now. He lives in America."