Barack Obama to appear on Jerry Seinfeld's comedy show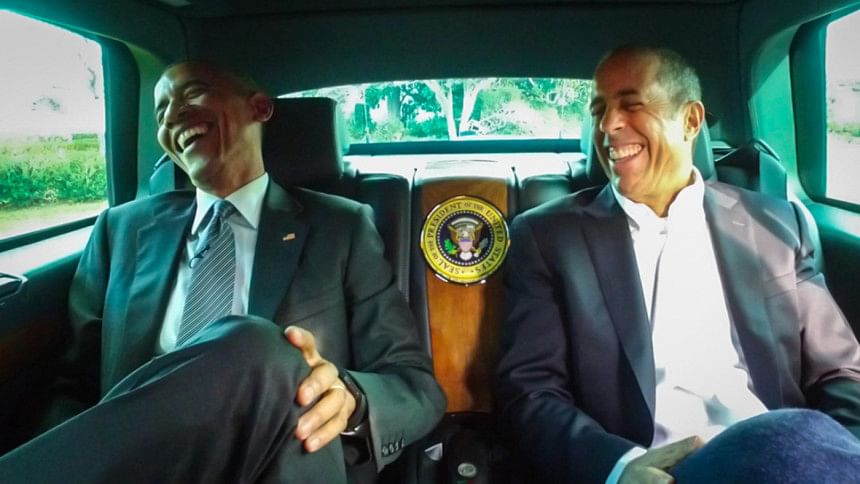 President of the United States Barack Obama is going to turn in the passenger seat on Jerry Seinfield's web series 'Comedians in Cars getting Coffee'.
Obama is no stranger to guest-starring on popular entertainment broadcasts, having appeared in shows like  'Running Wild With Bear Grylls' and 'Marc Maron's WTF podcast' earlier to name a few, reports Mashable.
The US President will kick off the comedy show's seventh season, which will be available on Sony Pictures Television's free streaming network 'Crackle'.
Technically Obama is not a comedian, but he's one of the biggest names to be appearing on the show undoubtedly.
The episode will be featuring the comedian and the president driving around in a 1963 Corvette Stingray Split Window Coupe around the White House over coffee and talking about life.
"Growing up in the '60s, my kid dream was always to be an astronaut — doing a comedy show with President Obama in and around the White House felt like going into space," Seinfeld said in a statement.
"The President's humor and generosity are the only reasons this was even possible. He was so easy and fun to be with. Being President and just a cool guy to hang out with at the same time made the experience my own personal moonwalk. It was an unforgettable day," he further said, adding he could hardly believe that it really happened.
The show will premiere on December 30 at 11:30pm ET , a week earlier than previously scheduled.  The premiere date has been pushed ahead largely due to the enthusiasm over its guest slate.
Besides Obama, Season 7 will also feature comedians Will Ferrell, Steve Martin, Garry Shandling, Kathleen Madigan and Sebastian Maniscalco.
"Like everything else Jerry Seinfeld does, he has managed to break records with Comedians in Cars Getting Coffee," Eric Berger, Crackle GM and EVP of Sony Pictures Television Digital Networks said in a statement.
"We're so proud of this season that we just couldn't wait until the new year for people to watch it."
Seinfeld's show was launched in 2012 as Crackle's flagship original, unscripted series.