Finding hope in Maldives
16,000 undocumented workers regularised so far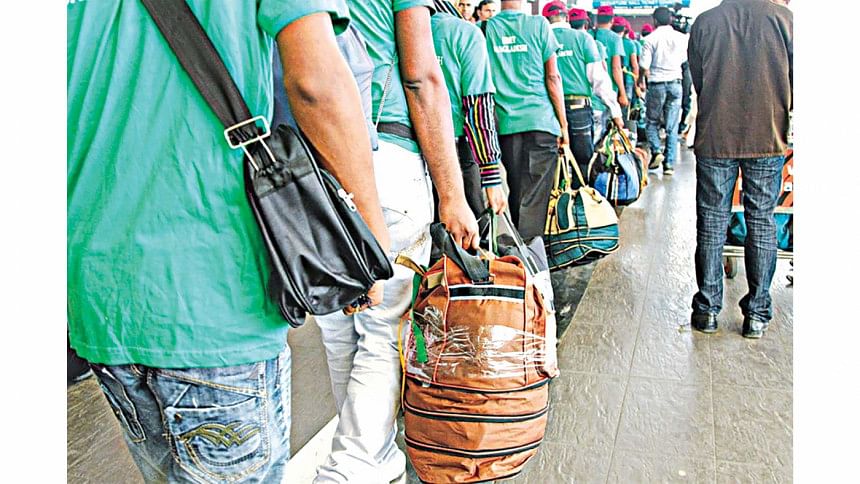 About 16,000 Bangladeshi undocumented migrant workers have so far been regularised in the Maldives under a programme of the Maldivian economic development ministry, according to the Bangladesh High Commission in Malé.
Sohel Parvez, first secretary (labour welfare wing) of the Bangladesh mission, yesterday said they received the latest figure on regularised Bangladeshi workers from the Maldives authorities in August.
The regularisation process has got pace in recent months, the official told this correspondent over the phone.
Following an initiative, around 45,000 Bangladeshi undocumented workers got registered with the Maldives government in 2019. About 11,000 of them got regularised as of May this year, according to the mission sources.
However, Sohel Parvez said the number of Bangladeshi undocumented workers could be higher than the initial estimate.
With an estimated 1,00,000 expatriates, Bangladeshis are the largest foreign national community in the Maldives. Most of the Bangladeshi migrant workers are involved there in the construction sector.
Once they are documented, Bangladeshi workers can get legal and health insurance benefits. Besides, they can remit money home using their documents through banking channels, which also helps increase inward remittance.
People of the community said many currently send money through unauthorised channels as they are undocumented.
For the regularisation, a worker's employer has to apply for a "work permit" to the Maldives' Economic Development Ministry, as per notice of the Bangladesh High Commission issued in July.
On September 8, Bangladesh High Commissioner in Maldives Rear Admiral SM Abul Kalam Azad during a courtesy call with Maldives Economic Development Minister Fayyaz Ismail stressed the speedy regularisation of Bangladeshi undocumented workers there, according to a Facebook post of the mission.
The envoy also urged the Maldivian minister to reopen its labour market for fresh workers.
Besides, they discussed ensuring health services and accommodation for Bangladeshi migrant workers and easing the process of remitting money home through the banking channel.
In response, the Maldivian minister urged Bangladeshi undocumented workers to avail themselves of the ongoing opportunity.
Fayyaz said they will take punitive measures against employers and undocumented foreign workers who will not avail the ongoing regularisation opportunity.
During her visit to the Maldives last December, Prime Minister Sheikh Hasina and Maldivian President Ibrahim Mohamed Solih discussed the regularisation of undocumented Bangladeshis, reported BSS.
According to Bangladesh mission sources, the regularisation process is also open for other undocumented foreign migrant workers.
After some back and forth amid the pandemic, the amnesty programme got pace recently, following the resumption of different activities.
Many Bangladeshi workers became undocumented at different times for various reasons after entering the country through proper channels, said sources at the high commission.
The Maldives is currently not hiring low-skilled workers from Bangladesh because of a large number of Bangladeshi undocumented workers there, the sources added.