Traffickers abuse visit, on-arrival visas
Another gang uses 'contract marriage'to send people abroad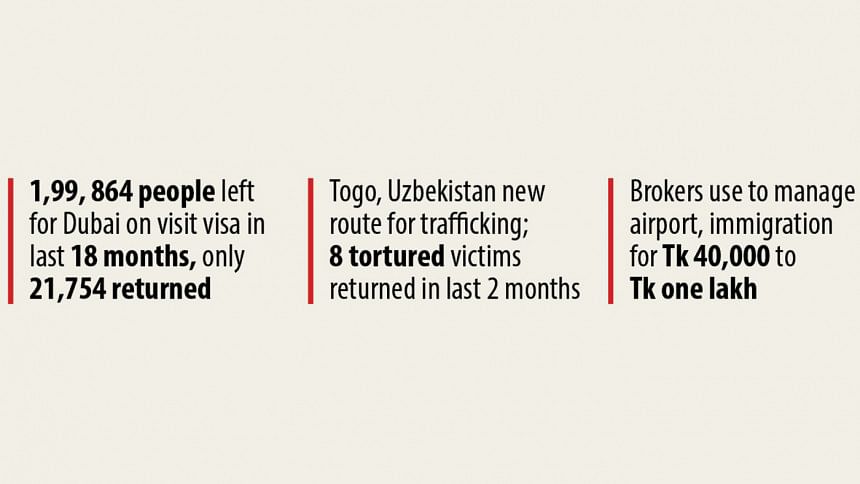 Abusing  visit visas and on-arrival visas, a transnational syndicate has been trafficking people from Bangladesh to different countries, including the Middle East and Europe.
The syndicate first trap aspiring migrant workers through online advertisements and fake documents that promise a job abroad.
They then take them to countries that accept visit visas or provide on-arrival visas.
Once abroad, the ordeal begins as syndicate members keep the aspiring migrant workers confined and tortured them for money.
After the traffickers collected the money, they would send the victims to different countries in Europe through the Mediterranean.
Many die during the journey, officials and other victims said.
The Special Branch and Criminal Investigation Department of police came up with the findings while analysing and investigating some recent trafficking incidents.
According to the SB database, around 1,99,864 men and woman have left the country for Dubai with tourist visas from January last year to June 30 this year.
Of them, only 2,1754 came back. Although the visa of the others had already expired, they did not return.
"Analysing the travel documents, we have come to know that most of the people are aged 18 to 40. We suspect these people might have converted their visas and have acquired working permits and some others may have tried to enter European countries illegally," said an SB high official.
In Dubai, there is a provision that says a traveller can change their visa to a work visa by paying 2,000 Dirham, according to officials.
"A group of traffickers has been using Dubai as a transit route to send their victims to Europe. We are trying to get details of the locations of these travellers," the SB official, requesting anonymity, told The Daily Star.
UN data shows that at least 760 different nationals of different countries have died trying to cross the Mediterranean between January 1 and May 31,
Last year, the number was 1,400.
NEW ROUTE, CONTACT MARRIAGE
SB officials said a transnational syndicate -- operated by Bangladeshi and Pakistani nationals -- recently found the means of arranging "contract marriage" in order to traffic people abroad.
The traffickers first take their victims to Kazakhstan and Ukrained from Dubai after arranging contract marriages for them there. Each marriage costs around $400-500, the officer said.
Once the marriage documents are submitted, the traffickers get residence cards for the victims, which are then used to enter Europe.
The CID said it has also found two new routes that traffickers have been using over the last month, as traffickers made online advertisements regarding trips to Poland, Germany and Canada.
The syndicate charges Tk 10 to Tk 13 lakh as fee for anyone who responds to the ad, Saidur Rahman Khan, special superintendent (human trafficking) of the CID, told The Daily Star
"To go to Poland, the traffickers first take the victims to Delhi and then to Uzbekistan on tourist visas. Later, the migrants are forced to make their journey to Poland through tough hilly roads," Khan said.
For Germany and Canada, the traffickers take the victims to Togo, which offers on arrival visas for Bangladeshi travellers.
The syndicate was found using two routes, one of which led from Kolkata, to Mumbai, Ethiopia and finally Togo.
Through second route, the syndicate sent migrants to Thailand and then Ethiopia before Togo, he said.
The CID has come to know about these two new routes after eight victims returned to Bangladesh from Uzbekistan and Togo in March and April of this year.
These victims have filed five separate cases with Paltan, Gulshan, Mirpur and Bhatara police stations and with Gopalganj's Kotalipara police station, said officials.
"We have already started investigating and arrested five people. Four were arrested for illegally trafficking people to Uzbekistan and one for trafficking people to Togo," said Khan.
Sources claim the traffickers are getting the scope of sending migrants on visit visa after making sure there are no hurdles at the airport.
"We have to pay around Tk 40 thousand and sometimes even Tk one lakh to manage the airport while sending people abroad," claimed Md Habib, an executive of Helpline Travel and Consultancy.
Once the airport hassles are taken care of, the authorities do not stop anyone from boarding a plane, he added. 
Monirul Islam, SB deputy inspector general (immigration), however, refuted the allegation and said immigration is not involved with the irregularities.
"It is the brokers who collect extra money in the name of immigration."
THE ARREST, JOURNEY
On a tip-off, the CID arrested Ahsanul Bari, the mastermind behind trafficking people to Uzbekistan from the capital's Kakrail on June 17.
Later, three others -- Yeasir Bari Ahad, his wife Habiba Khatun Liza, and Alamgir Apurbo -- were arrested in Bashundhara and Mirpur area on June 25, said CID officials.
Akteruzzaman, additional superintendent of police of the CID, said Alamgir, Ahad and his wife Liza had been involved in trafficking people for the last couple of years.
"The arrestees promised the victims that they would be sent to Poland legally, and  had taken Tk 10 lakh for the process. As there is no embassy in Dhaka, they took the victims to India first and from there, they took them to Uzbekistan on tourist visas on July 10, 2019," he said.
After waiting for the travel documents for around a year and half and failing, the traffickers sent the migrants by road. As they refused to travel illegally, the syndicate told them to go back to Bangladesh, said Akteruzzaman.
Investigators said they suspect the syndicate might have contacts and counterparts in Poland and somehow their link did not work in their favour.
"We have come to know some 10 to 12 other Bangladeshis are stuck in Uzbekistan. We are investigating if any local agency is involved with the racket and trying to identify syndicate members in Uzbekistan. We may seek Interpol assistance for further investigation."
Regarding the second route, the CID said they arrested one Bazlur Rahman last month in Dhaka for trafficking people to Togo.
THE ORDEAL, TORTURE
Saidur Rahman, 26, left Dhaka on December 30, 2019, for Togo.
Speaking to The Daily Star, Saidur said that he had signed a Tk 15 lakh contract with a travel agency. "I paid them Tk 6 lakh and the contract said it would send me to Italy."
He reached Togo on December 31 via Thailand and Ethiopia. In Togo, a Bangladeshi -- Nurul Alam Sumon -- received him from the airport and took him to a hotel.
"There, Sumon took $1,200 from me. But three days later, they shifted me to a rented house.
"An African named Tudo then confined me with dozens of other Bangladeshis and began the torture. He would only provide us with rice and a piece of meat a day and sometimes [there would be] no food. If anyone protested, they would be beaten up." 
He added, "I was forced to contact my family in Bangladesh and make them pay Tk seven lakh in two instalments to their local agent -- Tuhinuzzaman Bhuyan. One day, we found a cell phone access and managed to communicate with an NGO."
"The NGO, aided by local police, then rescued us and helped us come back. But they failed to take any action against Tudo as he seemed to be too powerful… In the torture cell, there were at least 50 to 60 Bangladeshis. They would take away everyone's passports and torture people unless they would get a hefty amount of money."
CID's SS Khan said, "We are investigating the cases and a drive is underway to arrest those involved."