Safe migration: Bangladesh-Greece sign letter of interest to enhance cooperation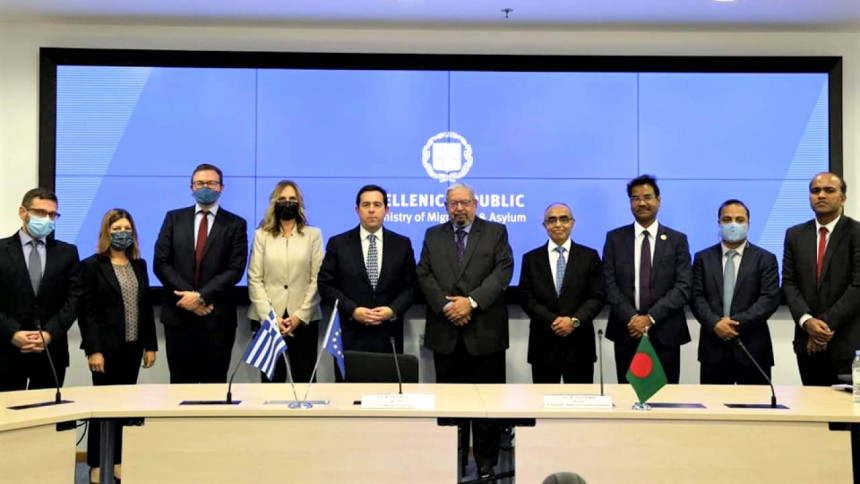 Bangladesh and Greece have signed a "Declaration of Intent" to increase cooperation in safe and legal migration.
Imran Ahmed, Minister of Expatriates' Welfare and Overseas Employment, and Notis Mitarachi, Greek Minister of Immigration and Asylum, signed the letter in Athens, Greece on Monday.
The two ministers spoke out against irregular immigration during a bilateral meeting at the Greek minister's office. At the same time, they agreed to systematically strengthen migration.
Imran Ahmed said the Bangladesh government has taken a strong position on legal and regular migration, referring to Greece's historically friendly relations with Bangladesh. If it is possible to recruit workers from Bangladesh through legal channels, illegal migration would decrease and both countries will benefit from this, he added.
The minister emphasised the importance of signing a memorandum of understanding (MoU) between the two countries in order to legally employ various professionals, including Bangladeshi workers, in Greece.
The Greek minister said in his speech that there is potential for mutually beneficial cooperation between Bangladesh and Greece, and that his ministry is working to achieve this goal.
He said that discussions on the issues raised by Imran Ahmed, such as expatriate Bangladeshis' problems and bringing workers in a legal manner, would continue.
The Greek minister assured the Bangladeshi delegation that Greece and Bangladesh would soon sign a memorandum of understanding to strengthen regular labour migration.
Expatriates' Welfare Secretary Ahmed Munirus Saleheen, Bangladesh Ambassador to Greece Ashud Ahmed, embassy officials and senior officials of the Greek Ministry of Immigration were present in the meeting.