CAAB suspends pilot Sadia's licence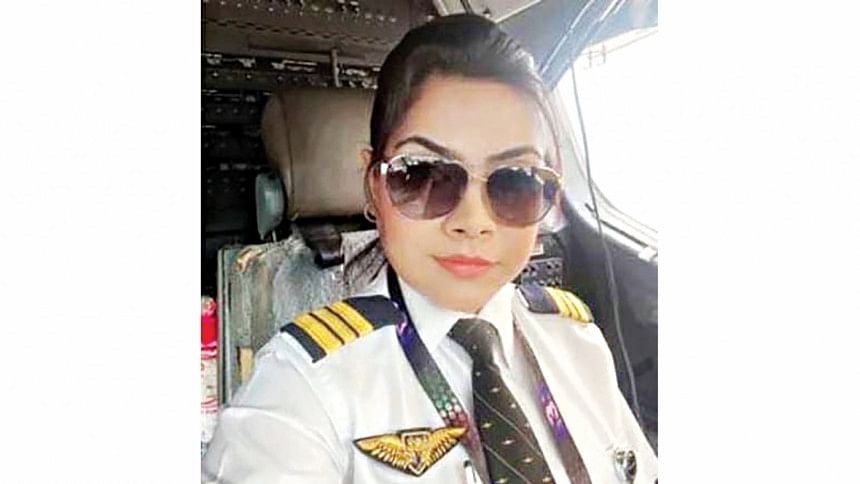 Civil Aviation Authority of Bangladesh (CAAB) has finally suspended the privileges of commercial pilot license (CPL) of Sadia Ahmed, a first officer of Biman Bangladesh Airlines, for her alleged forgery of Higher Secondary School Certificate.
A recent letter to Sadia, signed by Air Commodore Shah Kawsar Ahmed Choudhury, member (Flight Standard & Regulations) of CAAB, said, "An investigation has been initiated on the report in The Daily Star on March 1 regarding your HSC examinations details. CAAB, hereby, suspends all the privileges of your CPL#470 till further notice."
Sadia, who was suspended from Biman, in connection with the forgery, reportedly left the country late last month without appearing before a probe body of the national flag carrier.
Sources in CAAB said Sadia won't be able to fly any commercial flights at home or abroad from now on.
A top official of CAAB yesterday told The Daily Star that after completion of the investigation, they will decided on revoking her CPL.
Biman has also launched an investigation into Sadia following The Daily Star report that said Sadia forged the certificate to claim that she was a student of the science group when she was actually a student of arts.
Meanwhile, Biman has suspended four other contractual pilots as they have failed to complete their training within the one year stipulated time.
The five pilots are: Irfanul Haq, Shah Nasimul Awal, Sadia Ahmed, Sayed Muhit Rezwan and Mohammad Atiqur Rahman.
The five pilots failed to complete initial route check (IRC), according to a source in Biman.
In February last year, Biman recruited a batch of contractual pilots to fly its Boeing 777-300ER aircraft, claiming that it needed pilots immediately due to a shortage.