Hello Kishwar Chowdhury
Bangladeshi-Australian Kishwar Chowdhury Nupur clinched the title of second runner up in the most popular reality show in Australia titled 'MasterChef Australia'.
The 38-year-old won the hearts of each and every Bangladeshi. Yesterday evening, I managed to get her on a call to talk to her about her journey. I also talked to her father Kamrul Chowdhury, who was a freedom fighter during our Liberation War.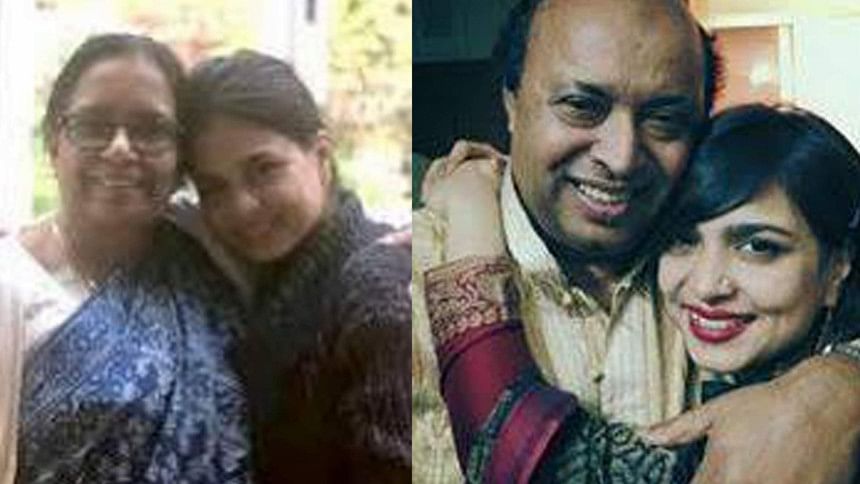 "Even though I could not win the trophy, I still consider winning the hearts of Bangalees a big achievement," she said. After I expressed my intent to take her interview, she said that she cannot talk to media right now without seeking permission from her agency. She shared her agency's email address and requested me to contact them.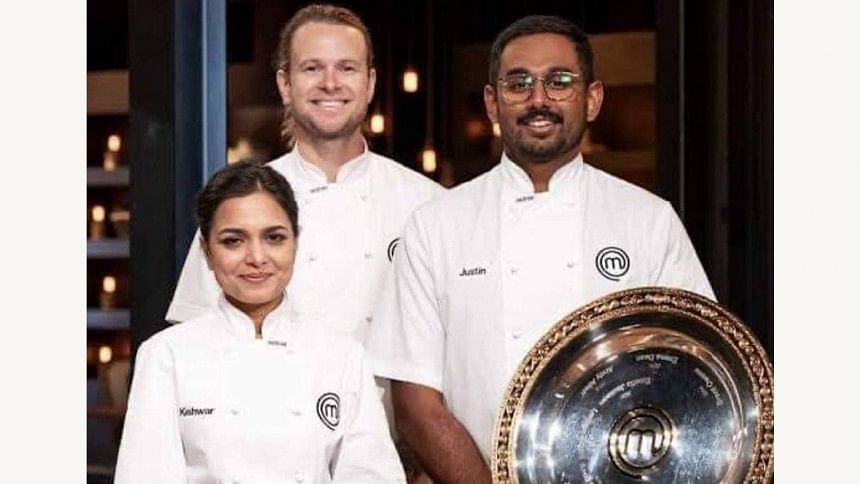 I also called her father Kamrul Chowdhury, a renowned businessman to hear his thoughts about his daughter's journey. Kamrul Chowdhury was my guardian angel during my initial days in Australia. He bought me a restaurant in Sydney and my printing business also came to being, thanks to his blessings.
"To this day, I have heard that Bangalee's cannot praise others. They are usually jealous of other people's success, however, in case of Kishwar's success, I am observing that people throughout the whole world are basking in joy. They are celebrating and taking pride in her success," said Kamrul, emotional at his daughter's massive success.
"It makes me very happy to see our second generation surpassing us in the context of success," he added.
Kishwar's father Kamrul Chowdhury is a freedom fighter. Nearly, fifty years back he came to Australia from Bangladesh and is currently living in Melbourne. He became the first, and so far, the only person of Bangladeshi origin to receive the Australian government's highest honour 'Order of Australia Medal' (OMA) award, which greatly enhanced the pride of the non-resident Bangladeshis in Australia. He is a Bangladeshi person by all means. In every program, celebration, as well as while dealing with any problems faced by the Bangladeshi community in Australia, Kamrul Chowdhury is an essential name.
While talking to me, he said that Kishwar showed a deep interest towards cooking from a very young age. When she was three years old, she would sit beside her mother and help her out with. "We always cook Bangladeshi cuisine at our home. Gourds, beans, tomatoes, potatoes and brinjals can be found in my garden," he said.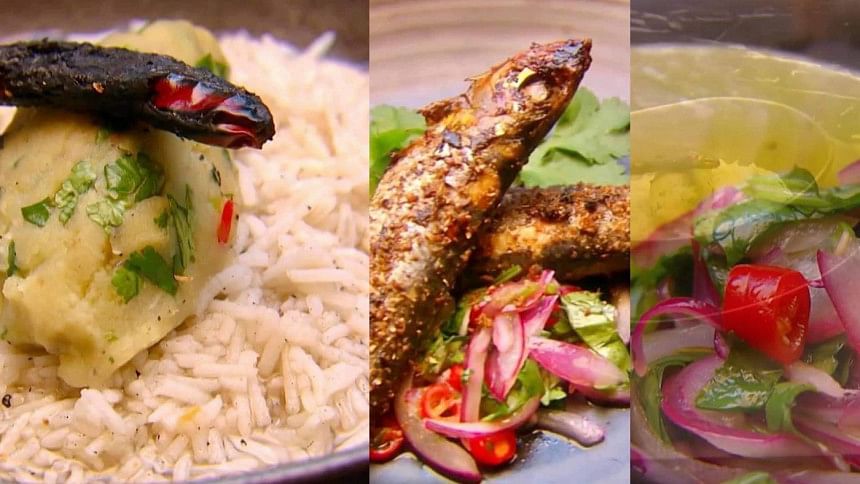 "Australia, as well as other countries in the world have Bangladeshi restaurants, but they usually write 'Indian Restaurant' on their signboards. After Kishwar's global success, I hope more people will become interested in saying they are a Bangladeshi restaurant," he added.
The reality show 'MasterChef Australia' is being broadcast on the mainstream television channel, 'Channel 10' for the last 12 years. Since the first episode was broadcast on April 27, 2009 at least 90 percent Australian TV viewers have come to rank this reality show as one of their most favourite programs.
Not only in Australia, the show has gained worldwide appeal among its viewers. Best chefs and home cooks from every nook and corner of Australia go through several stages of cooking tantalising food, competing against each other in order to secure their place in the final rounds.
Kishwar took part in the 13th season of MasterChef Australia and achieved accolades from Bangalees all around the globe. During the competition, Kishwar Chowdhury was the only Bangalee woman whose name came up the most both in Bangladeshi and international media.
She received immense praise. While taking part in an international standard competition like MasterChef, she kept on cooking authentic Bangladeshi food in almost every episode. This was the beauty of her presentation. It was also her challenge and her strength. The three Australian and internationally famed judges of the show, chef Jock Zonfrillo, Andy Allen and Melissa Leong kept on showering praises on Kishwar for her 'bravery' in choosing to highlight Bangladeshi cuisine throughout the show.
Kishwar's family came to Australia many years ago, and continued to embrace the concept of being a Bangalee in their heart and soul. This family influence has motivated Kishwar to choose the Bangladeshi dishes.
In almost every episode, Kishwar presented mouthe-watering traditional Bangladeshi dishes like lau chingri (gourd with shrimp), begun bhorta (mashed brinjals), khichuri (hotchpotch), fried fish, phuchka, chotpoti, alur dom (steamed potato curry), aamer tok, khashir rezala (mutton rezala), porota (parathas) and grabbed the attention of the judges and people from other nations. She also included dishes from the Chittagong Hill Tracts of Bangladesh.
On July 11, the competition laid out its biggest hurdle during the 'service challenge.' The challenge was to cook an entrée, a main dish and a dessert, to feed 23 customers, 20 guests and three of the competition's judges. Here, too, Kishwar managed to win accolades. During the service challenge, th biggest surprise from her came in the form of dessert. She served Bangladeshi 'mishti paan' (sweet betel leaf) as an after-dinner mint.
After eating the paan, judge Melissa said, 'This is a love letter from Kishwar to Bangladesh.'  
 When Kishwar was asked at the very beginning of the competition about her expectation from this competition, she answered that she wants to popularise Bangladeshi cuisine in Australia and she wanted to write a book on Bangladeshi food.
During the competition, Kishwar would mention from which part of Bangladesh a particular dish had originated from and she would add who she learned to cook it from. In each episode, Kishwar talked of Bangladesh fondly and each time it moved her to tears. This particular part touched the hearts of the judges and all Bangladeshis the most.
 The biggest challenge for Kishwar Chowdhury was the Grand Finale episode. Her presentation during that episode is now the talking point for people around the world. She astonished everyone by cooking panta bhaat (smoked rice water), shukno morich pora (burnt dried chilies), alu bhorta (mashed potato), korkore mach bhaji (deep fried sardines) and peyajer salad (Onion salsa).
This was another big challenge of her journey. The judges surprised everyone by awarding Kishwar the perfect score of 30 out of 30. She advanced to the final episode. Last 13th July, Kishwar secured the place of the second runner up and caused a lot of excitement. Kishwar is the only Bangladeshi who could take part in the finals of any popular Australian reality show. Before this, Rashedul Hasan, another Bangladeshi origin Australian citizen took part in the ninth season of MasterChef Australia on 2017. He was one of the top 24 chefs of the competition, but he had to depart after just one episode. Kishwar kept on fighting this fight like a decorated general from the very start till the end. She had to endure 57 episodes in order to reach the finale. The shooting for these 57 episodes took a total of seven months.
 A mother of two children, 38-year-old Kishwar Chowdhury is a commerce graduate from the Monash University. She also received a master's degree from the London University of Arts. She is a 'business developer' in profession.
Akidul Islam is a non-resident Bangladeshi writer and journalist in Australia (Translated from Bangla by Mohammed Ishtiaque Khan).