Speaking English is all about intelligibility, not the accent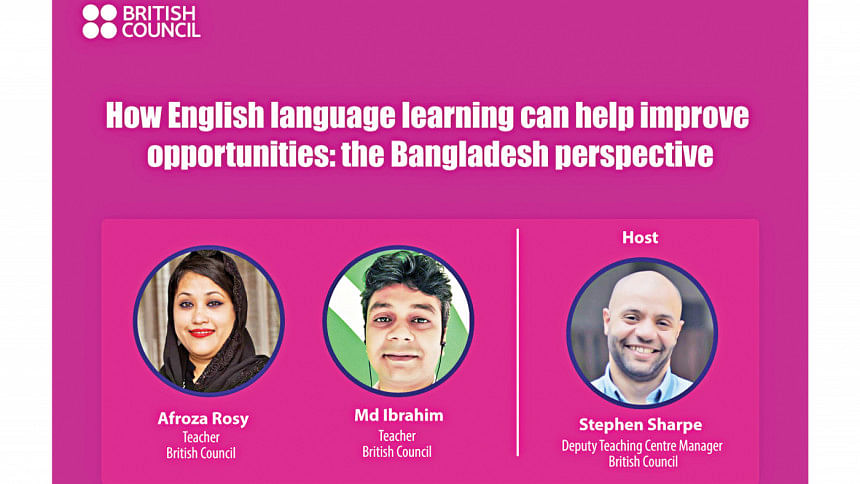 Learning any language can add a feather to one's cap. To be globally accepted, learning English has its own significance for personal and professional development. In the third session of the LIVE webinar series of The Daily Star in collaboration with the British Council, expert teachers from the British Council Teaching Centre discussed how English language learning can contribute to enhancing more opportunities for people in Bangladesh and what one needs to understand, across different life cycle stages, while learning it. The session titled 'How English language learning can help improve opportunities: the Bangladesh perspective' was hosted by Stephen Sharpe, Deputy Teaching Centre Manager, British Council Bangladesh on 26 January 2022.
Many think that a better accent leads to better job opportunities, which may not be true. "Personally, for me, the accent is not that important. A lot of people think that being good at speaking English means to have a British accent, or an American accent or Australian accent when actually, it is all about intelligibility. It is about being clear so that whomever you are speaking to can understand what you are saying," said Stephen. "People usually have different accents due to cultural differences. Learning English is not about learning a specific accent. It is about pronunciation and knowing intonation and word stress. As long as your pronunciation is correct, there is no need to worry about your accent," said Afroza Rosy, a teacher at British Council Bangladesh.
According to another teacher of the British Council named Md Ibrahim, the audience will always appreciate one's natural accent. It is better to try to ease into an accent that you like rather than force yourself into it. Having a particular accent has nothing to do with having more opportunities in the job market.
From an early age to adulthood, throughout the life cycle stage, one can learn the English language in a way that would help open more doors of opportunities. "Being involved in different activities of English language learning from an early age can also contribute to developing students' critical thinking, problem-solving skills, creativity, imagination, collaboration, communication skills and digital literacy," said Md Ibrahim. "One needs to enjoy learning to succeed. Memorising grammar rules and taking some mock tests is not the perfect way to learn a language. You need to engage in English in your daily activities and interactions with family members and friends," said Afroza. She also shared how students sometimes complain about not being able to excel in IELTS even after trying multiple times. The early years age group learn through play and are exposed to English the way they learn their first language whereas the primary age group learn through stories and collaboration with other students. As they move into the secondary age group, they learn through project work, collaboration and developing their creativity and critical thinking skills.
While talking about the reluctance of some parents regarding their children learning English online, especially in the current Covid-19 situation, Rosy spoke from her experience, "In online classes, we have break rooms and group discussions among ourselves. Students can easily access websites for study materials and can use the technology at their best which they could not do so in offline classes. And as students are in their homes, they can have materials like papers and colours to work with, which will increase their enthusiasm in learning English."Rosy added that students and teachers could still participate in conversations and collaborative work in online classes. If classes are made interactive, students may feel more interested in classes while being relaxed at home. Md Ibrahim added to this by saying, "I think it is a great opportunity for parents as they can have insights about their children's behaviour, learning styles and willingness to cope in this case. These virtual classes will improve students' digital traces. As we are moving towards online learning gradually, these classes will obviously help them improve their skillsets. These will allow them to develop 21st-century skills to help with further education in Bangladesh or abroad, immigration to the desired country as well as future job prospects." For reaching out to learn more about English language learning opportunities, or a free consultation, email at [email protected]