Is teaching just about the money?
(or lack thereof)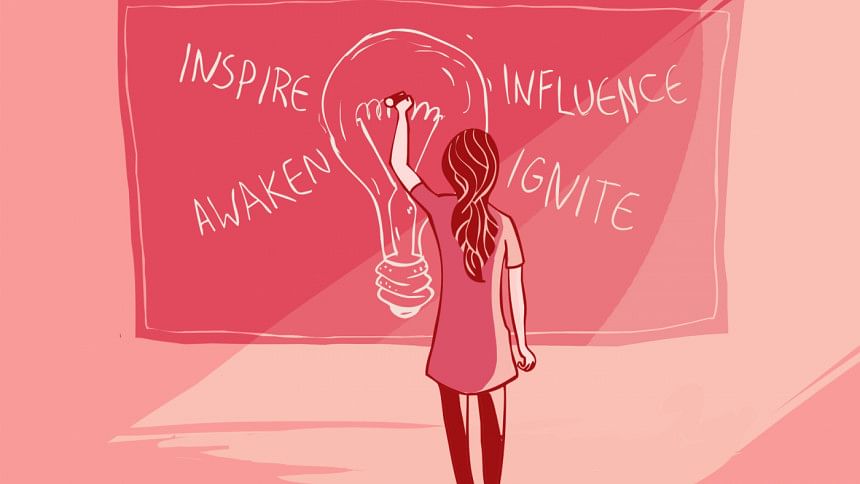 Let us be honest, teaching isn't really a glamorous, high paying job with a million perks. Most teachers aren't able to buy new cars and take lavish vacations every year. But it is one of those jobs that will give you peace of mind, a job that allows you to make a difference in this world. So if you're someone willing but unsure about pursuing this noble profession, here are a few crucial pointers for you.
If money is your ultimate objective, don't go for it.
You teach because you want to impart knowledge to curious, young minds. You have to ensure that they graduate with essential skills for the workplace. In all of this, what's the satisfaction for you? Is it in climbing up the ladder? Only if you hold a PhD in your field, otherwise the monetary increment is diminutive. Adnan Fakir, an Economics lecturer at BRAC University, thinks the main rewards for teaching comes from the students. "The bond that you will create with students is of a different stature and often insurmountable. The beauty of finishing a study after months, sometimes years and reaching that result by extending your intellectual limit – that is what drives me." The sense of accomplishment in this career thus comes from the value you add to yourself and to the society. Tasneema Afrin, currently a lecturer at Institute of Business Administration, adds, "I'm helping in building a nation, so at the end of the day appreciation from the kids and their achievements are more rewarding and valuable than my own financial benefits."
The economic perspective
One of the fundamental let-downs in the pursuit of academia is the country's flawed education system itself. Opportunities are limited, along with a significant decline in integrity and effort on both ends. "Our system has become completely focused on recycling old ideas, instead of innovation, and funding for new research," laments Masnoon Khair, a student tutor at BRAC. Moreover, there is a widening gap between what the market expects and what is taught in classrooms, theoretically or practically. Tasneema adds, "Education won't add value if it's not tied to job market requirements. Mere theories won't help unless we know how to apply those. All public and private institutions are at par in this regard. We, as a whole, failed to comprehend the market, and that's why our students hardly find any parity between what they learn and what their jobs demand. So, we educators must have a proper infrastructure, resources, and innovation labs where we can work on big data and real life corporate algorithms to bring parity between classroom education and market scenario."
If you are considering being a teacher, you need to have a very consistent motive towards it; you cannot treat this as a last-resort profession. Are you looking towards this career path because you did well in university but are finding it hard to land another job for whatsoever reasons? There is heavy competition when joining top universities. If you do join and are not self-motivated, you will get bored.
You are an influencer here—utilize it to the hilt.
The profession can seem to be highly standardized in terms of the curriculums taught and the end goal pursued. There is almost no uniqueness on the surface, unless you're smart enough to dig deep and differentiate yourself. It is in your legitimate freedom how you'd want to execute your lectures or any other demonstrations as such. Your psychological maturity, your ability to engage and your overall personality are all major determinants of how well you can connect to your students. "Be succinct and stimulating enough to placate students looking at you like either they want cookies or are imitating sloths. Overcoming that is the easy part though – practice, be eager and thoughtful, and you will get there, give or take a year let's say," quips Adnan Fakir. Another very inspiring lecturer, trainer and counsellor pleading anonymity, adds, "If you want to give back to the society, teaching is one of the most effective means. You influence one mind; it influences another and the society at large benefits from this multiplier effect."
The work environment
You're surely going to have some disguised rivalry out there to grab different projects no matter where you work. That urge to climb up the ladder is quite instinctive. The private universities of Bangladesh typically have a little better remuneration for you, granted; the administrative infrastructure might also be superior there for the same reason.
But you need to work your way around any groupings that form and the unproductive office politics that come along. Just focus on the knowledge sharing and camaraderie if it's there; or mind your own business.
On the whole, work environment in academia is generally a lot less restrictive than other job arenas – and rightfully so. As an academic, you are expected to be able to manage your own time. "You feel lonely when you're invested in research and have to spend a bulk of your time data hunting/crunching, organizing your thoughts and writing. You need to teach yourself too, and it can be very taxing if you are not self-motivated," adds Adnan.
The profession of teaching is driven by passion, albeit with a significantly different lifestyle. You will have to embody it as a part of your life without segregating it into office hours.
Halima Sadia is a junior at IBA, DU.