The single biggest driver of success is challenge
Stephen Filotas, Group Head of Route-to-Market and Customer Management, has spent what he calls "15 very short years" at British American Tobacco (BAT). After going through just about every position at BAT in trade marketing and distribution, as well as brand marketing, he ended up leading the marketing work stream in the merger of a local family-owned business the company had just acquired in Colombia. He shares the biggest lessons he's learned over the years with Next Step during his visit to Bangladesh.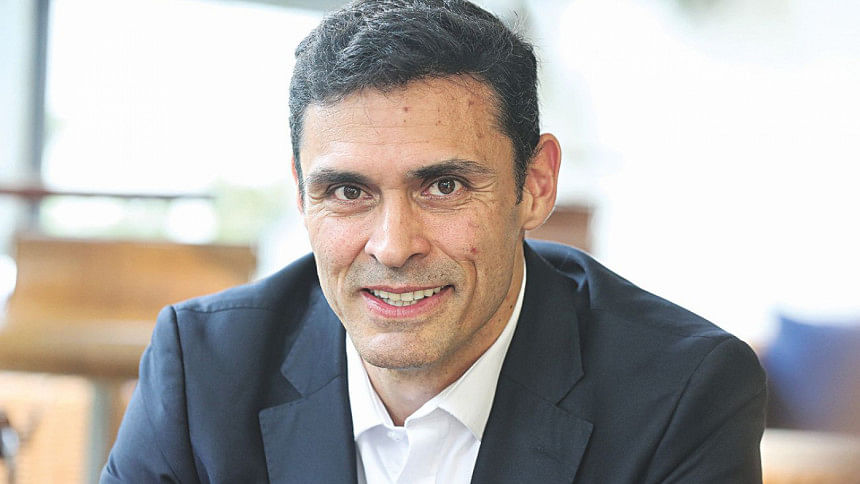 Tell us a bit about your career, work, and journey in BAT.
My journey in BAT has been 15 very short years, which by the way is very typical in BAT. It is actually quite normal to encounter colleagues with 20-30 years in the company.
I will tell you a little bit about the company. It is a company that manages to attract great talent, and people who enter BAT tend to fall in love with it. They realise that it is incredibly dynamic, very competitive, a fantastic school, and has a great culture.
Coming back to your question and talking a little bit about myself, the reason I stayed in BAT is because of the corporate culture. Previously in my career, I worked for two other large multinationals, but when I joined BAT, I fell in love. I found a fantastic fit in a fast-moving consumer goods company with a challenging environment and a great corporate culture in which anybody from anywhere on the globe can have a fantastic career.
I entered through Mexico, went through many positions in trade marketing and distribution (TM&D), as well as brand marketing. Then I had the opportunity to move to BAT Colombia and was there for four years. Afterwards, I was invited to work out of Globe House in London, our global headquarters, as Route-to-Market (RTM) Global Manager, which is where I am now.
Is this your first visit to Bangladesh? How do you like it so far?
Yes, it is my first time in Bangladesh. I find the visit, so far, absolutely extraordinary. Having always worked in the Americas, I had been exposed to Western Europe, but had a very little knowledge and exposure to everything that is Eastern Europe, Middle East, Africa, as well as Asia Pacific. As I landed in the country, I found a reality that is very similar to Mexico, my home country—a developing economy where you have some challenges and many opportunities. The way BAT Bangladesh (BATB) has successfully met these challenges is probably is the reason why we have so many Bangladeshis around the BAT world building careers, and helping us build our business in other countries. 
You mention Bangladeshi talent. As the Group Head of BAT for RTM and Customer Management, how do you feel BATB is doing compared to other BAT organisations worldwide, especially in terms of creating talent?
BATB has been doing an exceptional job at producing many senior level talents who are currently contributing to different global functions around the world. BATB has had its first Bangladeshi GM in recent years and what is more, five out of seven executive leadership team members are from Bangladesh. We have a big pool of Bangladeshis who are holding very critical leadership roles in leading markets like Korea, Japan, Malaysia, and also our headquarters in UK.
I think BATB has very successfully managed to mentor young talents and has not only created homegrown leaders in the process, but also exported this talent to the BAT Group. We're very pleased to see the hard work and commercial knowledge of Bangladeshis and the growing rate of their contribution is clearly evident: currently, 24 BATB managers are internationally assigned in 11 different countries. Within my team in the UK headquarters, which is a team of six people, I alone have three Bangladeshis.
How do you think BATB is doing terms of developing female leadership?
BATB is a wonderful place that has a legacy of coaching, training, and grooming people home and abroad. Across BAT we focus very much on gender diversity and nationality. BATB has done an exceptional job in recruiting and retaining females. It also has two remarkable women in the top tier of the management team, which is something you don't always see across Bangladeshi industries. At the supply chain, we have a fabulous pool of high potential women who're doing a terrific job in managing our factory. BATB women are role models for all new women coming through and they won the Inspiring Women's Award earlier this year, the Most Women Friendly Organisation Award in 2015, and four more awards in various women leadership categories in the past.
Going back to your career. What do you think were the main challenges, before BAT or within?
Before BAT, the main challenge for me was to find a job that actually fit my personal values. This is what I would tell any young professional: the first thing you have to do to be successful is to find some place or something that makes you happy. If it becomes painful to get out of bed every morning to go to work, you're probably not doing something right. You need to find a place that makes you happy. You need to find a job, an environment, a corporate culture, and work colleagues you can feel comfortable and satisfied with. If you don't have that, it's going to be extremely difficult to be successful. If you do find that, don't let go.
I've been in the group for 15 years and not once have I felt bored. As a matter of fact, as soon as I start to feel a little bit comfortable in a role, BAT changes the rules of the game. I've never had a role where I've actually said, "I am a 100 percent comfortable. I have nothing left to learn. I'm happy where I am. I can navigate without a lot of effort." BAT always keeps you challenged and learning"
How do you strike a balance between life and work in an environment that's continuously challenging you?
A mentor once told me, "Work is life." So you need to find a work environment that makes you happy and then balance finds itself. Challenge is a good thing for me. A challenge gives me an opportunity to learn, express myself, make mistakes, stand up, dust myself off, and know that I'm a better professional for having learned from my mistakes. So being able to find yourself in a work environment that motivates you, for me, is the single biggest driver of success. I've never seen somebody being successful at something they dislike. I wake up energised every morning. I feel excited about reviewing results of ongoing programmes and starting new ones. My work-life balance is fantastic. It's about finding something you truly enjoy and being able to make a living out of it.
Amiya is In-charge of the career publication of The Daily Star.