China brokered Iran-Saudi deal
US leadership role in ME facing deep challenges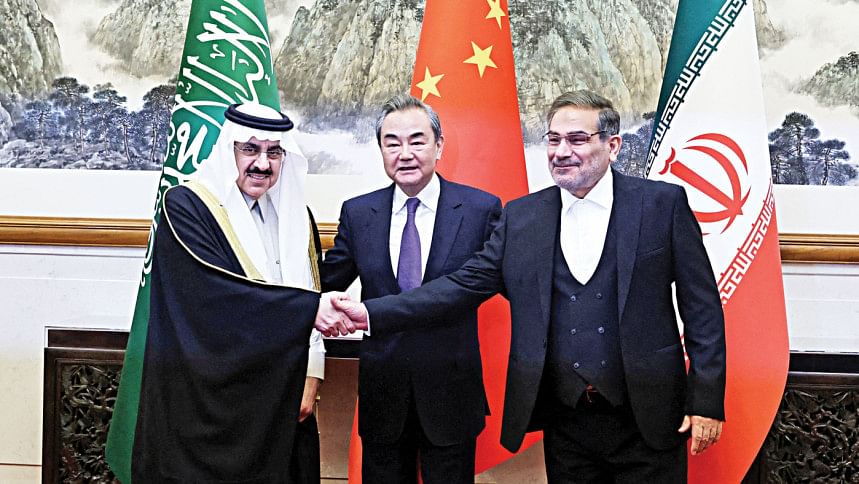 China's shock success at bringing Saudi Arabia and Iran together has challenged the United States' longstanding role as the key outside power broker in the Middle East.
Beijing's persuading archrivals Riyadh and Tehran to reestablish diplomatic relations upstaged the United States just as Washington appears powerless to intervene in the political tensions in Israel over the Netanyahu government's sharp-right turn, which has inflamed Palestinians.
"Anything that can help reduce tensions, avoid conflict and deter in any way dangerous and destabilizing actions by Iran is a good thing," US Secretary of State Antony Blinken said Wednesday on the Saudi-Iran deal announced on March 10.
US officials have tried to minimize Beijing's role in the region, saying it is far from supplanting the United States: much of the Middle East still sits under the Pentagon's security umbrella.
But China's breakthrough is a real challenge, as Washington remains deeply preoccupied with the Ukraine war and, over the long term, with blunting Beijing's diplomatic and military advance in the Indo-Pacific region.
James Ryan, Director of the Middle East program at the Foreign Policy Research Institute, said Washington is happy if anyone can contribute to Middle East regional stability, even rival China.
"The Biden administration has very clearly said that when it comes to the Middle East they're going to favour security, they're going to favor stability," he told AFP.
"American involvement just overall is going to be more on the sidelines than it has been in the past," a message the Saudis "very clearly" understand, Ryan said.
China stepped in in a period when the US views Iran as a major threat to the region and yet its own relations with longtime ally Saudi Arabia have frayed.
Despite scoring a huge $37 billion contract to sell more Boeing jets to the Saudis this week, Washington's ties with Riyadh have been tense since President Joe Biden ordered a review of the ties in October.
Biden has spoken of "consequences" after the Saudis snubbed US requests to increase oil output to force down prices that soared after Russia's invasion of Ukraine.
Instead, Riyadh cut production, sending prices even higher with global impacts.
A Saudi-Iran rapprochement also threatens the ultimate goal of the US-crafted Abraham Accords: Arab powerhouse Saudi Arabia's recognition of Israel after decades of refusal. Riyadh has resisted pressure to do so as well.
The Wall Street Journal and the New York Times reported that the Saudis want security guarantees from Washington and assistance on their civilian nuclear program in exchange for recognizing the Jewish state.
Meanwhile, Biden's hopes to break some ice with Iran by restoring the 2015 deal that limited its nuclear program have gone nowhere.
Instead, Tehran has moved further away, supporting Russia in its war on Ukraine.
The turmoil in Israel is another headache. Despite repeated calls from US officials for de-escalation, the violence between Israelis and Palestinians has worsened.
But pressure is mounting on the Biden administration.
Around one hundred Democratic lawmakers recently wrote Biden expressing concerns about the direction of Netanyahu's government and urged the US leader to use all diplomatic tools possible to prevent it from "further damaging the nation's democratic institutions."