Latest developments in the Hamas-Israel war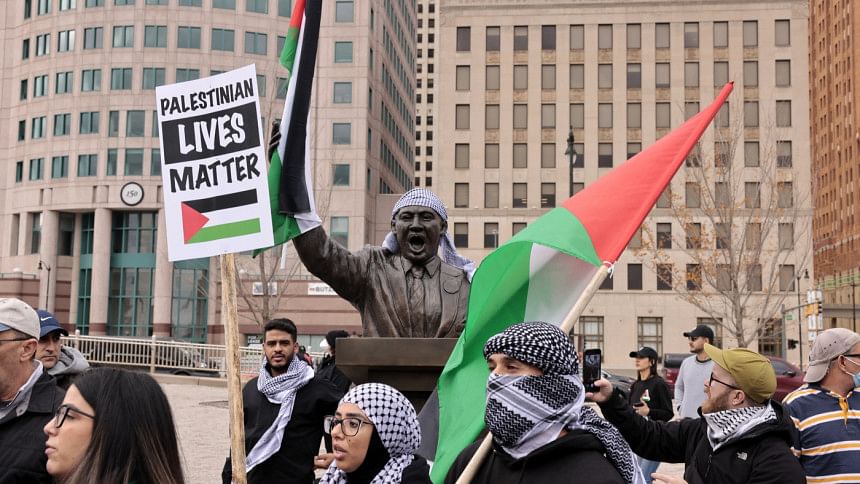 Fighting in Gaza raged for a 23rd day Sunday after Hamas launched a surprise attack on Israel, killing at least 1,400 people, mostly civilians, according to Israeli officials.
Since the October 7 attack, the health ministry in the Hamas-run Gaza Strip says more than 8,000 Palestinians have been killed by Israel's relentless retaliatory bombardments, half of them children.
Here are five key developments from the past 24 hours:
'Long and difficult'
The war with Hamas, which has ruled Gaza since 2007, will be "long and difficult", Israeli Prime Minister Benjamin Netanyahu warned late Saturday.
He said the war had entered "the second stage", with ground forces stepping up operations inside the Hamas-run territory.
The goals of the war are clear, Netanyahu told journalists: "Destroy the military and leadership capabilities of Hamas, and bring the hostages back home".
He vowed to "eradicate" Hamas "for the sake of our existence".
"The war in the (Gaza) Strip will be long and difficult and we are prepared for it."
Defence Minister Yoav Gallant said earlier that Israel was attacking "above the ground and below the ground" in the new phase of the war, alluding to the sprawling network of tunnels Hamas has built under Gaza.
"Last night the ground in Gaza shook," he said, vowing Israel would "hunt down every terrorist".
His remarks came as Israeli ground forces continued operating in northern Gaza more than 24 hours after they went in.
"Since early Friday evening, combined combat forces of armour, combat engineers and infantry have been operating on the ground in the northern Gaza Strip," the military said.
Hamas offers swap for hostages
Hamas's armed wing said it was ready to release the hostages if Israel freed all the Palestinians held in its prisons.
"The price to pay for the large number of enemy hostages in our hands is to empty the (Israeli) prisons of all Palestinian prisoners," it said.
"If the enemy wants to close this file of detainees in one go, we are ready for it. If it wants to do it step-by-step, we are ready for that too."
Facing increasing anger over the fate of the captives as Israel steps up its war on Hamas, Prime Minister Benjamin Netanyahu agreed to meet representatives of hostage relatives.
He made no commitment to any exchange deal but told the families authorities would "exhaust every option to bring (the hostages) home".
Gaza City 'a battlefield'
It also warned Gaza City residents the area was now a "battlefield" saying "shelters in northern Gaza and Gaza (City) are not safe" in leaflets dropped by fighter jets that urged them to "immediately" evacuate south.
Spokesman Daniel Hagari said in a statement that the Israeli military was increasing the urgency of the calls it has been making for two weeks for Gaza civilians to move south.
There, he said, "they can receive water, food and medicine", vowing that on Sunday, "the humanitarian efforts to Gaza, led by Egypt and the United States, will be expanding".
'Intolerable suffering'
Mirjana Spoljaric, president of the International Committee of the Red Cross, voiced shock Saturday at the "intolerable level of human suffering", urging all sides to de-escalate the conflict.
"It is unacceptable that civilians have no safe place to go in Gaza amid the massive bombardments, and with a military siege in place there is also no adequate humanitarian response currently possible," she said.
"This is a catastrophic failing that the world must not tolerate."
UN Human Rights chief Volker Turk meanwhile warned thousands more civilians could die if Israel presses a major ground offensive.
"Given the manner in which military operations have been conducted until now... I am raising alarm about the possibly catastrophic consequences of large-scale ground operations in Gaza and the potential for thousands more civilians to die," he said.
"There is no safe place in Gaza and there is no way out."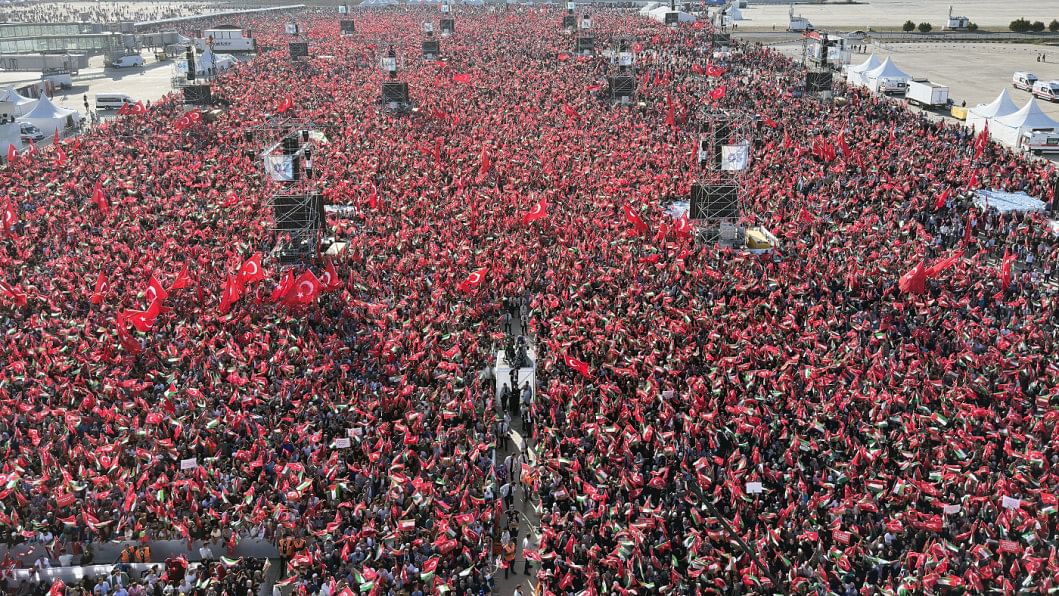 'West to blame for Gaza': Turkey
Turkey's Recep Tayyip Erdogan denounced the West as "the main culprit" behind the bloodshed.
"The main culprit behind the massacre unfolding in Gaza is the West," he told a massive pro-Palestinian rally of several hundred thousand people in Istanbul.
His comments prompted Israel to announce it was recalling all of its diplomats from Turkey.
Communications blackout
All communications and phone networks were cut across Gaza late Friday, sparking alarm as the Palestinian Red Crescent warned emergency calls were not getting through.
Human Rights Watch also cautioned the blackout could provide "cover for mass atrocities".
But on Sunday morning, global network monitor Netblocks said connectivity in Gaza was being restored, and Palestinian telecoms provider Jawwal said communication services were gradually resuming.
An AFP staff member in Gaza City confirmed early Sunday that he could use the internet and telephone network, and said he had managed to contact people by phone in southern Gaza.
During the outage, billionaire Elon Musk said his Starlink satellite service would support internet access for "internationally recognised aid organisations in Gaza".
Starlink is a network of satellites in low Earth orbit that can provide internet to remote locations, or areas where normal communications infrastructure has been disabled.
The network has become a key battlefield tool for Kyiv since the Russian invasion.
Shelling in Lebanon
A UN peacekeeper was injured Saturday by shelling in southern Lebanon, the mission's spokesman said, hours after reporting a hit at its headquarters as Israel-Lebanon border skirmishes intensify.
Lebanon's official National News Agency (NNA) said a Nepalese peacekeeper was "moderately injured in the stomach and arm after two Israeli shells" fell near the border village Hula.
Earlier on Saturday, Andrea Tenenti, spokesperson for the United Nations Interim Force in Lebanon (UNIFI), had told AFP that "a shell hit inside the base" in Naqura, where UNIFIL headquarters are located, indicating there were "no injuries but some damage".
Since Israel's war with Hamas erupted on October 7, Lebanon's southern border has seen tit-for-tat exchanges between Israel and the Iran-backed Hezbollah, a Hamas ally.
The cross-border skirmishes have killed at least 58 people in Lebanon, according to an AFP tally, mostly Hezbollah combatants but also four civilians, including Reuters journalist Issam Abdallah.
At least four people have been killed on the Israeli side, including one civilian.
The unrest has displaced nearly 29,000 people across Lebanon, according to the International Organization for Migration.