3 Bangladeshi students dead, 1 injured in Toronto road crash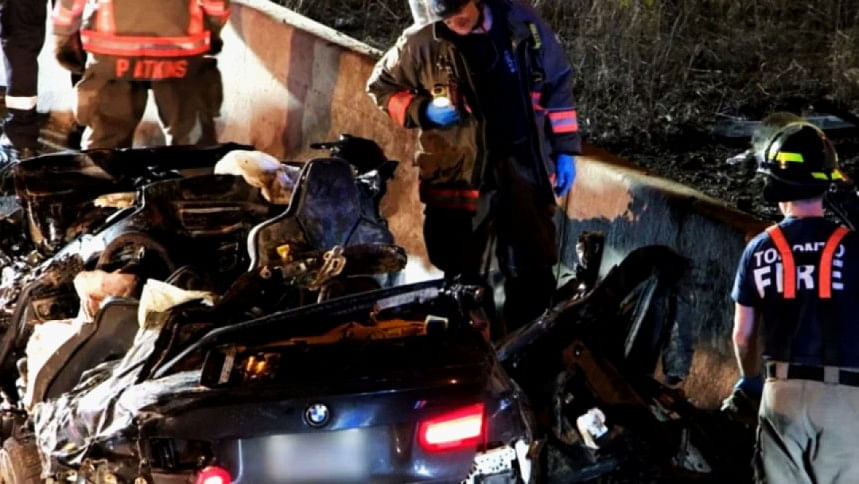 Three Bangladeshi students were killed in a road accident in Canada's Toronto on Monday night.
Kumar Nibir, son of singer Kumar Biswajit, was injured in the same incident.
The deceased were identified as Shahriar Khan, Angela Barai and Aryan Dipta. All four of them are students of Humber College.
Canadian journalist Shaogat Ali Sagar confirmed the development to The Daily Star this morning.
Update: Everyone from the vehicle have been identified, they were all living in Toronto on study permits from Bangladesh pic.twitter.com/QvCMGPaE7e

— OPP Highway Safety Division (@OPP_HSD) February 14, 2023
"Two died on the spot. Angela Barai died after being taken to the hospital.
"Kumar Dey, son of singer Kumar Biswajit, was driving the car. He was injured. His condition is very critical," he said.
"The vehicle was travelling at a very high speed. The driver lost control of the vehicle while moving from one highway to another. After hitting the highway railing, the car turned over. Later the car caught fire," he said.
"The car would have been completely damaged if the fire department hadn't arrived at the scene of the accident quickly," he added.
Local media outlet CP24, citing the Highway Safety Division of Canada's Ontario Provincial Police, reported that the accident took place on Monday at 11:30pm local time.