Pathway to hassle-free transaction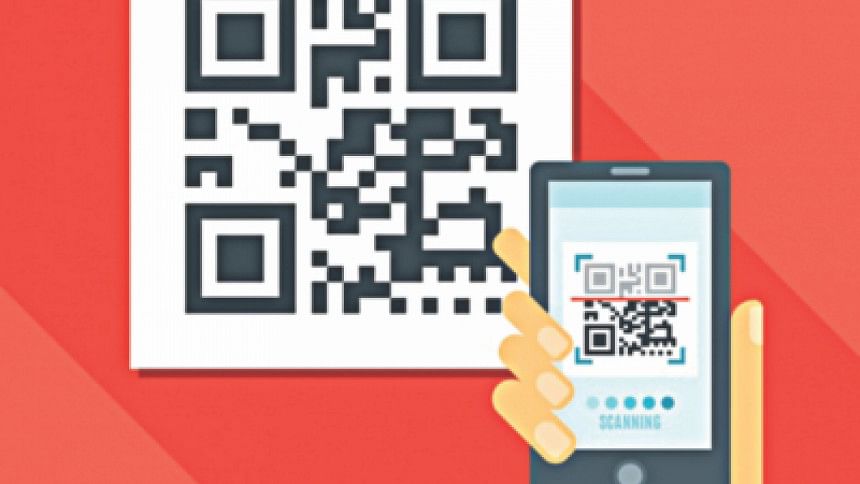 People want control over their own transactions. While in cash or card transactions the payment has to be controlled by the salesperson, for QR code scanners the users themselves control it which gives  them a sense of security.
Digitalisation has become an integral part of our lives, and this means that transactions too are increasingly moving towards digitalisation. People have become busier and they are always on the move. Waiting in queue for more than five minutes in a shopping mall or a restaurant is no longer an option for many.
Bangladesh, which is fast catching up with the world, is making rapid transition to cashless transaction. Introduction of new payment technologies is making our payment ecosystem faster, easier and inclusive. Payment via QR (Quick Response) is one such digital innovation. The QR code system is a two-dimensional code, which is made up of black-and-white squares that can be read by smartphone cameras, point of sale (POS) terminals or other devices. The technology of using QR codes for transaction remains as simple as using the camera of your smartphone. Get a QR code enabled app on your handset, scan the QR code displayed at shops, restaurants or any other merchants, and pay from either your card or bank account or MFS (Mobile Financial Sevices) account. You can also send or receive money by using the QR code.
"People want control over their own transactions. While in cash or card transactions the payment has to be controlled by the salesperson, for QR code scanners the users themselves control it," shares Muhammad Abul Khair Chowdhury, Head of Business and Strategy, iPay Systems Limited. Control over their information not only gives a sense of security to the users, but also gives them the opportunity to keep their information restricted.
Among the MFS, bKash is leading in adoption of QR code-based transaction. Customers can make the payment more easily by merchant QR code scan on bKash app. To make the payment via the app, customers have to tap the 'make payment' icon to enter the merchant number either manually or scan the QR code at the merchant point. Then, they have to put the amount in the next screen to complete the transaction.
QR code is also gradually being integrated with the banking system in Bangladesh. Bank Asia and The City Bank are the path-breakers in Bangladesh when it comes to adopting QR code-based payment in banking and payment services. More banks are catching up. The City Bank has introduced its QR code-based payment system 'citypay' for everyday spending. Through its 'citytouch' app, users can make payment from either credit card or bank account and also send or receive money from/to any City Bank account. With such adoption, users no longer have to look for a booth or a branch in times of emergencies, since their banks will be in their pockets, fully secured and controlled by the users themselves.
Innovation of QR code transaction further complements the flourishing e-commerce industry in Bangladesh. As cashless transaction in the form of QR codes gets integrated with the e-commerce industry, consumers can receive their items from anywhere at any time due to the ability to pay instantly.
All the developed countries are heading towards adoption of QR code transaction for ease and convenience. However, users in Bangladesh are yet to tap into the idea of using such advanced forms of transactions. All that is required to ease them into such transactions is to make them aware of the benefits and high security offered by the QR code transaction method. As explained by Mr Mir Nawbut Ali, Chief Marketing Officer of bKash, the usage of QR codes ensures security regarding all data, as no credentials have to be shared with the merchants. He further elaborates that currently such QR code transactions are limited to payment systems in Bangladesh, but in the near future QR code scans will save the data of the users so that each individual will have a unique QR code and they'll use that code for all kinds of transactions. With an expanding consumer base, the future of such innovative transactions looks bright, taking Bangladesh a step forward to fin-tech development.
Afraim Karim is a contributor to The Daily Star.