Teach For Bangladesh Fellows work tirelessly to address educational inequity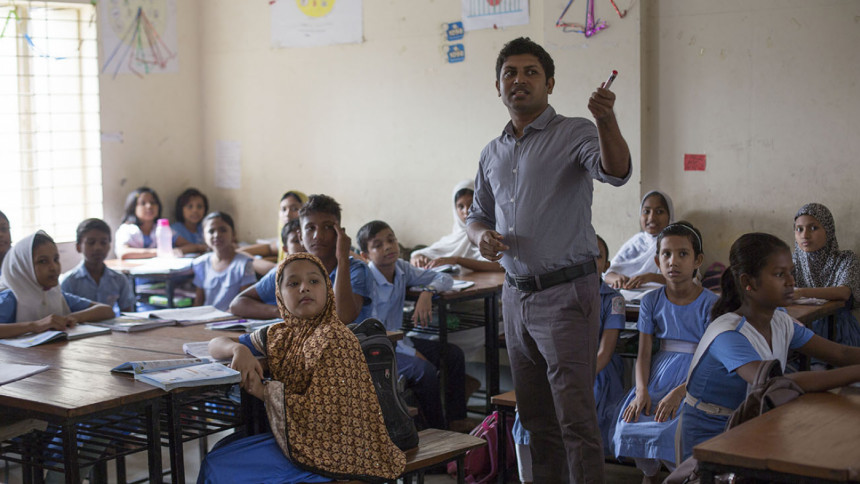 Join the movement.
In Bangladesh, children are not in control over their own destinies. One third of those enrolled in primary schools lack basic skills in reading, writing and numeracy. About 10 million children, adolescents, and youths, many of whom come from poor families, urban slums, and remote areas, have not even completed school. Their opportunity to succeed personally, academically and professionally is influenced by the socio-economic conditions of their families. Tens of millions of children in Bangladesh are thus, denied a high-quality education as a result of an inequitable system. To challenge this inequity, we need visionary leaders and meaningful change to build a nation where one day, all children have access to a high-quality education. This is why Teach For Bangladesh is looking for the most promising Bangladeshis to join this internationally-recognised Fellowship and take on the challenge of rebuilding our nation.
Teach For Bangladesh Fellowship is a 26-month leadership development programme for bold and ambitious leaders to change the lives of underprivileged students, families, and communities. The Fellow will spend two years full-time as teachers and role models, leading classrooms in underserved primary schools in Dhaka and Chattogram for a monthly stipend of BDT 32,000 along with health insurance. He or she will also design and execute at least two social impact projects to address challenges affecting young students and their communities.
The Fellow will partake in a comprehensive pre-service residential training for 6 weeks, attend monthly professional development sessions and receive individual leadership coaching and career counselling. In addition, they will complete a Post-Graduate Diploma in Educational Leadership and School Improvement from the BRAC Institute of Educational Development, BRAC University, tuition for which is reimbursed by Teach For Bangladesh, and is subject to their terms and conditions. Candidates must be either a Bangladeshi citizen or of Bangladeshi origin. They must hold an undergraduate degree before January 2020. Typically, successful candidates demonstrate a record of academic excellence and leadership experience through extracurricular activities or employment. Not only do they have strong critical thinking skills and compelling communication in both Bangla and English, but they also display determination, perseverance and a commitment to personal and professional development.



Who are teach for Bangladesh Fellows?
The Teach For Bangladesh Fellowship is a highly selective, rigorous, and internationally-recognized programme. In 2018, the top 6% of more than 2400 applicants were offered a place in the 2019 cohort of Teach For Bangladesh Fellows. Graduates from a range of prestigious universities had applied last year, such as University of Dhaka, Bangladesh University of Engineering and Technology, Jahangirnagar University, University of Chittagong, North South University, Independent University Bangladesh, BRAC University, Asian University for Women and many more. They have also made offers to Bangladeshis studying abroad at Monash University, Southampton University, Imperial College London and New York University.



What are Teach For Bangladesh Alumni currently upto? 
Upon completion of the Fellowship, the Alumni lead the fight for educational equity in high-impact careers in the public, private, and development sectors of Bangladesh. Currently, 50 Teach For Bangladesh Alumni are working across sectors to address this complex problem of educational inequity. Almeer Ahsan manages curriculum development at the Bangladesh Youth Leadership Center. Munia Islam Mozumder manages Uttara's BRAC-Kumon developing children's math and reading skills. Mashfique Tahim manages Business Development at BRAC's Targeting Ultra-Poor Program. Suvendu Biswas manages youth engagement programmes at ActionAid Bangladesh. Zarifa Zakaria is pursuing her PhD in Teacher Education with a full scholarship at North Carolina State University. In 2019, there will be 80 Teach For Bangladesh Alumni - each working on a diverse range of issues to end educational inequity and bring systemic change in Bangladesh.



How to sign up for this challenge?
If you believe that every child deserves an excellent education, and that you have what it takes to transform our country, then this Fellowship is what you need to become lifelong advocates for equity in Bangladesh. Register for the Teach For Bangladesh Fellowship and submit your application. Visit the website to learn about educational inequity and how Teach For Bangladesh intends to tackle this crisis. Write for further information here.