Evicted from Rakhine, trafficked in Cox's Bazar
Rohingya women are increasingly being tricked into the sex trade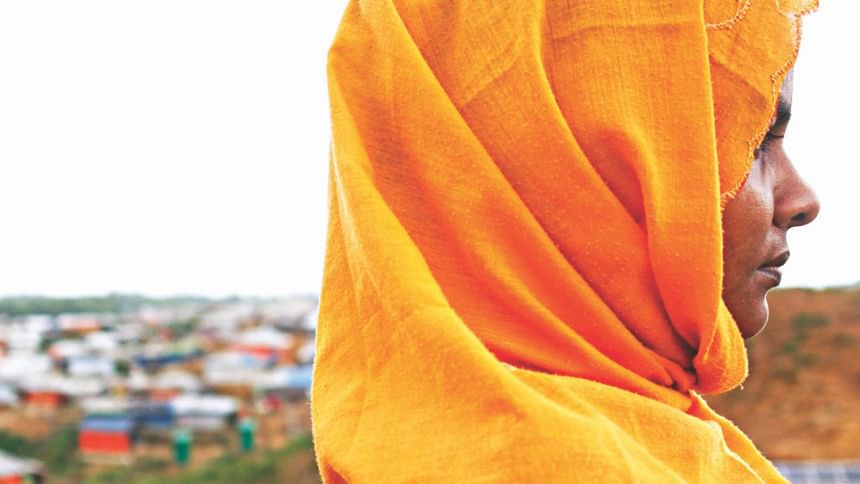 "How will you write my story? What is the use of writing my story? You can't understand my sufferings. It is not possible for you to comprehend what I've been through unless you have been in that situation," Rehnuma (not her real name) was on the verge of tears, when we asked her how she was trafficked and rescued.
Rehnuma, a young woman of around 20, lives alone in a thatched hut in a remote corner of Lambasiya refugee camp. One of our Rohingya friends tried to explain to her our motive behind the interview. However, seeing how emotional she was, we decided to leave her alone, after expressing our heartfelt sympathies and condolences. As we were about to leave, Rehnuma asked us to wait for a while. She went out and returned after a few minutes with a bowl of puffed rice with several pieces of jaggery.
"It's a pity I have to offer you this bland food. In our village (in Myanmar), we had everything. My father was a solvent farmer. I had four elder brothers and I was the only daughter of my father. My parents were killed when the Myanmar army bombed and raided our village. I didn't find my brothers and relatives," says Rehnuma.
Rehnuma used to live in a village called Pa Din located near Maungdaw township. In August 2017, she completed her religious education at a village makhtab (Islamic school) and was preparing for her marriage. However, Rehnuma's peaceful and prosperous life came to an abrupt and tragic end as the Myanmar army launched its genocidal military aggression.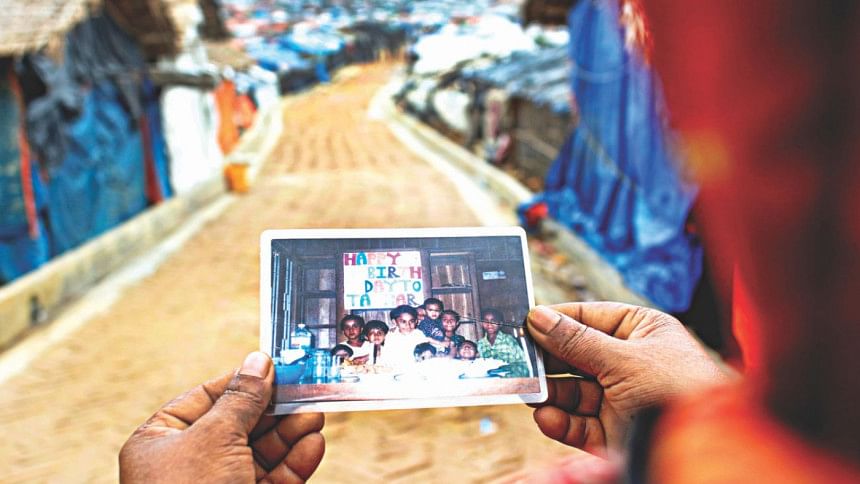 According to Rehnuma, her parents were murdered when a shell directly hit their house and razed it to the ground. She survived since she was not home at the time. Rehnuma then joined other Rohingya villagers fleeing to Bangladesh and walked for five days to arrive at Kutupalong.
When she was placed in the Kutupalong makeshift camp, she found herself extremely alone and realised that her real struggle had just begun. "I was in the camp for more than 15 days. Every day I used to explore the entire area of the camp in search of my brothers. I used to ask all the newcomers about my brothers. But there was no trace. I don't know whether they are dead or alive," states Rehnuma.
During those days of uncertainty, a 30-year-old man named Mohammad Rashed approached her. Rashed introduced himself as an NGO worker and promised her a safe and happy life if she agreed to marry him. At first, Rehnuma refused, but Rashed was adamant and he talked to the elders of that camp about his proposal. Considering Rehnuma's desperate situation, the elders persuaded her to marry Rashed. According to Rehnuma, Rashed married her inside Kutupalong camp following Islamic rules and regulations.
Rashed took her to Chittagong—not to his home as promised, but to an unoccupied apartment. He forbade Rehnuma from going outside or talking to anybody in order to hide her Rohingya identity. After spending three to four days in that flat, Rashed told her one fine day that two of his friends would come to visit them. "At evening, two of his friends came to our apartment. To my surprise, they didn't say a word to me. The entire time they talked to Rashed. However, as I had started to pick up Bengali a little bit, I could comprehend that they were talking about me. After an hour conversing with Rashed, they left," Rehnuma explains, "Rashed didn't say anything about the discussion except that they left hurriedly because they were very busy and that they would come again soon," she adds.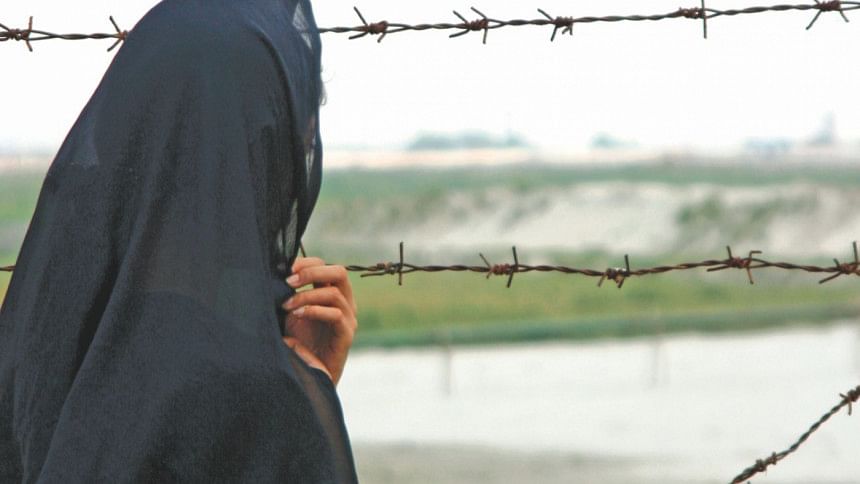 Several days later, one of those two friends returned with a new man and resumed the discussion with Rashed. "As I was preparing cups of tea for them, they grabbed me from behind. I didn't see Rashed anymore from that moment," states Rehnuma, with a heavy heart.
According to her, she was raped by those two men and they further forced her to have sex with multiple people for at least the following seven days. Rehnuma spent the week in captivity. One day, when one of those two men were out and the other was fast asleep, Rehnuma, in a desperate attempt to get out of hell, escaped the apartment. "I didn't know where I could go because I didn't even know where I was. I only knew that it was Chittagong. So, I started to walk aimlessly," she narrates.
After walking for hours, a Rohingya woman called Akhtari Begum (not her real name) who had met Rehnuma earlier in Kutupalong, spotted her on the street. Akhtari was with a group of Rohingya who had also gone to Chittagong in search of a better life. In light of police's arrest and deportation of Rohingya roaming in the city, the group decided to return to Kutupalong.
Rehnuma recounted to the group how she arrived in Chittagong and what she had gone through. It was 45-year-old Akhtari, a mother of three, who took Rehnuma to Lambasiya and helped her build a hut and receive medical treatment in the camp hospital. She was also the key person behind organising our meeting with Rehnuma.
Akhtari says, "When we arrived here [in Bangladesh] last year, I saw lots of Rohingya women being taken away from the camp. Even children as little as nine or ten years of age were taken away. Some unknown Bangladeshis held their hands and took them away in front of our eyes. They targeted children who appeared destitute and were roaming around the camp without any guardians. Very few of them could be rescued like Rehnuma. I can take you to many houses where female family members are still missing. Last week, another girl, named Taslima (not her real name), was brought back in the camp. She is now four months pregnant."
Taslima was told that she would get a job as a domestic worker in Chittagong. However, she was trafficked to Cox's Bazar town to be a sex worker. A group of human rights activists rescued her with the help of the local community and brought her back. Ali Kabir, Human Trafficking Researcher, World Commission of Human Rights, with the help of his team and sources, so far rescued 87 trafficked Rohingya women and children.  Rohingya lawyer, Advocate Razia Sultana is also working with him and has been working for the rights of Rohingya people for decades.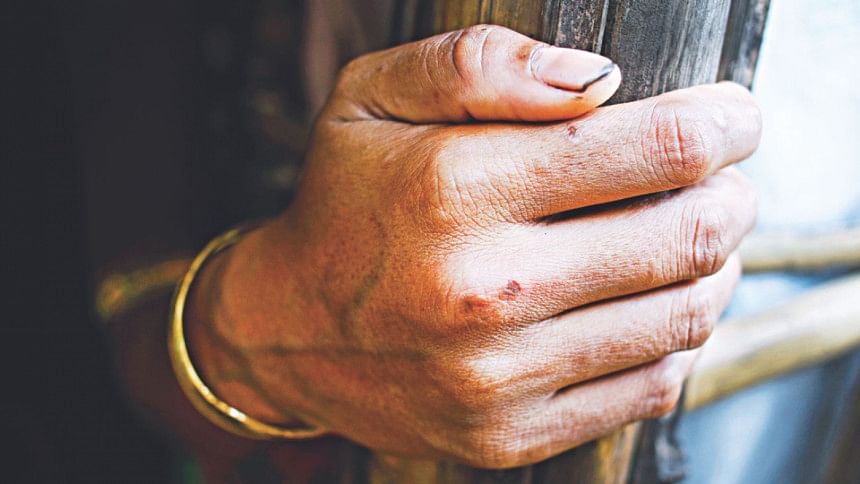 She says: "We, with the help of our local sources, have been trying to track these girls. We also get immense help from the local community who secretly give us information if they notice anything. Last week, we managed to rescue five Rohingya girls from Cox's Bazar. Three of them were as young as 12 to 13-year-olds who were sold into sex slavery."
According to UNHCR, 889,224 Rohingya refugees (80 percent of those who arrived between August and December 2017) are living in different refugee camps located in Cox's Bazar. 52 percent of these refugees are women and 55 percent of them are children. 31 percent of the Rohingya families (204,788 counted so far) have been identified by UNHCR who are mhighly vulnerable to trafficking.
Human rights activists and organisations have repeatedly expressed concern over the vulnerable condition of such a huge number of women and children who are at high risk of human trafficking.
"The horrific prospect that thousands of people affected by the Rohingya crisis will end up in the hands of traffickers is a risk that must not be underestimated," said Manuel Marques Pereira, IOM's Emergency Coordinator in Cox's Bazar in a press release published in July 31, 2018. 
Indeed, Rohingya children, many of whom have been orphaned or living with a single parent, are also becoming easy targets of traffickers. According to Joseph Shurjamoni Tripura, the UNHCR spokesperson in Bangladesh, "Women-headed households and unaccompanied children are the most vulnerable to risk of sexual and labour exploitation."
He also adds, "Traffickers prey on poor communities and this region of Bangladesh is one of the least-developed in the country. Refugees, who are displaced and have no livelihoods, are particularly vulnerable, placing them at greater risk of exploitation and abuse." 
In Kutupalong makeshift settlement, we met a Rohingya mother named Rukhsana who lost two of her children at the hand of traffickers. She accused Mohammad Shabbir, a registered Rohingya with a home in Chittagong, of trafficking her children, Khaleda Begum, a 10-year-old girl, and Johur Ahmed, an eight-year-old boy.
Shabbir, who was a friend of Rukhsana's sisters-in-law, proposed that he would enroll Khaleda and Johur in a madrasa in Chittagong where they would get free boarding, food, and education. Since Rukhsana was struggling to feed her children, she agreed to this proposal on the condition that she would meet her children during vacations. Although Shabbir had agreed at the time, he never met Rukhsana after taking those children away. Rukhsana has come to know of late that some of the relatives of her in-laws have also been trafficked by Shabbir.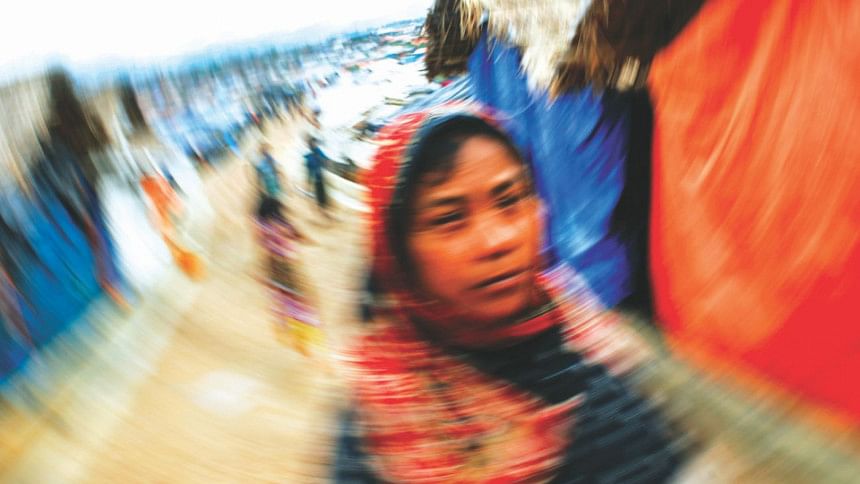 Dina Parmer, IOM's head of protection in Cox's Bazar, argues, "A lot of abuse occurs under cover of darkness, when the presence of agencies and authorities in communities and camps is limited. Many of the traffickers use sophisticated methods to ensnare their victims, which means communities often struggle to protect themselves."
 "While it is impossible to provide exact numbers due to the secretive nature of this crime, through our work with communities and authorities, we have a lot of anecdotal evidence that thousands are at risk from all forms of trafficking," she adds.
Despite repeated instances of human trafficking from Rohingya refugee camps, Bangladesh's law enforcement agencies and their initiatives are doing little to stop this ever-intensifying menace. According to the additional superintendent of police of Ukhia, only five cases have been filed so far regarding trafficking of Rohingya refugees.
"I don't think these cases are related to sex trafficking. Last week, we arrested two agents from a refugee camp who were taking money from Rohingya youth for sending them to Malaysia." Shahidul Islam, ASP, DSB, Cox's Bazar, reiterated this statement and said, "NGOs are publishing reports that there are instances of sex trafficking in Rohingya camps. But we don't have any formal record in this regard."   
Advocate Sultana presses on why the Rohingya are not getting enough protection from the law enforcement agencies. She says, "Most of the trafficked victims are actually the Rohingya who arrived after August 25, 2017. As they have not received refugee status yet, they are still not entitled to get any legal protection. Besides, if we want to seek other legal options, nobody wants to be complainants on behalf of the victims in fear of further reprisals from the highly organised network of the criminals."
"Even, we, the lawyers and human rights activists, who have been working on this issue, are also being threatened and harassed continuously by these criminals. And we barely get any protection from the administration," she adds. Sultana opines that since the individuals involved in trafficking Rohingya refugees have been enjoying a state of impunity, chances are that situation in the camps will not change significantly in the near future.
Dr Mohammad Abul Kalam, Refugee, Relief and Repatriation Commissioner (RRRC) of the Bangladesh government promises increased protection in the future. He says, "Ensuring security in 12 square mile area where more than a million men have been accommodated is not an easy task. However, Bangladesh Police, RAB, Ansar, Bangladesh Army, and all our intelligence agencies have been working day and night to ensure maximum security. RAB and Bangladesh police have established several new camps in Ukhia and Teknaf. Besides, we are in the process of getting three newly formed armed police battalion to be deployed in the camps. I hope this will help us to boost security in the refugee camps." 
However, Rohingya families pass their days and nights in extreme uncertainty, as instances of disappearance of Rohingya women and children are widespread in most of the camps. We found many families who lock their young female members in their huts throughout the day to protect them from the traffickers and their agents. In this situation, we should not hope that reinforcing the security forces in the refugee camps without ensuring legal protection and justice for the victims will be of any effect.
The writer can be contacted at [email protected]