CAAB trashes Nepalese media report on US-Bangla aircraft crash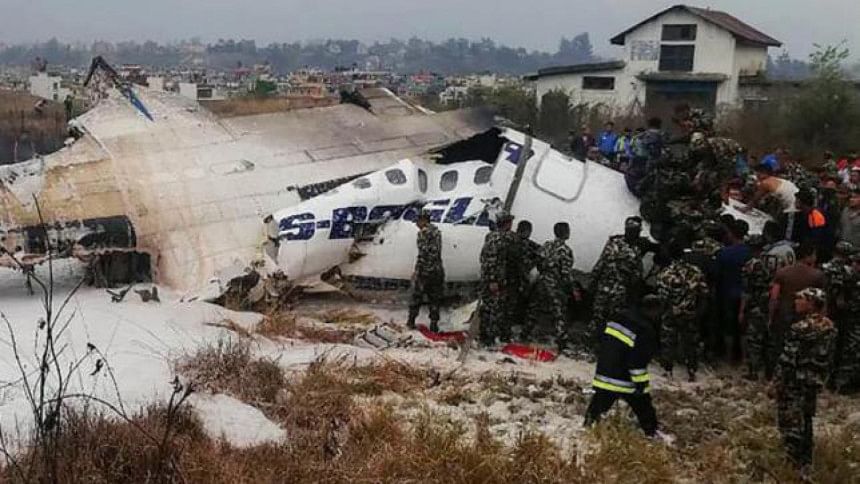 The report ran by a Nepalese newspaper over the investigation findings on the US-Bangla plane crash led by their government is 'false' and 'baseless', said Captain Salahuddin M Rahmatullah, head of Aircraft Accident Investigation Group of Civil Aviation Authority of Bangladesh (CAAB) today.
Salahuddin M Rahmatullah is the lone representative from Bangladesh in the investigation commission formed by the Nepalese government in the probe body for how the aircraft crashed.
"The probe committee formed by the Nepalese government to investigate the US-Bangla plane crash is yet to make any report public. I, as a member of the investigation commission, made a phone call to the authorities concerned of the committee but they told me that the information is not correct", said Salahuddin while talking to UNB over phone.
Responding to a question when the probe report will be made public, Salauddin said "There's no possibility to publish it before December next."
Earlier, the authorities of US-Bangla Airlines said the report was 'fictitious' and 'irreverent'.
"The probe committee is yet to submit any report. We're waiting for a report," Kamrul Islam, general manager (marketing support and public relations) of US-Bangla Airlines, told UNB when his comment was sought on the report of Kathmandu Post which also surfaced on Bangladesh online media today.
There is no scope to publish such news before the probe report is made public, the official added.
According to details of the official investigation led by the Nepalese government, a copy of which was obtained exclusively by the Post, Captain Abid Sultan was going through "tremendous personal mental stress and anxiety, and a series of erroneous decisions on his part led to the crash of the Flight BS211".
At least 51 people died as an aircraft of US-Bangla Airlines from Dhaka to Kathmandu crashed at Tribhuvan International Airport in the capital of the Himalayan country on March 12.