Road safety: Are we tackling the broader issues?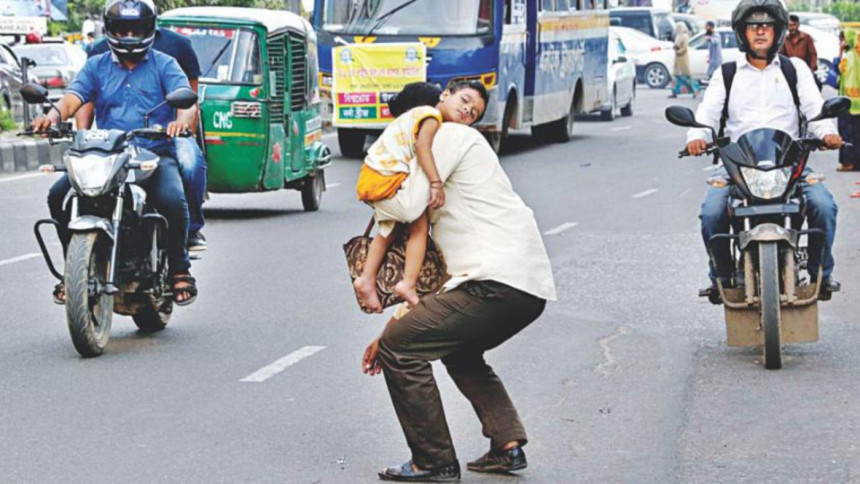 The enormous support that school and college students who had taken to the streets received, when they started directing traffic as an act of protest after their fellow students were killed by a speeding bus, goes to show that no one had any grounds to disapprove of what they were asking. Yet, just two days after the protests had been quelled, when I asked the driver of the CNG I was travelling to work in why he was not keeping to a lane, he replied: "Ei desh-e shombhob na" ("It is not possible in this country"). His answer, as I found out in the ensuing conversation, was not one based on lack of belief in his countrymen's willingness to follow the rules but rather because he thought that road conditions did not permit such behaviour. When I pointed out that in neighbouring Kolkata, vehicles followed traffic rules much more stringently despite the heavy traffic, he had no answer. Simply put, he did not want to follow the rules and that was it.
In the past week, travelling on rickshaws, insisting they keep to the right side of the road, I was met with similar refusals or only grudging acceptance. Given the chance, no one on the roads, it seems, has any qualm about breaking every rule if they think it would get them to their destination a minute faster.
We have moved on. The hope that if enforced, the laws could ensure decency and order on the roads, is gone. Yes, we have a new law now, and the Traffic Week saw the filing of thousands of cases against offenders on the roads. But the systematic gaps in traffic management that the students sought to fix have been forgotten. And with all the talk of political infiltration of the protests and arrests of people for spreading "rumours", not only have the authorities snaked past the responsibility of finding out who attacked students and journalists, but also the original issue of fixing the system, and that every citizen has a duty towards that end.
On Sunday, pictures published in this newspaper highlighted this unwillingness on our part to change. A particularly striking picture showed a man with a sleeping child in his arms, bending down in the middle of a busy road to pick up keys that he had dropped. The utter callousness of his act, endangering not only himself but the child, too, is astounding. Jaywalking, even when there are foot over-bridges just a few feet away, has become the norm. Bikers now are back to driving on wrong sides of the roads and on footpaths.
That it took us this little time to revert back to our old ways goes to show that we do not have respect for the law; we can be forced to follow it only. Why else would the number of violations caught during this Traffic Week soar up to thousands—buses, cars and motorcycles without papers thinking they could get away with it. One reason for this, as exemplified by the numerous high-ranking officials who were caught breaking the law during the student movement, is that the law is enforced only selectively. When the law does not apply equally for everyone, it ceases to be something that is respected by everyone.
This brings us to the broader issues related to road safety. As I pointed out in an earlier op-ed when the protests initially started, clear provisions in our existing laws such as enforcement of speed limits remain unimplemented. The process of getting licenses remains mired in corruption—what good are licenses if one can get them without proper knowledge of the laws and without proper evaluation of driving skills. Traffic signals have all but gone extinct in the city. Bus stops are non-existent, or rather the entire city is one big stop, and passengers can embark and disembark wherever they please. Zebra crossings are there on some roads, but almost always there are cars parked over them. There is no coordination between the different city authorities, and construction and maintenance work are carried out without considering traffic flow or offering solutions to divert the traffic. And worst of all, no one in authority seems to care about the conflict of interest of public officials also being representatives of transport workers.
Without fixing the glaring gaps in the system, sporadic traffic weeks and new laws cannot bring safety and order to our roads. Take, for example, the more than 50-thousand cases that have been filed against offenders in one week. It burdens our already over-logged courts but does nothing to fix the reasons why these many vehicles without permits or drivers without licenses managed to get on the roads. Instead of ad hoc responses, formation of an inter-ministry committee with experts, transport owners, drivers and citizen groups to take stock of the entire situation and then move forward in a planned manner would be much more cost-effective. We need to update our laws, yes, but we also need to ensure that the laws once passed are effectively followed.
The best thing I witnessed in the week when students directed traffic was ambulances getting the right of way, something I have not witnessed in my lifetime on Dhaka's roads. And that is something that will happen organically on the roads, without police or student intervention, only if we decide to tackle the broader issues at play here. Implementation of the law with a stick in hand can only go so far if political will is not directed at fixing the anarchy that has made its home on our roads.
Moyukh Mahtab is a member of the editorial team at The Daily Star.