Prof Jamal Nazrul Islam passes away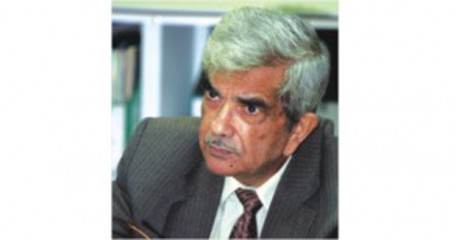 Jamal Nazrul Islam. Star file photo
Eminent cosmologist Jamal Nazrul Islam passed away early Saturday.
Professor emeritus and the founder director of 'Research Centre for Mathematical and Physical Science (RCMPS) of Chittagong University, Islam breathed his last at 12:30am at Metropolitan Hospital in Chittagong at the age of 74.
The celebrated physicist and mathematician was admitted to the hospital two days ago with diabetes and other complexities.
He was survived by his wife and two daughters.
Prof Islam's first namaz-e-janaza will be held at the CU mosque at 11:30am.
The body of the cosmologist will be kept at the Shaheed Minar premises at 4:00pm so that people from all walks of life could pay their tribute to him.
His second namaz-e-janaza will be held at the Shaheed Minar premises around 4:30pm.
The scientists will be buried at Garibullah Shah Mazar premises in the port city on Sunday following his third namaz-e-janaza after Asr prayers.
Prof Abul Mansur Chowdhury, the incumbent director of RCMPS, said the qulkhwani of the noted scientist will be held on March 22 at his at Surson Raod residence in Sabza Zar area of the port city.
EARLY LIFE AND EDUCATION
Born on February 24, 1939 in Jhenidah, Jamal Nazrul Islam studied at Chittagong Collegiate School.
He passed the Senior Cambridge and Higher Senior Cambridge exams from Lawrence College in Marit of West Pakistan. He received a BSc degree from St Xavier's College at the University of Calcutta.
He obtained a BA again and an MA from Trinity College in Cambridge.
Prof Jamal obtained his PhD in applied mathematics and theoretical physics from the University of Cambridge in 1968, followed by a DSc in 1982.
INSTITUTIONAL AFFILIATION
He was a member of the advisory board at Shahjalal University of Science and Technology and a member of the syndicate at Chittagong University of Engineering and Technology.
BOOKS AND PUBLICATIONS
Prof Jamal's worked in the field of 'Relativity and Cosmology' and wrote at least nine books including 'The Ultimate Fate of the Universe', which has been translated into seven foreign languages.
He has at least 50 researches and publications in the world famous journals.
His publications from Cambridge University Press includes "Rotating Fields in General Relativity" which is translated in Japanese, French, Portuguese, Italian and Yugoslav; "Classical General Relativity: Proceedings of the Conference on Classical (Non-Quantum) General Relativity", "An Introduction to Mathematical Cosmology", "The Ultimate Fate of the Universe", "Sky and Telescope", "The Far Future of the Universe" and "Introduction to Mathematical Economics and Social Choice".
AWARD
Prof Jamal received Ekushay Padak in 2001 and Bangladesh Science academy gold award in 1985.