6 dead as bus crushes auto-rickshaw in Feni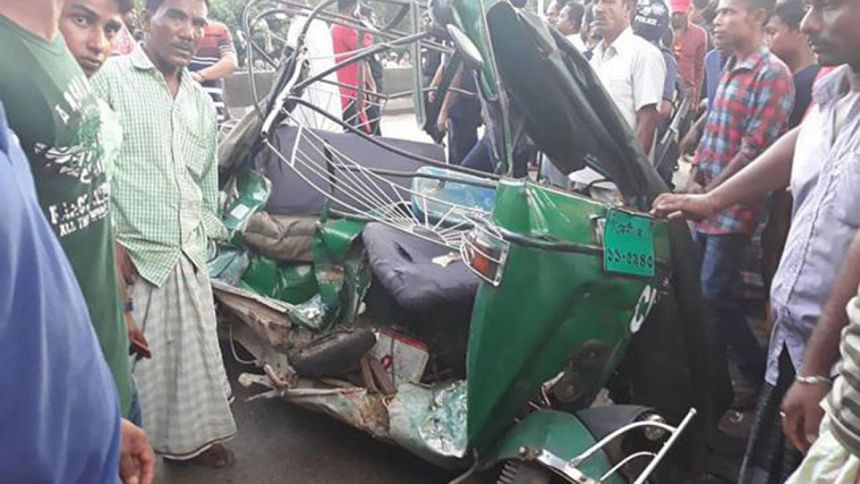 At least six people, including two women, were killed and two others injured as a bus ran over a CNG-run auto rickshaw on Dhaka-Chittagong highway in Feni's Sadar upazila this afternoon.
The identities of the deceased could not be known immediately, reports our Feni correspondent.
Locals said the accident took place around 5:00pm when the speeding Chittagong bound Shyamoli Paribahan bus crushed the auto-rickshaw on the highway in Lemua area, leaving three passengers of the auto-rickshaw dead on the spot and four others injured.
The injured were taken to Sadar Hospital where doctors declared three others dead, Nazmul Hasan, residential medical officer of the hospital, said.
The two injured – a woman and a child – were shifted to Chittagong Medical College Hospital as their condition deteriorated.
Quoting witnesses, Lemua union parishad chairman Mosharraf Hossain told our correspondent that the auto-rickshaw was run over by the bus while a team of highway police in the area was chasing the three-wheeler as it was plying on the highway violating traffic rules.
Contacted, Abdul Awal, officer-in-charge of Mohipal Highway Police Station, denied the allegation of the auto-rickshaw being chased by police.
The OC said the mishap occurred as the auto-rickshaw was hit by the speeding bus while trying to take a U-turn on the highway.