Nation mourns Bangabandhu
People from all walks of life streamed onto Dhanmondi Road-32 yesterday to pay tribute to the Father of the Nation, as speeches of Bangabandhu and patriotic songs reverberated through the city. 
The mourners placed wreaths at Bangabandhu's portrait and stood in sombre silence in observance of the National Mourning Day.
On this day in 1975, some disgruntled army officers assassinated Bangabandhu Sheikh Mujibur Rahman and most of his family members inside his Dhanmondi residence.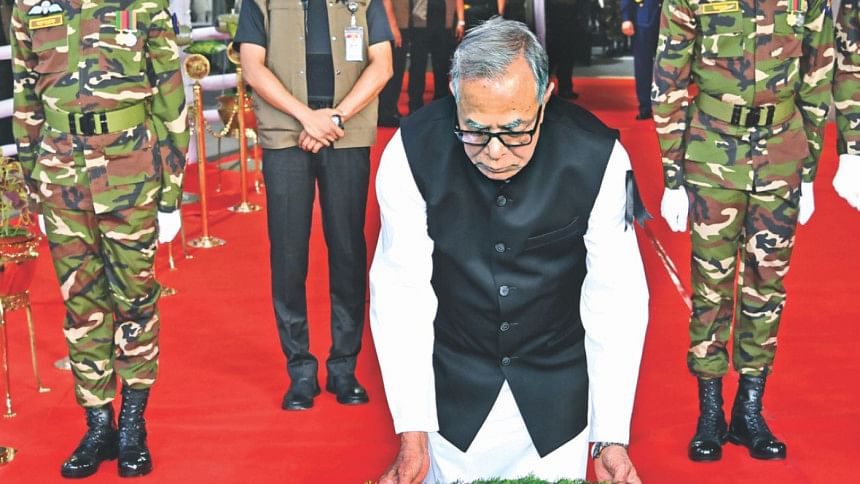 Yesterday's programmes began with President Abdul Hamid and Prime Minister Sheikh Hasina, daughter of Bangabandhu, paying respect to the great leader.
The president and the PM placed floral wreaths at the portrait separately and stood in silence for some time as a mark of respect to the memory of Bangabandhu, the architect of the country's independence.
During that time, a smartly turned out contingent of Bangladesh Armed Forces gave a state salute and a bugle played the tune of grief.
A munajat was offered seeking eternal peace for the departed souls of the August 15 carnage victims.
Later, Hasina, also president of the ruling Awami League, flanked by her party's senior leaders, placed wreaths at Bangabandhu's portrait on behalf of the party.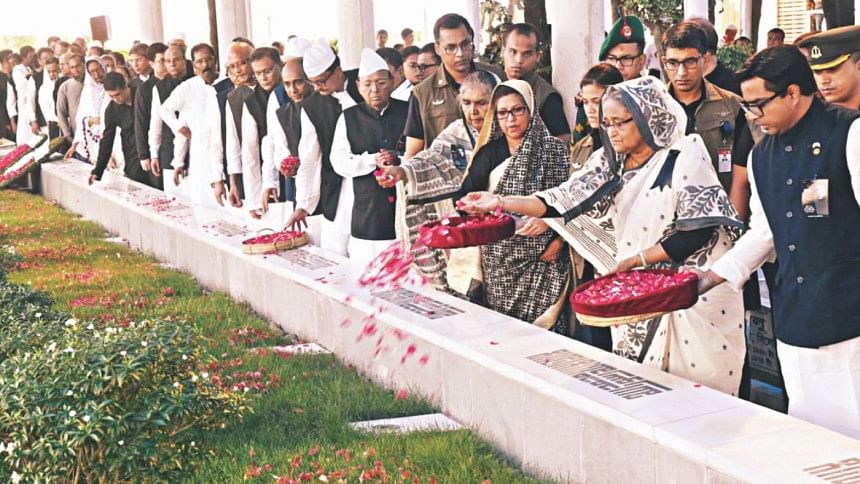 She along with her sister Sheikh Rehana then went inside the historic residence, which has now been turned into Bangabandhu Memorial Museum. The two sisters survived the attack in 1975 as they were in the then West Germany.
After they left Dhanmondi Road-32 yesterday, the area was opened to public.
Holding banners and wearing black badges, members of different political, social and cultural organisations as well as common people paid tributes to Bangabandhu.
Those who went there included one Mohammad Masum and his four-year-old daughter.
"I want my daughter to know Bangabandhu and the history of this country. That's why I have brought her here," he said.
From Dhanmondi, the prime minister went to the Banani graveyard where her mother Bangamata Fazilatunnesa Mujib, brothers Sheikh Kamal, Sheikh Jamal, Sheikh Russell and other martyrs of the carnage were laid to eternal rest.
Hasina prayed for the departed souls and placed floral wreaths and petals on their graves.
Later in the day, the PM went to Gopalganj and paid tribute to Bangabandhu by placing wreaths at his grave in Tungipara.
A contingent from the three defence services gave a state salute on the occasion, while bugle played the last post. Chiefs of the three services were present at that time.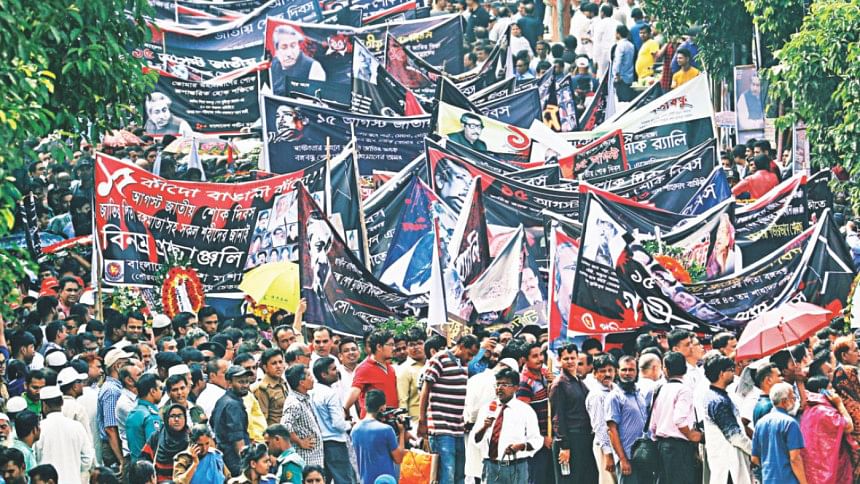 Accompanied by Rehana and other family members, the PM then offered munajat at the mazar seeking eternal peace for the departed souls.
Later, Hasina flew back to Dhaka and attended a milad and doa mehfil in front of Bangabandhu Memorial Museum after Asr prayers.
Rehana, PM's daughter Saima Wazed Hossain Putul and her husband Khandakar Mashroor Hossain, Rehana's son Radwan Mujib Siddiq Bobby as well as other family members and relatives joined the milad.
Besides, special dua mehfils were organised and destitute people were fed as a mark of respect to Bangabandhu, whose unparalleled leadership earned Bangladesh freedom from Pakistani subjugation after a nine-month bloody war in 1971.
Yesterday was a public holiday.
The national flag flew at half-mast at all government, semi-government and autonomous body offices, educational institutions and Bangladesh missions abroad.
State-run Bangladesh Betar, BTV and different private television channels aired special programmes while newspapers brought out special supplements marking the day.
[The report has inputs from UNB and BSS]