Delay in Rohingya Repatriation
NHRC chief questions role of foreign ministry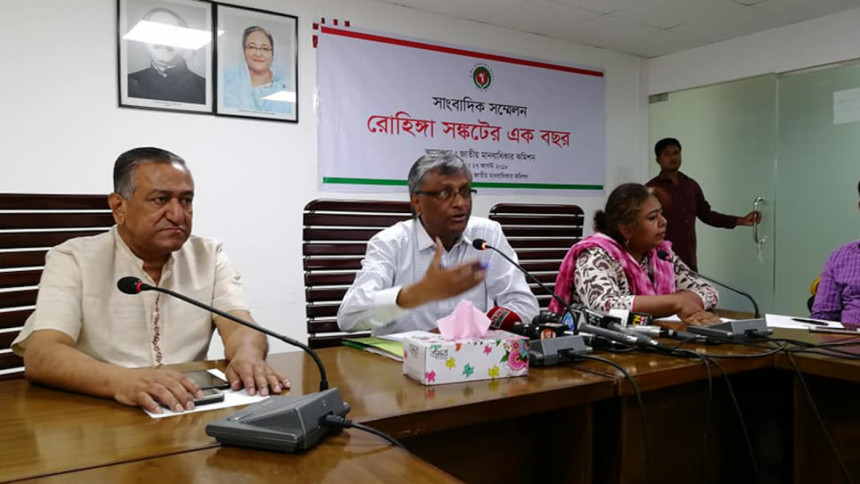 Expressing his frustration over the delay of repatriating Rohingya refugees to Myanmar, National Human Rights Commission (NHRC) Chairman Kazi Reazul Hoque yesterday raised questions about the role of the foreign ministry in this regard.
"The repatriation deal was signed in November, but I'm frustrated because till today we couldn't send back any Rohingya. I'm doubtful of how effectively and courageously people concerned, including the officials of foreign ministry, have played their role in this regard," he said at a press conference arranged by the commission at its office in the capital.
"We're tremendously frustrated over recent remarks of Aung San Suu Kyi who blamed our country for the delay of Rohingya repatriation, but till today we have not seen our government or foreign ministry making any protest against her statement," he said.
Reazul said, "We should play a more aggressive role to force Myanmar to take back the Rohingyas."
"I want to make it clear that the member countries of United Nations and world leaders have not played the roles they were supposed to. They seriously did not come forward to rescue Bangladesh from this burden," he added.
Replying to a question, Reazul said taking advantage of lengthy repatriation process, a quarter is trying to do business and make profit. "We want it to be stopped," he added.
The NHRC chief said he wrote to the chairman of Myanmar National Human Rights Commission last September, protesting atrocities on the Rohingyas, but the latter in a statement termed Rohingyas as "terrorists and not inhabitants of Myanmar".
NHRC also made a seven-point recommendation at the press conference.
It recommended that all Rohingya returnees be kept in a United Nations-supervised buffer zone before their homes -- which were destroyed by the Myanmar army -- are rebuilt.
The commission also sought punishment for the members of Myanmar army who were responsible for the killing, rape and human rights violations against the Rohingya community.
UN must ensure the punishment of those responsible, it said.
NHRC recommended that Bangladesh government take a tougher stance for quick repatriation of Rohingya refugees. It also sought that Myanmar ensures citizenship, dignity and human rights of all Rohingya returnees.
It urged for implementation of the five-point recommendation placed by Prime Minister Sheikh Hasina during the 72nd General Assembly of United Nations on September 21, 2017.
Among others, NHRC members Dr. Meghna Guhathakurta and Enamul Hoque Chowdhury were present at the briefing.
August 25 marked the first anniversary of the crackdown in Rakhine State, driving more than 700,000 refugees into Bangladesh.