Climate change impacting public health: Law minister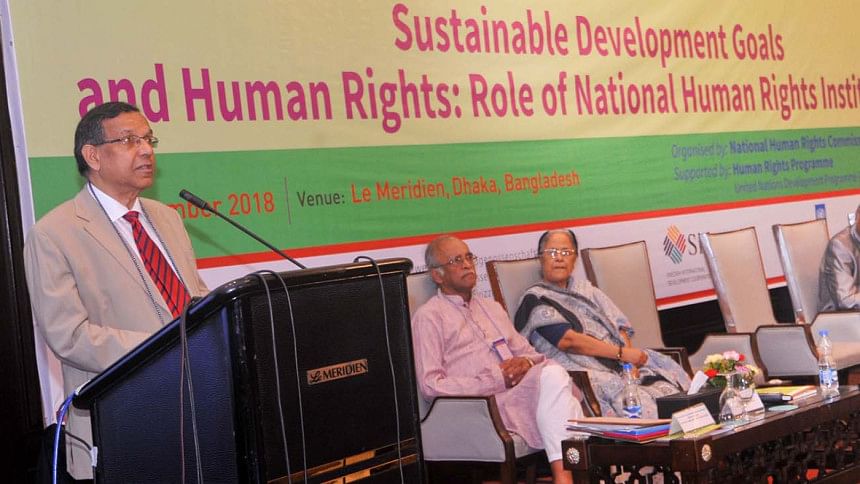 Law Minister Anisul Huq today said climate change is impacting public health, food and water security, and migration not only in Bangladesh, but the entire world.
"Climate change, still left unchecked, will roll back the development gains we have made over the last decades and will make further gains impossible. We think investment in sustainable development will help address climate change by reducing greenhouse gas emission and building climate resilience," he said.
The law minister said this while speaking as the chief guest at opening session of the "International Conference on Sustainable Development Goals (SDGs) and Human Rights: Role of National Human Rights Institutions (NHRIs)" organised by the National Human Rights Commission (NHRC) at Le Meridian Hotel in Dhaka.
NHRC Chairman Kazi Reazul Hoque presided over the session where Charlotta Schlyter, ambassador of Sweden to Bangladesh, René Holenstein, ambassador of Switzerland to Bangladesh, SudiptoMukerjee, country director of United Nations Development Programme (UNDP) in Bangladesh, and Abul Kalam Azad, principal coordinator of SDG at the Prime Minister's Office spoke.
Law Minister Anisul Huq said, "Conversely, action on climate change will drive sustainable development."
"Tackling climate change and fostering sustainable development are two mutually reinforcing sides of the same coin. Sustainable development cannot be achieved without climate action," he said, adding that "Many SDGs are addressing the core drives of climate change."
The minister also said the government of Bangladesh is keen on the issue.
Prime Minister Sheikh Hasina has appealed to developed countries, and world leaders for their support regarding climate change adaption and wider capacity-building at high-level leaders' dialogue on "Implementation of the Paris Agreement on Climate Change", Anisul Huq added.