Reckless overtaking costs two lives
At least two persons were killed and three other injured as a bus trying to overtake a vehicle collided head-on with a CNG-run auto-rickshaw in Chittagong city's Bakalia area yesterday morning.
The deceased are Jaheda Begum, 28, and Md Jamal, 40, driver of the auto-rickshaw, said Assistant Sub-inspector Alauddin Talukdar of Chittagong Medical College Hospital police outpost.
He said some university students rushed them to the hospital where doctors declared them dead.
The injured -- Nasir Uddin, 38, Guljar Begum, 30, and Maleka Begum, 30, -- are being treated at the hospital.
The accident took place in Old Bakalia Police Station Road area when an Anwara-bound bus while trying to overtake a vehicle changed the lane and collided with the auto-rickshaw coming from the opposite side around 9:00am, said Pranab Chowdhury, officer-in-charge of Bakalia Police Station, quoting witnesses.
Police arrested bus driver Md Yasin, 22, and seized the vehicle, said the OC. Yasin did not have a driving licence, he added.
During primary interrogation, they found out that Yasin is actually helper of the bus -- "Ma Rokiya" of Mohsen Awlia Paribahan, said OC Pranab. He said a case was filed.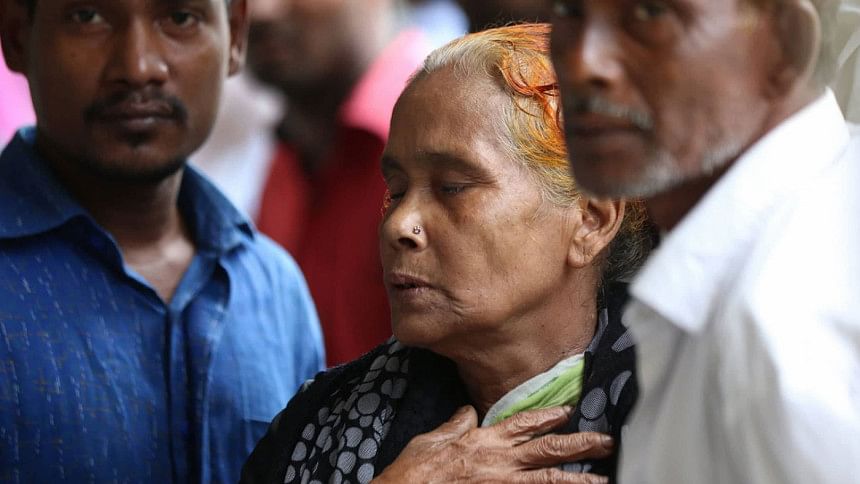 Meanwhile, this correspondent visited deceased Jaheda Begum's residence in Bakalia around noon.
The atmosphere was heavy with grief. Embracing two granddaughters -- 12 and 6 -- Jaheda's mother was weeping.
Jaheda's husband Md Nasir Uddin, an employee at a garment factory, had no words to console them for the loss -- nothing or nobody could.