Train tickets: Online sales run into a snag
Hundreds endure long queues at station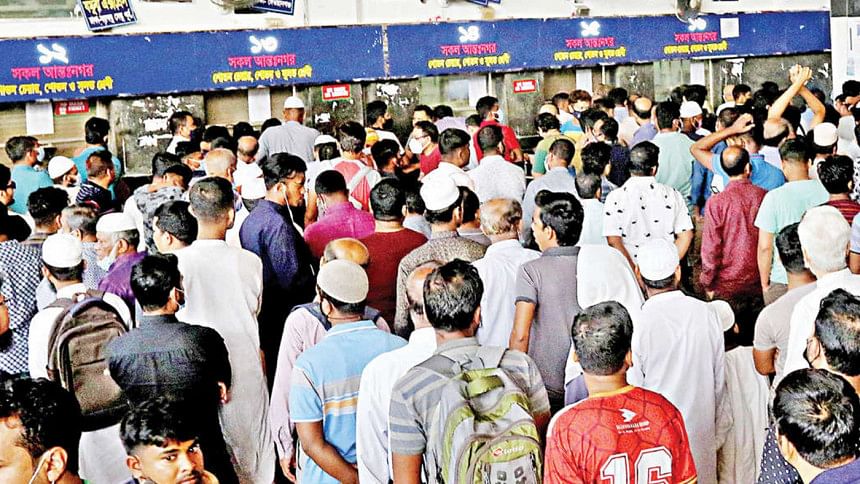 Saad Rahman, a private service holder, got up early in the morning to purchase train tickets online.
It took him half an hour from 8:00am to log in to eticket.railway.gov.bd, the website selling train tickets.
However, he could not purchase the tickets as the system did not deliver an OTP (one-time password) to his phone.
Failing to buy online tickets of Kishoreganj-bound Egaro Sindhu Express for Sunday, he went to Kamalapur Railway Station around 12:00 noon.
"I found several hundred people in the queues at the station. I decided not to wait there as it could take several hours to reach the counter," Saad told this correspondent.
Visiting Kamalapur Railway Station yesterday, a correspondent of The Daily Star found hundreds of people suffering immensely to get train tickets.
Bangladesh Railway (BR) resumed the online sales through its new vendor, a joint venture firm led by Shohoz Limited, after a five day pause that ended at 8:00am yesterday.
Currently, the BR is supposed to sell 50 percent tickets at the counters and the rest online.
Contacted, Sardar Shahadat Ali, additional director general (operations) of BR, admitted that people were not getting tickets through online.
"They [the vendor] said they were working on the issue, but could not tell when it would be fixed," he told The Daily Star yesterday.
Contacted, Farhat Ahmed, manager (public relations) at Shohoz Limited, said the website received around 22 lakh traffic within a few minutes.
"This could be a result of a cyber-attack too," he said.