Road Crash, Casualties: Even BRTA, police figures don't tally
This kind of mismatch a barrier to drawing up effective road safety plans, say experts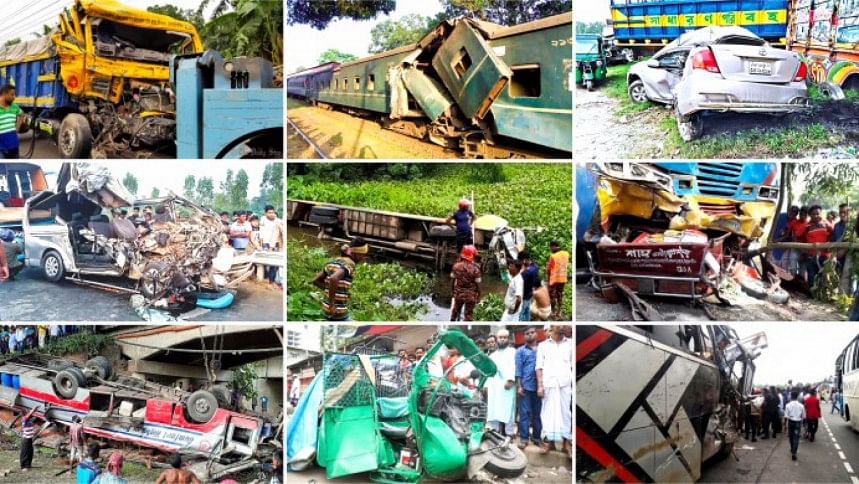 Road crash data from two government agencies does not match and this could lead to problems in making informed decisions on road safety. 
Until January this year, Bangladesh Road Transport Authority used Bangladesh Police's data on road crashes. But the BRTA started publishing its own accident data in January.
According to the BRTA, 636 people were killed and 752 others injured in 630 road accidents in January and February.
Police say 542 people were killed and 420 others injured in 557 road crashes during the same period.
This mismatch raised questions about the accuracy of both.
However, the numbers are much lower than that provided by NGOs working on road safety.
This could become a problem for the government as it is implementing the National Road Safety Strategic Action Plan-2021-2024 to reduce 20 to 25 percent casualties by 2024, and to halve the casualty number by 2030. This is a target of the Sustainable Development Goal.
Different international organisations have also raised questions about the accident data and data collection system.
"The current system of recording, analysing, and reporting crashes in Bangladesh is cumbersome, error-prone, time-consuming, and unfit for analysis and benchmarking," the World Bank observed in an appraisal report in 2021 prepared for financing a road safety project in Bangladesh.
Poor quality and unreliable data on crashes, deaths, and injuries impede proper road safety management.
"Poor quality and unreliable data on crashes, deaths, and injuries impede proper road safety management," said the WB.
At least 24,954 people were killed in road crashes in the country in 2016, according to a World Health Organisation report published in December 2018.
According to the police, 2,463 people were killed in 2,566 road crashes in 2016.
The WB has already approved a loan for a Tk 4,988.14 crore project on road safety. Under the project, among other works, a road accident database will be developed.
THE DIFFERENCES
According to the BRTA data, 333 people died in 322 road crashes in January while 303 were killed in 308 road accidents in February this year.
But the police report says 279 people were killed in 280 crashes in January while 263 people died in 277 road accidents this February.
Jatri Kalyan Samity, a passenger welfare platform, said 585 people were killed in 593 road accidents in January and at least 467 people died in 447 road crashes in February.
The organisation's data is based on newspaper reports. It said the number of crashes and deaths could be higher as many accidents go unreported while many die of injuries which too are not reported.
Contacted, BRTA Chairman Nur Mohammad Mazumder said they collected their data through their offices across the country and verified those with police and district administration data.
Asked about the mismatch with police data, he said police data is based on the cases filed over the accidents, but many injured died in hospitals later.
"We include the hospital data and that's why our number may be higher than that of police," he told The Daily Star yesterday.
"Definitely, we will use our data for official purposes and will evaluate our target on the basis of our data."
This correspondent tried to contact police officials concerned for comments but could not reach them.
Saidur Rahman, executive director of Road Safety Foundation, said the government agencies should make better efforts for accurate data.
"In absence of real data, the authorities will not able to take proper preventive measures to reduce road crashes," he said yesterday.
At least three road safety campaign platforms in January this year published their reports saying that the number of both road crashes and deaths went up last year compared to 2021.
Road Transport and Highways Division Secretary ABM Amin Ullah Nuri at a programme on January 15 blasted the road safety campaigners for publishing "fabricated" reports on crashes.
He said the reports were creating confusion among the people and tarnishing the country's image abroad and announced that the BRTA will publish reports on road accidents from now on.