Dhaka-Mawa Expressway: Tk 495 for bus, Tk 140 for car
Bikes may be banned on tollway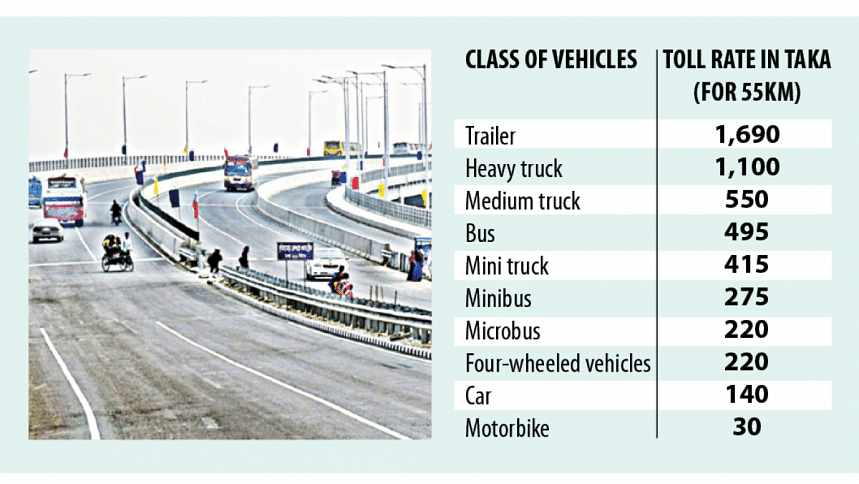 The government has fixed tolls for different vehicles for using Dhaka-Mawa-Bhanga Expressway, which will come into effect on Friday, a move that will push up transport costs.
Road Transport and Highways Division yesterday issued a circular, fixing the tolls for an interim period.
Although the circular fixed the toll for motorcycles, Roads and Highways Department (RHD) yesterday said it was considering banning the operation of bikes on the expressway.
However, the two-wheelers would be able to use service lanes of the country's first expressway, formally known as Jatir Pita Bangabandhu Sheikh Mujibur Rahman Highway.
In another development, RHD yesterday signed a contract with a joint venture firm, led by Korea Expressway Corporation (KEC), for maintenance and operation of the expressway, which includes collecting tolls and installing ATS there.
Meanwhile, Bangladesh Road Transport Authority (BRTA) Chairman Nur Mohammad Mazumder said they will refix bus fares in accordance with the tolls.
In that case, bus fares are likely to increase further. Earlier this month, BRTA refixed bus fares for 15 routes in the south-western region, adjusting for Padma Bridge's tolls, and fares for most routes were increased by around Tk 10 on average.
Earlier on June 27, the division had issued a circular, fixing Tk 10 per kilometre as the base tolls and date for starting toll collection on the expressway.
TOLL RATES
As per the circular, to use the expressway, the toll for a medium-sized truck would be Tk 550, for a bus Tk 495, for a car (sedan) Tk 140, and for a bike Tk 30.
Moreover, a vehicle has to pay toll for Padma Bridge separately.
Currently, a medium-sized truck has to pay Tk 2,100 for using Padma Bridge, while it is Tk 2,400 for a bus, Tk 750 for a car, and Tk 100 for a motorcycle.
So, a truck has to pay a total of Tk 2,650 for using both the expressway and Padma Bridge, while a car has to pay Tk 890, and a bike Tk 130.
BAD NEWS FOR BIKERS
After Padma Bridge, RHD is considering banning motorcycles on the expressway, citing safety concerns.
"We have already sent a proposal to ban motorbikes on the expressway," AKM Manir Hossain Pathan, chief engineer of RHD, said yesterday.
However, the two-wheelers will be allowed on service lanes, he said at a signing ceremony at RHD headquarters yesterday.
Replying to a question, he said the decision to ban motorbikes will be finalised following discussion with stakeholders.
Earlier on June 26, Bangladesh Bridge Authority banned motorbikes on Padma Bridge from 6:00am of June 27 until further notice, as thousands of bikers queuing up to cross the bridge overwhelmed the toll plaza employees, and two bikers died in a crash on the bridge.
MANUAL TOLL COLLECTION FOR NOW
On June 22, Cabinet Committee on Government Purchase approved the proposal to give the aforementioned joint-venture firm the responsibility of collecting tolls, among other work, on the expressway.
As per the proposal, the authorities have to pay Tk 717.49 crore for installing an "intelligence transport system" on the expressway as well as maintenance, operation and collection of tolls for the next five years.
Sabuj Uddin Khan, additional chief engineer (Dhaka zone) of RHD, and Lee Hyeon-Seung, managing director of KEC, signed the contract on behalf of their respective organisations.
Two partners in the agreement are S-Traffic Company Ltd of Korea and Tele Tell Communications of Bangladesh.
As per the contract, the first six months would be the pre-operation period, when they will collect tolls manually. After that, they will collect tolls for the next 4.5 years with full-fledged technology.
Sabuj Uddin said they have already developed a software for collecting tolls for the first six months. Other modern equipment would be developed within this period.
Asked why they could not engage the vendor earlier, even though the interim tolls were fixed in April last year, RHD chief engineer, said, "We did not sit idle…There could be better preparation... but our efforts should not be questioned."
Now, both the bridge and expressway authorities would collect tolls manually, which may cause huge tailbacks ahead of Eid-ul Azha.
The chief engineer asked the vendor to keep the matter in mind.
RHD officials said tolls for the expressway would be collected at two main points -- near Dhaleshwari Bridge and Bhanga. However, there would also be toll plazas at four entry and exit points at Abdullahpur, Srinagar, Puliabazar and Maligram.