Unicef Meena Media Award: 11 journalists honoured
Eleven media professionals were honoured with the Unicef Meena Media Award today for reporting on children.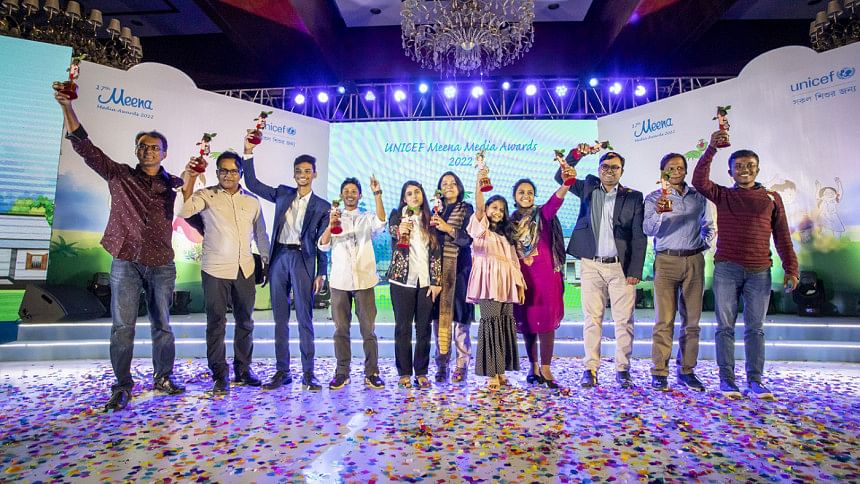 Eleven media professionals were honoured with the Unicef Meena Media Award today for reporting on children.
The programme was organised by Unicef Bangladesh around 2:30pm at the Pan Pacific Sonargaon Hotel in the capital.
The winners were selected after review of a total of 300 entries under print, online, photography and video categories. They received monetary awards, crests and certificates.
Winners in the over-18 group in the Print Journalism category are: Tanvirul Islam of Dhaka Post, Himu Chandra Shil of bdnews24.com, Jesmin Akter Papri of Newsbangla24, Nawaz Farhin Antara from Dhaka Tribune and Emran Hasan Sohel from Kaler Kantho.
In Video Journalism, Shahnaz Sharmeen of Nagorik Tv, in Photojournalism, Md Shazid Hossain and Zahidul Karim of Prothom Alo received the award.
Winners in the under-18 group are: Khalidul Islam Tanvir of ATN Bangla, Dhee Aroni Paul of Hello bdnews24 and Mohammad Mosharrof Hossain, Jagonews24.
The media professionals reported on Impact of Covid-19 on children, Rohingya Refugee children, climate change and children, gender equality and girl empowerment, and child rights.
In a welcome speech, Sheldon Yett, Unicef representative to Bangladesh, said, "The powerful reporting that we honour today demonstrates the vital role that journalists play in bringing children's rights to light, and in holding people in power to account. These stories of bitter deprivation, but also everyday triumph against adversity, are an inspiration to us all."
"We saw some powerful stories this year, and in the coming days, weeks and months we need to maintain high standards of compassionate, empathetic reporting to the highest moral standards. Ethics and sensitivity are at the heart of good reporting and the more compelling the story, the more care needs to be given to how it is handled," said Ruma Paul, Chief Correspondent of Reuters Bangladesh and one of the 2022 award judges.
Editor and Publisher of The Daily Star, Mahfuz Anam, sent a video message for the nominees, while Editor and Publisher of Prothom Alo, Matiur Rahman, President of the Bangla Academy Novelist Selina Hossain, Film maker and Lecturer at the Pathshala Institute Shameem Akhtar, DU Professor Gitiara Nasreen, and Abir Abdullah spoke at the programme.
Bureau Chief of AFP Shafiqul Alam, Bureau Chief of Reuters in Bangladesh Ruma Paul also spoke while distributing awards.
Launched by UNICEF in 2005, the Meena Media Awards recognize excellence in journalistic reporting that promotes the cause of children.