Watchful AL takes to streets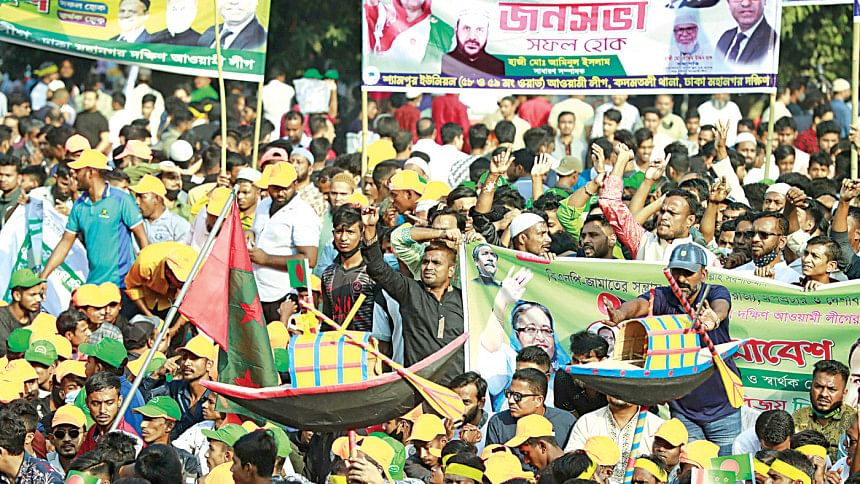 The ruling Awami League has suddenly taken a combative stance after saying for days that it would help the BNP to peacefully hold today's rally in the capital.
Meanwhile, police have taken a flurry of cautionary measures centring today's rally.
AL President and Prime Minister Sheikh Hasina at a meeting with the Dhaka City unit leaders on Thursday  categorically ordered them to be vigilant everywhere and strike back if anyone tried to attack them.
AL General Secretary Obaidul Quader earlier asked the ruling party activists not to engage in confrontations with the BNP men. But after Hasina's remarks, the AL and its associated bodies started marching the streets yesterday afternoon with slogans against the BNP.
Dhaka City South AL yesterday held a rally at Mohanagar Natya Mancha with around 10,000 thousand activists.
The AL will hold a rally today in Savar, an entry to the capital, in which many central leaders will be present. Savar, Dhamrai and Ashulia AL committees will organise the rally. Insiders say over 2 lakh people will attend the event.
On streets of the capital yesterday, crowds of ruling party activists took position and chanted slogans.
Chhatra League leaders and activists patrolled the streets on motorcycles in Gulistan, Kawran Bazar, Hatirpool, Kalyanpur, Mohammadpur, Sadarghat, Kazipara, Sheorapara, Dholaikhal, Dhanmondi, Dhaka University and other places.
"After the announcement of the party president, leaders and activists took positions in at least seven places in each thana [AL units]. From tomorrow afternoon until evening, we will hold protest rallies in every ward," Dhaka City North President Sheikh Bazlur Rahman told The Daily Star.
The leaders and activists will also be at every AL office in the city from 10:00am today, AL activists said. The BNP rally in Golapbagh starts at 11:00am.
Besides, ruling party men will also be at every entry to the capital.
The ruling party sources said they were asked to remain prepared for any situation, but not to incite a confrontation.
Security in the whole city has been beefed up since last night while the police are on high alert across the country, said sources in the law enforcement agencies.
Rab's bomb disposal unit, special force, dog squad, and helicopter unit are on alert as well, they said.
Around 32,000 members of Dhaka Metropolitan Police (DMP) will be on duty and 10,000 other policemen will be ready as backups.
Harun or Rashid, additional commissioner (DB) of the DMP, said police will be in plainclothes and in uniform.
"We will build a security circle around the Golapbagh ground. Our team has started working and monitoring the surrounding areas so that no unwanted situation takes place," said Harun.
"We do not think that there is any likelihood of attacks as we have a strong security plan," he added.
Commander Khandaker Al Moin, director of the legal and media wing of Rab, said Rab intelligence teams will be deployed and checkpoints will be set up.