Gazipur City Polls: It might now be AL vs AL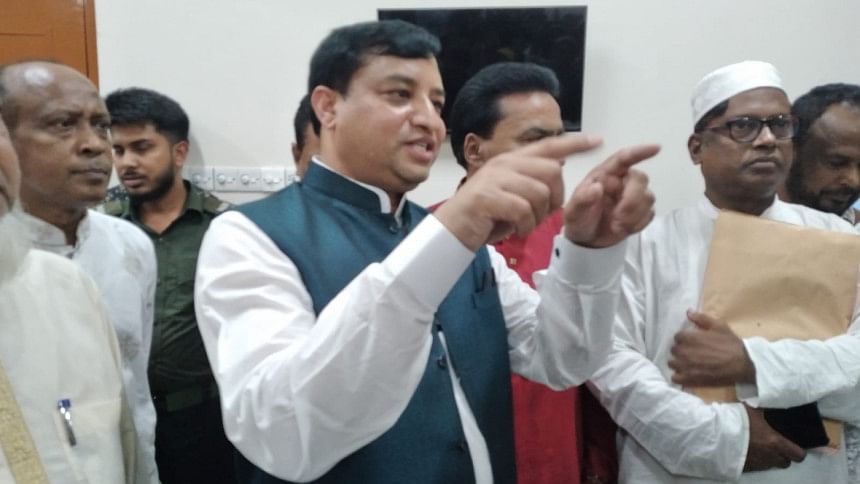 Politics in Gazipur city may heat up as suspended city mayor Zahangir Alam and his mother have submitted nomination papers to run for mayor as independents in the May 25 polls.
Zahangir's supporters submitted his nomination form to the returning officer in his presence around 3:30pm yesterday, about half an hour after the former mayor filed his mother's nomination paper.
Awami League candidate Azmat Ullah Khan, president of Gazipur city AL, also submitted his nomination form yesterday, the last day for filing nomination papers.
"I have submitted my nomination form as a citizen following the electoral laws. I know I may come under attack... Since my mother has submitted nomination papers, I'm willing to sacrifice my life for my mother. I will try for my mother till the end.
"I had to bear the burden of a lie for 18 months. I want to get rid of it," Zahangir told reporters after filing his mother's nomination form.
If the candidatures of the mother and son are not withdrawn by May 8, the last day for withdrawing candidatures, and not cancelled by polls officials during scrutiny, the main battle of ballots will be between Azmat and Zahangir as the opposition BNP is boycotting the election, said local AL leaders.
Local leaders and activists of the ruling party have virtually become divided in two centering the polls to Gazipur City Corporation.
A group of Gazipur AL leaders is angry with Azmat and Ataullah Mandal, general secretary of Gazipur city AL,
over issuance of show-cause notices to more than 200 party leaders and activists, who are close to Zahangir, said ruling party leaders.
The notices asked the AL leaders and activists to explain why organisational actions should not be taken against them for anti-disciplinary activities.
Among the 200 are 19 leaders of Gazipur city AL.
Besides, 61 out of 76 Gazipur city councillors wrote to the LGRD ministry seeking reinstatement of Zahangir as mayor.
It would be difficult for the ruling party to make all those aggrieved leaders work for the party nominee, at least three Gazipur AL leaders told The Daily Star wishing anonymity.
Zahnagir, who was elected mayor in 2018 on AL ticket, was expelled from the party on November 19, 2021, over making derogatory remarks about Bangabandhu Sheikh Mujibur Rahman and expressing doubts about the number of martyrs in the Liberation War.
Seven days after his expulsion, the government suspended him as mayor. The ruling party, however, granted him amnesty on January 21 this year.
Azmat, a former mayor of Tongi municipality, enjoys support from senior district AL leaders, but Zahangir has strong control over the party grassroots and junior leaders, according to sources in the party.
"Zahangir has his own vote bank. He will have support from Hefajat-e-Islam, and a section of BNP supporters as the party have decided to boycott the polls," said an organising secretary of Gazipur city AL.
Speaking to reporters after submitting his nomination paper, Azmat yesterday said, "I read in newspapers that he [Zahangir] and his mother bought nomination forms. He sought Awami League's nomination…if he has confidence in the Awami League leadership, he will accept the party's decision and conduct his activities accordingly."
Shahnoor Islam Rony, son of local BNP leader Nurul Islam Sarker, submitted his nomination paper as an independent yesterday. Locals said his candidacy will not be a major factor in the polls results as he is not locally well-known.
As many as 13 nomination forms were bought for the post of mayor and 12 of those were submitted.