"War and pandemic could negatively impact Bangladesh's balance of payment"
PM Sheikh Hasina says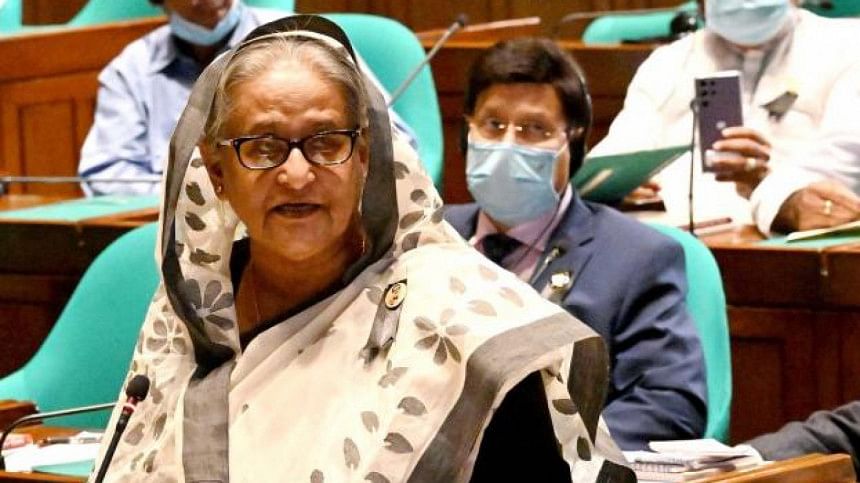 Prime Minister Sheikh Hasina today (August 31, 2022) said Russia-Ukraine war and Covid-19 pandemic may have a negative impact on country's balance of payment.
"The risk of a negative impact on Bangladesh's balance of payments was raised by the Covid-19 and Russia-Ukraine war, as well as the sluggish global economic growth, supply chain disruptions, rising prices for fuel, gas, food, consumer goods, industrial raw materials, and freight on the international market," she said this in reply to tabled question from Jatiya Party MP Mashiur Rahman Ranga during PM's question-answer session.
In the scripted answer, PM said her government has shown remarkable success in keeping both the budget deficit and debt levels at sustainable and bearable levels for the past 14 years.
It has been possible to keep the budget deficit within five percent of GDP despite various domestic and international economic problems including the pandemic, said the premier.
The debt and GDP ratio is also at the comfortable level, she added.
Replying to a question of Jatiya Party MP Syed Abu Hossain, Hasina said there is no electricity crisis in the country considering the fact that the country has the production capacity in line with the demand.
She, however, said efforts are on to get rid of the crisis, which was created due to ongoing global fuel crisis, through maintaining austerity in using electricity and planned load-shedding to save fuel oil.
While replying to a query of ruling AL MP M Shahidul Islam, the premier said currently the country has a total of 7.01 metric tonnes of refined and crude oil which can meet the demands of 30-35 days.
"By this time two vessels carrying fuel will reach the country, meaning that the uninterrupted supply of fuel will continue," she said.
The fuel import schedule for the country's upcoming six months (July–December), according to the prime minister, has been secured with the supplier.