Want to buy a car? It's only Tk 5,000!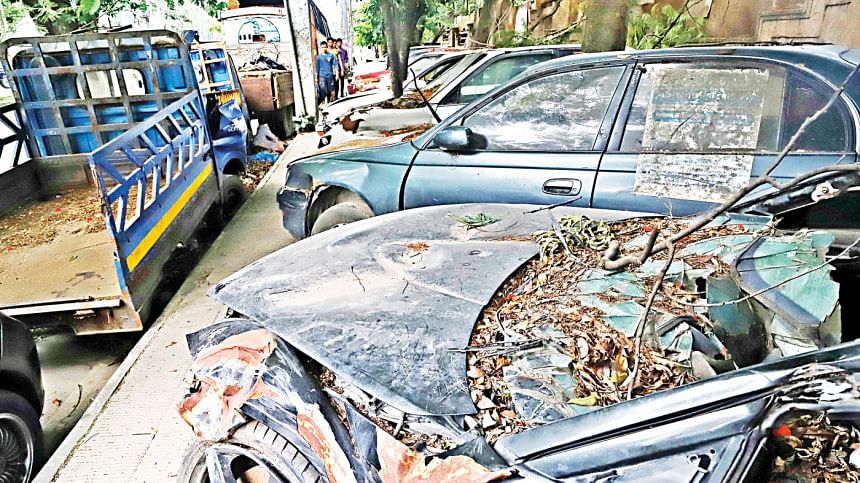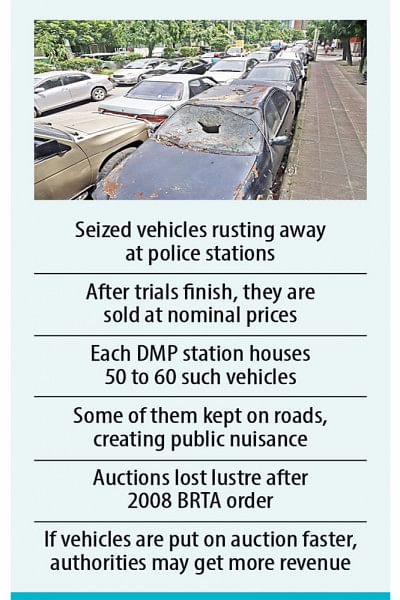 Seized vehicles that are used for different crimes or have no valid documents are mostly left unattended at police stations for ages. These vehicles just stay there and rust away.
This can be for various reasons, like absence of the owner and reluctance of the investigation officer (IO) to dispose of the vehicles, which act as evidence, during trial.
Take the case of a car at the capital's Shah Ali Police Station, which has been there since law enforcers seized it in July 2008.
There was no bar to re-register after buying a vehicle through auction earlier. But that was stopped in 2008. Since then, we are only allowed to profit from a vehicle as scrap even if its condition is good. That's why we offer a low price. When re-registration was allowed, the auction had a vibrant look. Many people, including men of the ruling party and its affiliated organisations, used to take part.
With all its tyres deflated and wheels burrowed into the ground, windscreens gone, dashboard broken and weed sprouting inside the cabin, the Toyota Corona EXiV is almost beyond recognition, The Daily Star found during a recent visit. A similar scenario prevailed in four other stations these correspondents visited.
Although there is no official data of seized vehicles, Dhaka Metropolitan Police (DMP) officials said each of the 50 stations in the city houses an average of 50 to 60 such vehicles, mostly cars and motorbikes.
There is a bright side to all this. You can get one of these cars for only Tk 5,000 to 6,000! Yes, you've read that right.
However, there's a catch. After making the purchase, you can't drive the car; you have to dismantle it -- that is if you want to follow the rules.
After trials are completed, these vehicles are put up for auction following court order and are sold as scrap at nominal prices.
According to a BRTA order, issued on November 13, 2008, if a vehicle is seized against criminal cases like theft, hijack, tampering with engine chassis number, or if its owner is not identifiable, then authorities must mention that the vehicle is "not fit for registration" and put it up for auction as scrap.
If the previous owner is found, however, the vehicle is returned to them, or if they refuse to take it back, anyone can buy the vehicle through auction and register it.
The government stopped re-registration of unclaimed vehicles to bring discipline to the transport sector and control road accidents.
But the 2008 rule is no longer effective. A year ago, BRTA issued a blanket re-registration ban on all auctioned vehicles following recommendations of a committee approved by National Road Safety Council.
Re-registration of out-of-model vehicles and those sold through auctions by any government, semi-government or other organisations have been stopped, said a BRTA circular issued on March 10, 2021.
Aside from the issue of wasting good vehicles, more sinister matters also exist.
THE CAR THAT BROKE ALL RULES
It was a 1994-model Toyota car.
When police seized it due to a criminal case on September 16 of 2011, the vehicle was in full operation. So, a police officer started using it for official purposes upon court approval.
After the case trial ended in 2018, the court ordered its auction on April 12 of that year.
Only four people had taken part in the auction by paying a fee of Tk 1,000, according to auction documents. One Tajul Islam Liton was the highest bidder, who bought the car for a measly Tk 6,000 and paid a tax of Tk 540.
Bangladesh Road Transport Authority (BRTA) had also fixed the car's estimated price around Tk 6,000, said officials.
Ignoring past and present rules, the car, not fit for registration, was still found to be in use.
Analysing BRTA documents, this newspaper has found that the car's new owner is one Md Shorif Sheikh, who has taken fitness for the vehicle till January 3, 2023 and tax token till September 8, 2022.
Despite repeated attempts, this newspaper could not reach Liton or Shorif for comments.
Now the question is, since the car was sold as scrap, how did they get documentation to drive it?
When informed about the issue, Subir Kumar Saha, assistant director (engineering section) of BRTA, told The Daily Star, "We do not know about the car, but its owner was probably identified."
But then why was it auctioned off as scrap?
Saha said he does not have any idea about that, as the BRTA inspector, who inspected the car at the time, can explain.
SEIZED VEHICLES A PUBLIC NUISANCE
Some of the seized vehicles are also parked on roads outside police stations, creating a public nuisance, said locals. Those also act as breeding grounds for mosquitoes.
Take the instance of Wari Police Station, where seized trucks and buses were found blocking the roads during a recent visit.
Abdur Rahim, a resident of the area, said in daytime, they can somehow manage to drive, but the situation deteriorates when traffic increases, usually in the evening.
Monibur Rahman, additional commissioner (traffic) at DMP, said they do not have parking space, so the seized vehicles are left at compounds of police stations, nearby places and on roads.
"We have applied for permanent dumping stations. The situation will improve when we get that," he added.
Sources said police are now working to get four permanent dumping stations in DMP.
WHY CAN'T THEY BE AUCTIONED OFF FASTER?
Police officials said there is hardly any claim of ownership for vehicles involved in crimes.
Asked about the legal bar for early disposal of seized vehicles, Ehsanul Haque Shomaji, former metropolitan public prosecutor, said a court order is mandatory for it.
The IO can apply for early disposal of vehicles to avoid them being damaged, but there is no legal obligation for this, the lawyer told this newspaper.
But that also depends on court jurisdiction, he added.
A high official of DMP, requesting anonymity, said if the investigation officer applies for early disposal, then all responsibility will fall on them.
The IO has to mention in the court that the vehicle is not needed in the case anymore, the officer told this newspaper.
WHY SUCH LOW PRICES?
Meanwhile, authorities are now being compelled to reduce the base price at auctions, as they are not getting bids from traders, said Sk Md Mahbub-E-Rabbani, director (road safety) of BRTA.
"They [traders] often do not take part in auctions in groups when the base price is high. One time, we did not get any bid even after calling an auction for a vehicle three times," he said.
"Eventually, we have no other option but to reduce the base price," he added.
People who are still interested in the auctions now, said the auctions have lost their appeal after the 2008 BRTA order.
"There was no bar to re-register after buying a vehicle through auction earlier. But that  was stopped in 2008," said Md Jamil Hossain.
"Since 2008, we are only allowed to profit from a vehicle as scrap even if its condition is good. That's why we offer a low price," said Jamil.
Jamil was one of the two participants found waiting at Dhaka Metropolitan Magistrate court on March 20 for the auction of a motorbike. The auction did not take place as the magistrate did not appear.
"When re-registration was allowed, the auction had a vibrant look. Many people, including men of the ruling party and its affiliated organisations, used to take part," he recalled.
He said another reason for the low price was the vehicles' poor condition.
A MATTER OF REVENUE
If these vehicles are put on auction faster, authorities may get more revenue, according to insiders.
Jafor Hossain, deputy commissioner of prosecution at DMP, said police have no role in the auction, as BRTA fixes the rate and a magistrate oversees the auction.
Asked about the government losing revenue, Jafor said that is up to the decisions of BRTA and the court.
Sometimes, vehicles in good condition are put up for auction, so a discussion can definitely take place about registering auctioned vehicles, he added.
[Our court correspondent Emrul Hasan Bappi also contributed to this report.]