The Daily Star ICT awards 2021
Bangladesh has made notable progress in ICT sector over the last several years riding on the entrepreneurial spirit of IT professionals, entrepreneurs. Today, a large number of youths, IT experts, and engineers are working in the sector to serve local and international markets through their innovations, creativity and excellence. To encourage innovation that positively impact society, The Daily Star has been recognising and celebrating extraordinary achievements by IT entrepreneurs since 2016. This year, six trailblazers in the ICT sector were honoured with The Daily Star ICT Awards for their extraordinary achievements and contribution to the development of country's IT sector.
MAHMUDUL HASAN SOHAG 
Chairman of Rokomari.com
Category: Digital Commerce of the year 2021
Winner: Rokomari.com
Nowadays, it has become easier to purchase books straight from one's home and, for many, Rokomari.com is the ideal online bookstore – with a variety ranging from creative fictions to academic reads.
However, even a decade ago, such an opportunity was not available for readers. Rokomari.com is one of the platforms that changed the landscape of the book market since its inception in 2012.
Starting with a small team, about 10,000 books, and a handful of publishers, today Rokomari has over 200,000 books on its platform and works with a large number of publishers in order to reach readers throughout the country.
The completely locally-owned and managed company with no external investment, Rokomari grew overtime through its services.
It delivers to customers in Dhaka within 2-3 days and, with the help of the Bangladesh post office, delivers to customers outside the capital in seven to nine days.
Rokomari also maintains a reputation of having a strong customer service team, who work in three shifts, 24/7.
It's entry in the digital marketplace has helped the book industry take off by creating momentum for the publishing industry and fostering a new reading culture.
While the number of website visitors was relatively low when the company began, today, it has around 15 lakh visitors per month.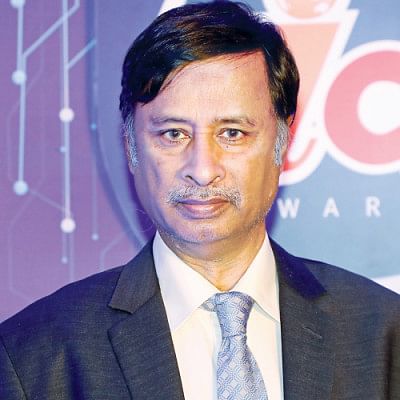 Mohammed E Rahman 
Founder and CEO of Ulkasemi Pvt Ltd
Category: ICT Solution Provider of the year 2021 - International Market Focus
Winner: Ulkasemai Pvt Ltd
Ulkasemi signed up for providing services for semiconductor designing while the field was still new for IT professionals in Bangladesh.
Beginning in 2007, on an 800-squarefoot space in Dhaka with four engineers, Ulkasemi had a turbulent beginning due to the 2007-08 global financial crisis.
Thanks to its indomitable spirit and conviction that good days would come, the company started hiring again from 2011. 
It then expanded its services to global firms that develop mobile devices, complex routers or switches, consumer products, storage, microprocessors and graphics processors.
In 2014, it got support from the government-formed Equity Entrepreneurship Fund, which, according to a top official, was vital for the company to expand operations.
Ulkasemi hit its growth spurt in 2017.
It joined Texas Instruments, a global semiconductor company that designs, manufactures, tests and sells analog and embedded semiconductors, along with Qualcom and GlobalFoundries.
In 2019, Ulkasemi began providing services to Apple.
With its operations, its capacity also grew. In 2021 alone, it hired 100 engineers taking its total workforce to more than 275.
Today, Ulkasemi has four offices, including one in the USA's Silcon Valley, Canada's Toronto Canada, India's Bangalore, with operations in Dhaka. It is also connected with Facebook, Google and TSMC.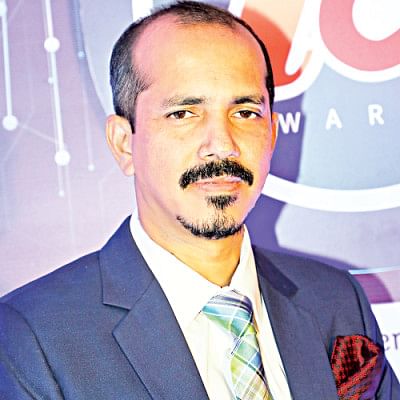 Mir Monuwar Iqbal 
Founder & CEO of Pridesys IT Ltd
Category: ICT Solution Provider of The Year 2021 - Local Market Focus
Winner: Pridesys IT Ltd
When many companies were struggling to recover from damages caused by the Covid-19 pandemic and were at risk of suffering losses due to cancellation of orders, Pridesys IT Ltd, one of the leading ERP solutions providers in Bangladesh, helped them bounce back.
With a secure, scalable on-demand application system and data access solutions, the IT service provider has been helping its clients improve their business performance with Pridesys ERP, an integrated software that provides all solutions under a single umbrella, since the beginning of its journey in 2013.
Pridesys is working on improving efficiency of companies to save their cost by providing solution for product planning and real-time monitoring, and increasing profit margin.
Pridesys ERP has been successfully implemented at Teletalk Bangladesh Ltd. Besides, it has been implemented at 16 companies in the garment sector to help them turn around from the impacts of the pandemic.
Currently, Pridesys is providing support to Mahmud Group, Vision Group, Sams Attire Ltd, Ananata Group, IDS Group, Nipa Group, AL Muslim Group, Nassa Group, Dysin Group, Dong Bang Group, Voyager Apparels Ltd, Prefeex, Teletalk Bangladesh LTD, and Dhaka Water Supply and Sewerage Authority.
Sinthia Sharmin Islam
Co-Founder of Shajgoj Ltd
Category: ICT Startup
of the year 2021
Winning company: Shajgoj Ltd
With the increase in internet penetration and social media users, three entrepreneurs realised that there was no good Bangla content available about beauty and personal care in the virtual world.
This was the gap the three filled up by creating Shajgoj.com. In 2013, they opened a blog with the name in order to create awareness among people on beauty and personal care.
Two years later, Shajgoj opened two physical stores in the capital -- one in Jamuna Future Park and another at Shimanto Shambhar Shopping Complex -- to cater to their buyers.
As its customer base expanded, Shajgoj launched an e-commerce platform in 2018 with products that were mostly imported from abroad.
As it grew, the company also got investments from a local firm as well as a Singaporean company.
Initially, Shajgoj would receive perhaps 20 orders a day.
Now, Shajgoj gets at least 4,000 orders daily and delivers products throughout the country. With an increase in demand, the firm multiplied its manpower to ensure better customer service, resulting in most of their customers being returning ones.
The company that began with only a Tk 50 lakh capital by the three partners, now registers a Tk 9 crore monthly turnover. It has 200 employees now with 65 percent of it being female.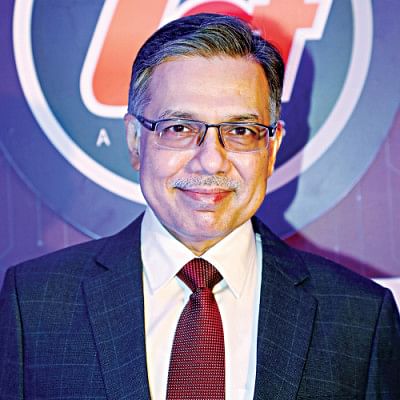 Syed Mamnun Quader
MD & CEO of Southtech Group
Category: ICT Pioneer
Winner: Syed Mamnun Quader
MD and CEO, Southtech Group
Syed Mamnun Quader started his career in 1983 as a bank management trainee in London.
He also worked for Banque Nationale de Paris Plc in London, Banque Paribas in London and Investcorp Bank EC in Bahrain and thus acquired well rounded experience of retail, commercial and investment banking in his 25 years of career in the ICT industry.
His last assignment at Investcorp was as risk and controls manager of the Proprietary Trading Group of their Bahrain, London, and New York offices.
Quader's heavy involvement with technology eventually led him to think about setting up a software house in Bangladesh. In late 1995, he decided to come to Bangladesh and that was the beginning of his long entrepreneurial journey.
An MBA from Cass Business School, London, Quader is also a founding member and a former senior vice president of Bangladesh Association of Software and Information Services (BASIS).
He founded Southtech Limited in 1996 at a time when there was very little in terms of software development in Bangladesh.
Southtech Group now comprises six entities, two within Bangladesh and four overseas.
Quader is an iconic figure and a pioneer in the Bangladeshi tech industry. He inspires startups and a number of his former employees are now successful entrepreneurs in their own rights.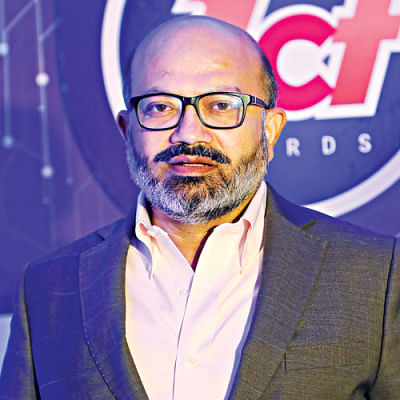 Kamal Quadir
CEO of bKash Ltd
Category: ICT Business Person
Winner: Kamal Quadir
CEO, bKash Limited
Kamal S Quadir is a Bangladeshi-American entrepreneur and artist best known for introducing e-commerce in the country through founding CellBazaar, an online marketplace.
CellBazaar, acquired by Norwegian telecommunications operator Telenor in 2010, has currently 4 million users.
With more than 15 years of experience in the ICT sector, Quadir is currently heading bKash, which provides financial services through a network of community-based agents and existing technology, including mobile phones.
bKash is the world's second largest and fastest growing mobile financial services company.
Quadir is also a founding member of Open World Initiatives, a Lausanne, Switzerland-based organisation of young thinkers.
He is involved with Anwarul Quadir Foundation which recognises innovations in developing countries. He is a First Mover Fellow of the Aspen Institute.
Quadir was selected as TED Fellow by TED, a nonprofit organisation devoted to spreading ideas usually in the form of short, powerful talks. He was honoured as a Young Global Leader by the World Economic Forum in 2009.
For his contributions to the technology sector and business industry, Quadir was honoured with MIT Ideas Award in 2005, Tech Award for "Applying Technology to Benefit Humanity" in 2007, Global Mobile Award of the GSM Association in the category of "Best Use of Mobile for Social & Economic Development" in 2008.