Students In Slums: Putting up a brave fight for a future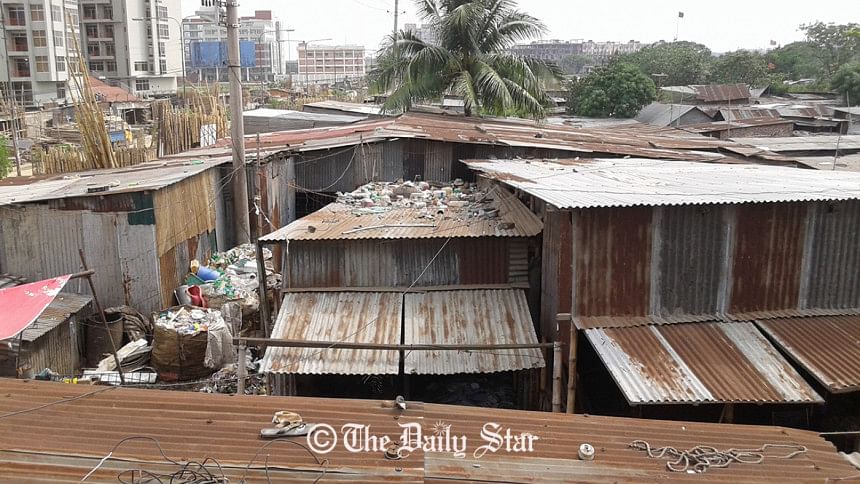 "As they lack basic education facilities, and the out-of-pocket education cost is so high, only those who are highly passionate and can earn, or get scholarships from different agencies, can continue their studies,"
In Abul's slum, or "Abuler Bosti", in the capital's Bhashantek, one of the most frequented places is his grocery-cum-tea shop.
As owner Abul Hossain is often busy collecting goods for his store, his two teenage daughters are the ones running the shop from morning till late at night.
Despite toiling through the day -- preparing tea, serving the customers, washing the cups or selling groceries -- sisters Papia Akter, 18, and Meghla Akter, 17, are continuing their 12th grade education, specialising in humanities, at the nearby Bhashantek School and College.
However, theirs is a rare instance in the slum.
With around 400 families living there, only four adolescents, who were born and raised there, were able to attend college.
"Our father attends the shop while we attend classes, but it is difficult to juggle studies and work," said Papia.
"Since childhood, our father wanted us to continue our studies and set an example in the slum. We were also inspired by the nearby police barrack and army officers of the cantonment, and always dreamed of being like them.
"But we are uncertain about getting any such opportunity, as it is difficult to do well in school after working all day."
According to Abul Hossain, he has to spend a minimum of Tk 10,000 for their college fees, private tuition, and other schooling expenses, along with a yearly amount of Tk 12,000 for admission.
"If we saved the amount, we could live in a better place or feed them whatever they want. And if I allowed them to work outside, they could each earn around Tk 12,000 a month.
"But I always prioritised their studies as I believe the only asset I could leave them with is the light of education," he said.
In Mohakhali Sat Tola slum, 21-year-old Chadni Akter's woes are similar.
Brought up in acute poverty, Chadni yearned to be a nurse, especially after her mother died in 2018 due to a lack of treatment.
However, a fire in 2021 gutted her entire home, including the books she bought to get enrolled for a BSc in Nursing.
Along with the books, her dreams too went up in flames.
She is now enrolled for a BA in Tongi Government College, while working to support her two younger sisters' education.
"I want them to fulfil their dreams, as I wasn't able to," Chadni said.
She works at an NGO as a field officer and earns Tk 5,000 a month. She also does three private tuition jobs for Tk 3,000, which she spends on her sisters' tuition fees.
Chadni's elderly father Abdur Rahim is a plumber, who can barely earn a living. Meanwhile, the family faces a debt of Tk 100,000 with a monthly interest of Tk 5,000.
"I often ask for help from my relatives but to no avail," Rahim said.
Md Shanto Mia, 18, of Korail slum, studies at Rupnagar Govt School and College. Earlier, he used to work at his father's betel leaf and cigarette shop.
After he enrolled in 11th grade, his younger brother had to drop out of his madrasa to look after the shop in order to keep the six-member family from starving.
"I'm currently looking for a job as I don't want my father to be burdened with my education expenses," Shanto said.
He has been studying science so that he could land a job as a medical technologist or a nurse and do something for the slum people, many of who suffer from the absence of primary healthcare.
Maulana Abdus Sobhan, president of Korail Slum Development Association, said the Korail slum is home to around 30,000 families with 20 NGO-run primary schools but no college.
"Only a few students have gone to university and every one of them has had to manage their schooling by themselves. Most parents are reluctant to send their children to school due to a loss in income.
"However, the situation has improved as many parents are willing to educate their children now."
Iqbal Hossain, education manager of the "Education and skill for adolescents and out-of-school children" programme of Unicef, said that currently, there are no programmes to help slum children pursue tertiary education, as they face many challenges in continuing just secondary education.
"As they lack basic education facilities, and the out-of-pocket education cost is so high, only those who are highly passionate and can earn, or get scholarships from different agencies, can continue their studies.
"However, we have been working with the secondary education ministry to create flexibilities for slum students, so that they can continue their studies at their own pace and we have also been advocating the government in mitigating the secondary dropout challenges," he said.