RMG shipments: At the mercy of highway robbers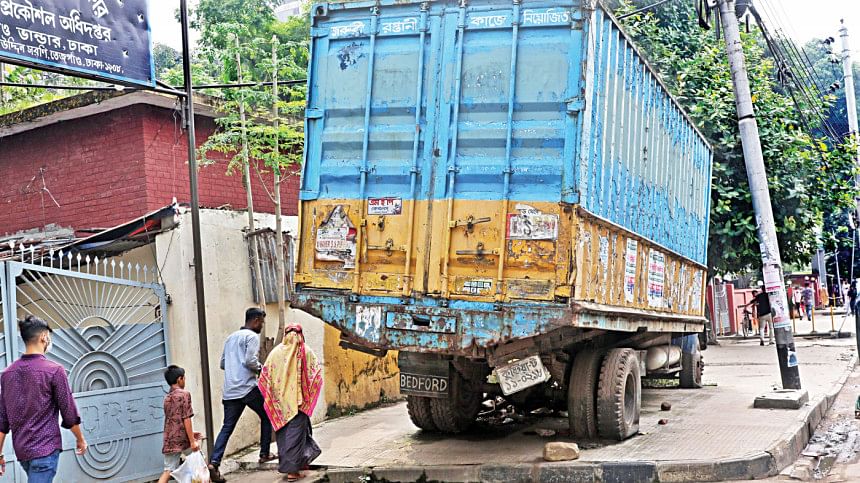 "Stealing readymade garments products has been on the rise as those involved in such criminal activities are securing bail easily following the filing of cases. After walking out of jail, they get involved in theft again."
Readymade garment manufacturer A Plus Sweater Ltd had sent an RMG consignment to Chattogram Port from its Gazipur factory on eight covered vans on October 29 last year for shipment to Brazil.
Sweaters packed into 898 cartons reached Chattogram the following day. The buyer-nominated freight forwarder, APL, a foreign shipping line, received the consignment worth over $1.25 lakh and shipped it to Brazil.
The buyer, one of Brazil's leading brands Mirsa, made the payment in full after the vessel carrying the consignment sailed off from the port, said M Tamiz Uddin Bhuiyan Salim, managing director of A Plus Group.
But a chill ran down Tamiz's spine after he received videos from the Brazilian buyer on January 6 soon after the consignment was received in the South American country.
"The videos showed some cartons were completely empty boxes while a good number of goods were missing from many others. I was dumbfounded," Tamiz told The Daily Star recently.
Law enforcers are conducting an investigation into the theft to ascertain when and where the incident occurred.
This is just one example of the growing theft of RMG products on their way to Chattogram Port. It is causing significant financial losses to exporters, and also putting them at risk of losing buyers' trust, and orders.
The stealing continues as some decisions taken in a meeting in July 2021 to stop theft are yet to be implemented. The home minister, top law enforcement officials, and BGMEA and BKMEA leaders took part in the meeting.
The decisions included tracking covered vans, screening the identities of drivers and their helpers who allegedly maintain links with the theft gangs, and installation of CCTV cameras at various places on highways leading to Chattogram.
The covered van drivers and their helpers who have links with RMG stealing gangs, park vehicles at some isolated places in Dhaka's Demra, Madanpur in Narayanganj, Cumilla, Feni and Chattogram on the way to Chattogram port, said an RMG exporter.
They then unscrew nuts from a side of the bolt attached to the covered van's door to open it without damaging the sealed padlock. They steal 30 to 40 percent products from each carton, refill those with jhut and sand and again seal the cartons. The nuts of the bolt are screwed again, the exporter added.
Shahidullah Azim, vice president of Bangladesh Garment Manufacturers and Exporters Association (BGMEA), said CCTV cameras are yet to be installed along highways.
Bangladesh is the world's second largest garment exporter. The country exported garment worth $42.61 billion in the last fiscal year, according to data of Export Promotion Bureau.
Leaders of BGMEA, BKMEA and law enforcement officials said theft of readymade garment products has increased significantly in the last few years. However, neither of the associations nor the law enforcers have the exact number of stealing.
A Rapid Action Battalion official who led several drives against such theft said BGMEA and BKMEA leaders informed them that at least 30 stealing of RMG products took place last year. However, the actual figure is much higher, he said wishing anonymity.
According to BGMEA, two RMG theft on highways were reported in 2019, nine in 2020 and at least 22 were recorded till July in 2021.
On December 23, Rab-4 raided an abandoned factory in Dhaka's Demra and arrested seven such gang members, including Tawhidul Islam, the leader of a gang, recovered stolen RMG products worth Tk 6 crore and seized a covered van.
Rab officials said Tawhidul used to sell clothes on footpaths 10 years ago. He got involved with a gang and became a millionaire in last three years. He now owns a house in Dhaka and an expensive car.
On September 8 last year, Rab arrested four members of another inter-district RMG theft gang in Cumilla, recovered stolen garment products worth about Tk 4 crore and seized a covered van.
"We have recovered stolen garments products worth about Tk 30 crore in seven such drives and arrested around 50 members of different theft gangs," said Jahidul Islam, additional SP of Rab-4.
BGMEA Director Rajib Chowdhury said RMG theft has increased significantly in recent years, but the victim exporters didn't always report such incidents.
BKMEA President Mohammad Hatem said theft of readymade garments has been on the rise as those involved in such criminal activity are securing bail easily following the filing of cases. After walking out of jail, they again get involved in stealing, he added.
Exporters demanded recording of RMG theft cases under the Special Powers Act as the crime is damaging the country's image abroad and putting the sector at risk.
Rajib Chowdhury suggested that the exporters should weld on the nuts of the bolt.